Bed bugs tend to infest our homes pretty quickly and before you know it your home becomes a giant hive for bed bugs to spread their eggs.
Bed bugs can also bite dogs, although they prefer biting and feeding on humans. When it comes to blood, bed bugs aren't picky drinkers so they can feed on any animal out there as long as it has blood.
This means that bed bugs can bite your dog, your cat, and even rodents and birds! If you keep your dog inside your house, your dog's bedding allows bed bugs to have yet another hiding spot.
Can Dog Carry Bed Bugs?
Having a dog in your house poses a threat of fleas, worms, and ticks if you don't take proper care of your dog. With this logic, it's easy to assume that bed bugs can also be carried inside. Well, let's pull a handbrake for a second.
We know that bed bugs are on a whole different realm in comparison to other parasites. They can't hide in your dog's fur, meaning that they can only catch a ride on your dog to your house.
Dogs can't carry bed bugs because bed bugs don't have the kind of legs that allows them to catch on fur or dog's skin. On the other hand, fleas and ticks are masters of this, so you'll need to worry about them instead of bed bugs.
Most importantly, bed bugs do NOT live outside – they live only inside. That's because they prefer living close to the host, making it easier for them to feed. With that in mind, dog's can't carry bed bugs.
Can Dog Detect Bed Bugs: Are They Able to Smell/Sniff Them?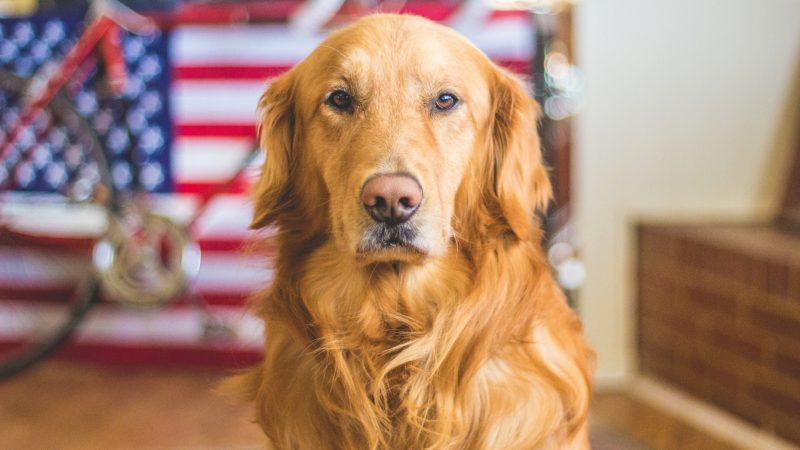 If a dog can smell drugs hidden within the car, why couldn't he smell bed bugs?
Yes, dogs can detect bed bugs, and in fact their strong sense of smell is used to detect and find bed bug infestations in the house. We all know that dogs use their nose to navigate the world. Although they have eyes a dog's primary sense is a smell, which they use not only to sniff food but also to recognize different animals and people just by the smell.
Trained dogs for bed bug treatment are able to sniff out even a single bed bug!
• How Much Does a Bed Bug Sniffing Dog Cost
Will paying a service dog save you some cash? Let's delve a bit into the numbers.
The hourly rate for bed bug sniffing dogs is $300 to $350 – on average, it's $325. For this price, a dog can help you avoid unnecessary chemicals and fumigations for bed bug treatment that can cost several thousands of dollars!
A properly-trained dog can sniff which room is infested with bed bugs and at which place the infestation occurred. This can save you some cash by treating not every room in your house but only those that are infected.
Companies with lots of office spaces, dorms, and rooms can greatly benefit from paying a bed bug sniffing dog to do the job.
It's time and money-saving solution, allowing you to examine more than a few rooms in less than one hour, as dogs need no more than a few minutes to sniff bed bugs.
• How Accurate Are Bed Bug Sniffing Dogs
Dogs are very accurate when it comes to sniffing bed bugs. Bed bug sniffing dogs can detect a SINGLE bed bug hiding inside your bed, mattress, carpet, and even walls. Even a professional exterminator needs a few days to do the job, whereas a trained dog will do it in a few minutes.
When it comes to training your dog to sniff out bed bugs, it's not that expensive. For example, K-9 University offers its six-week program for $1795. The reason we've mentioned K-9 University is that their dog training school is the best.
If you've ever seen K-9 dogs in action, you know what to expect.
In most cases, dogs that can smell bed bugs are trained by K-9 University and if you want to buy such a dog, it can cost you up to $12,000. By putting in some work and paying six times less, you can learn your dog to sniff bed bugs.
Can a Dog Carry Bed Bugs from One House to Another?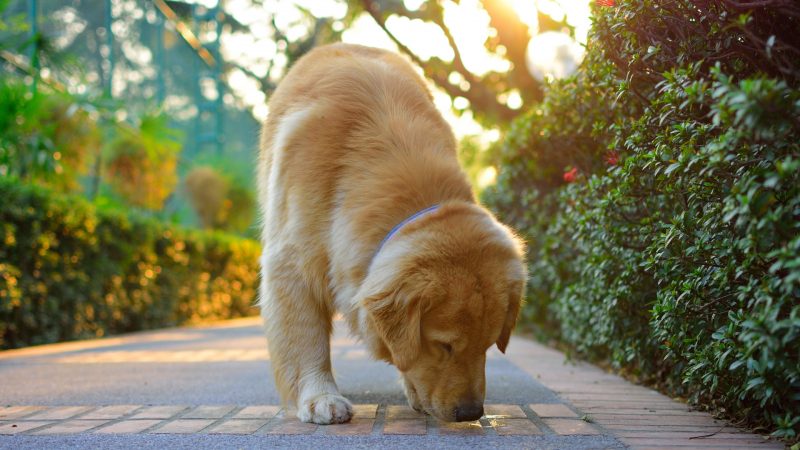 The simple answer is yes. In some cases, this is how the bed bug infestation is passed on, although it's unlikely to happen. The other way your house could get infested by bed bugs is that you overlooked an infestation that's already been there.
Typically, you get bed bugs by someone who brings it to your home, whether it's a dog or someone from your family.
However, chances of your dog bringing in bed bugs are very low but there are some cases where bed bugs hitched a ride underneath your dog's collar, as much as it sounds impossible.
This can happen if your dog resides at your friend's house or any other place. If you dress your dog in dog clothes, there are higher chances of bed bugs getting inside.
The reason for this is that bed bugs love infesting clothes. Dogs with shorter hair need to be dressed when the winter or late autumn comes, making it a bit riskier period for your dogs.
But still, what are the chances of bed bug infestation via your dog? Well, probably below 5% or less.
Can Bed Bugs and Their Eggs Live on Dogs?
Bed bugs and their eggs can't live on dogs and the reason behind this is simple – your dog is a moving target! It would be challenging for bed bugs to lay their eggs on something that's moving and jumping.
Bed bugs prefer to lay their eggs on stationary, hidden, and dark places where they can't be seen, such as holes in the wall or bed frame.
Despite that, bed bugs will still be able to bite your dog thus making his skin itchy which results in constant scratching.
Bed Bugs on Dogs Symptoms: How to Know If Your Dog Is Infested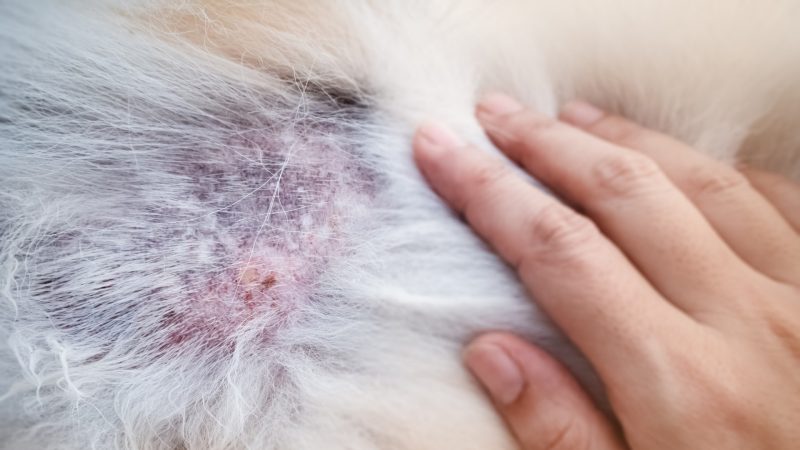 Dogs react to bed bugs in a similar way people do. Pink spots or pink welts on your dog's skin will start appearing, which dog will start scratching right away. However, since dogs have fur, it's much harder to notice them until you do a thorough examination.
Another obvious symptom is that your dog will start scratching different parts of his body, similarly to fleas. This can make you confuse bed bugs with fleas, which can be a little tricky.
Since dogs scratch with more force and more intensively, they can sometimes exacerbate the wounds and cause acute skin irritation or in the worst case – allergic dermatitis. This is a severe, inflammatory skin condition that can appear with dust mites or mold spores.
However, dogs can also cause it by scratching often, inducing symptoms like bleeding, swelling, and rash on the skin.
Bed bugs will usually bite where there's not much fur – ears or belly. This makes it easier to notice than searching around your dog's neck where a lot of fur is concentrated.
How to Treat Bed Bugs on Dogs – Step by Step Instructions
In this section, we're going to take a look at some of the methods that can help you get rid of bed bugs in dogs.
Remember that bed bugs won't live or survive on your dog's hair, so we focus our efforts towards eliminating bed bugs from your dog's bedding or the environment where he moves.
Method 1 – Vacuum Cleaning
Step 1 – Remove your dog's bedding from its place.
Step 2 – Use the vacuum cleaner and wipe the dust (and hopefully bed bugs) underneath it.
Step 3 – Depending on the type of bedding, either wash it, vacuum, and steam it.
Step 4 – While you wait for the bedding to dry, use your vacuum cleaner to vacuum not only the dog's place but also places where he often moves.
Step 5 – After your bedding has dried up, return it to the same place but only if you're sure that you've done a good job cleaning. If not, change the place.
Step 6 – Empty the vacuum cleaner OUTSIDE of your house and get rid of the vacuum cleaner bag.
Method 2 – Steam Cleaning
Step 1 – Once again, remove the bedding from your dog's space.
Step 2 – Use your steamer to steam the bedding. More than 120°F is enough to kill bed bugs in a matter of minutes.
Step 3 – After that, put the bedding in the washing machine and wash it using hot water.
Step 4 – Use your vacuum cleaner in conjunction with a steamer to vacuum/steam the area around your dog's bedding.
Step 5 – When the bedding dries, use vacuum cleaner and steamer, and repeat the process.
Method 3 – Using Food-Grade Diatomaceous Earth
Step 1 – Buy food-grade diatomaceous earth.
Step 2 – Remove the bedding from the dog's house.
Step 3 – Scatter around diatomaceous earth on the bedding's place, as well as around it and at other suspicious places in your house.
Step 4 – Vacuum clean and steam the bedding.
Step 5 – Wait for the bedding to dry.
Step 6 – Put it back and let the dog use it.
Bed Bug Treatment for Dogs: 3 Best Products
1. 4-Legger Certified Organic Dog Shampoo
4-Legger Certified Organic Dog Shampoo represents a perfect mixture of non-dangerous natural oils that enrich your dog's coat and protect it from fleas, ticks, and bed bugs. It's eco-friendly, biodegradable, and is perfectly safe for your dog.
This makes it an ideal choice for those who want to spend less money and still protect their beloved pet. It comes in a package of 16 ounces, which is more than enough for several uses.
Not to mention that your dog will smell wonderful, thanks to Aloe Vera and Lemongrass extract. This shampoo will give your dog that fresh smell and keep bed bugs, ticks, and fleas at bay.
2. Wahl Flea & Tick Repelling Dog Shampoo for Pets
Yet another organic flea, tick, and bed bug repellant in a form of a wonderful dog shampoo that will make your dog shine again. Wahl, the manufacturer of this shampoo ensures us that it's pH-balanced and that it's alcohol-free, making it not only safe but healthy for your dog's coat.
When it comes to scent, we have rosemary and cedar. This smell isn't too in-your-face but rather very relaxing and soothing.
Thanks to coconut-derived sodding agent, you don't need to pour a ton of shampoo during every bathing. Instead, it allows you to use less and achieve more in comparison to other shampoos of this type. Coming in a package of 24 ounces, this is a great deal worth checking out.
3. Harris Diatomaceous Earth Food Grade, 10lb
Sale
When it comes to food-grade diatomaceous earth, Harris is our primary recommendation. We mentioned this product in several articles and the reason for this is that it's one of the best out there.
Coming in a package of 10 lbs, you'll have plenty of substance to scatter around and kill bed bugs like they are nothing.
Since it's a food-grade product, it's perfectly safe for your dog but also for you and your food. If you decide to purchase this product, Harris will donate 10% of profits to Etowah Valley Humane Society, making your money well-spent.
Home Remedies for Getting Rid of Bed Bugs on dogs
Our recommendation goes toward tea tree oil. This one is great for annihilating a large number of bed bugs since it's quite toxic, especially in large quantities.
The only downside is that you'll need to spray it often or bed bugs won't be so hesitant when attacking your home next time. With tea tree oil your dog is safe and can't get poisoned, which is the most important thing here.
Other solutions include some of the things we mentioned before – vacuum cleaning and steaming. Since we all have a vacuum cleaner in our homes it's one of the most popular solutions for getting rid of bed bugs.
List of Sources
Prevent the Big Three Pet Parasites, Veterinary Medicine at Illinois
Cooper R, Wang C, Singh N., Accuracy of Trained Canines for Detecting Bed Bugs (Hemiptera: Cimicidae).
Know The Facts: Bed Bugs – Purdue University
EPA. (May 2010). Controlling Bed Bugs. Pesticides: Controlling Pests. (26 April 2017)

Latest posts by Thomas Matthews
(see all)