Bed bugs can live very long even if they don't eat. Without food, bed bugs can last up to a whole year! Just imagine having to spend a few years with bed bugs every night you go to sleep.
Bed bugs can easily spend their whole lives in bed with you and if you think they live only in your bed, you're dead wrong! For now, let's just assure you that every bed bugs infestation is manageable and can be treated successfully, to the point where no bed bug treads your house.
How to Tell if Your Carpet is Infested with Bed Bugs?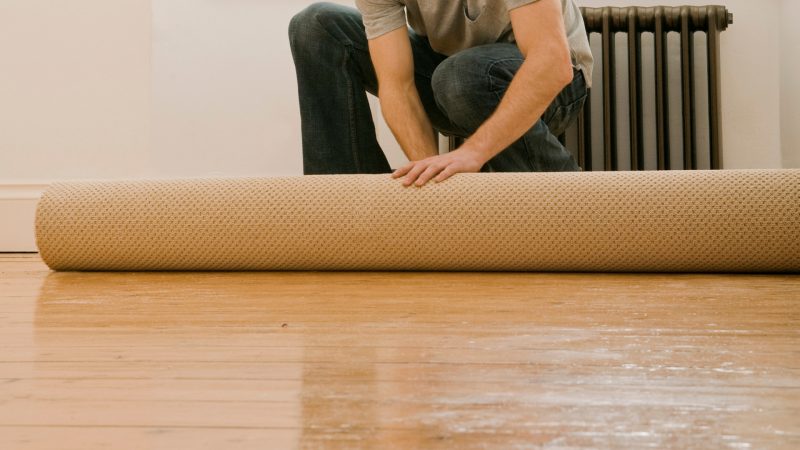 In order to know if your carpet is infested with bed bugs, you first need to think about your bed. Is it infested with bed bugs? If so, some bed bugs could be found in your carpet.
If you're in doubt, simply take a good hard look at your carpet. Lift it and see if there are bed bugs underneath. If you have a less-dense carpet, you could be able to see the eggs and the bugs scattered around the carpet. However, if your carpet is thick, it may be harder to locate them right away.
The only sure thing is to grab your carpet, turn it around, and shake it a bit. If you see these brown eggs and bugs on your floor, those are probably bed bugs and their eggs.
Another thing to mention is that if you often get bitten on your feet or somewhere in that area. Let's say you sit down on your couch and watch TV with your feet on the carpet. This is a leverage for bed bugs to climb on your feet and start drinking blood from the area in the vicinity.
If you notice that your skin itches in this situation, this may be a sign of the bed bugs infestation. All in all, you'll have to thoroughly examine your carpet to be sure that the infestation is going on.
If you're still suspicious, always check your bed. This is where bed bugs will prefer to hide in most cases.
If there are bed bugs in your bed, there are bed bugs in your carpet, making your suspicions true.
Different Ways to Get Rid of Bed Bugs in Your Carpet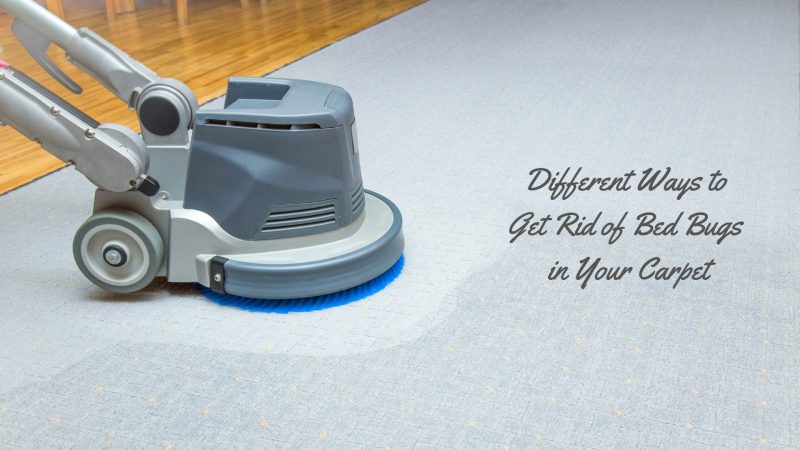 Of course, there are different ways to get rid of bed bugs and if you don't know what you're doing, getting rid of bed bugs in your carpet can be a tumultuous process. But, not everything is so black.
If you keep reading, we will go in-depth and explain different measures, so you can go out there and make the best of them. When you know what you're doing, everything will be simpler and more successful.
Let's see what are the different ways to get rid of bed bugs in your carpet.
How to Remove Bed Bugs and Their Eggs from Carpets – Step by Step Instructions
Method 1 – Vacuuming
Step 1 – Remove everything from your room, including furniture, clothes, etc.
Step 2 – Wash your furniture and clothes, and store it in a safe environment.
Step 3 – Get your vacuum cleaner and put on the vacuum attachment.
Bissell Cleanview Upright Bagless Vacuum Cleaner, Orange, 1831
Every purchase saves pets
One pass technology with powerful suction and innovative brush...
Powerful, multi cyclonic suction system for lasting suction that...
Multi-level filtration with a washable filter helps reduce...
Lightweight design makes it easy to carry and push without...
Step 4 – Start vacuuming your carpet and repeat the process until you're sure that everything is vacuumed.
Step 5 – After vacuuming, use plastic bags to store your carpet. You can now dispose of it if you want to make sure that bed bugs never return or keep it until you get rid of all bed bugs in your house.
Step 6 – If using a vacuum cleaner with a bag, seal it, and throw the bag away. For bagless vacuums, empty the contents into a sealable bag and wrap around one more sealable bag, before disposing of it.
Step 7 – Wash the dust chamber with boiling water to decontaminate it.
Step 8 – Let the chamber dry and put it back into your vacuum cleaner. After that, it's ready to be used again.
Method 2 – Steaming
Step 1 – Leave only the carpet in your room (repeat the first two steps from the previous method).
Step 2 – Use your steamer and set it at the highest temperature setting.
Step 3 – To fully make use of a steamer, you should incorporate your vacuum cleaner here.
Step 4 – Use the vacuum cleaner and steamer one after another. Do it SLOWLY and repeat the process a couple of times.
Step 5 – Use steamer's high temperature to penetrate through each area of the carpet carefully. Take extra care of edges and wooden crevices, as this is where bed bugs usually lay their eggs
Step 6 – Repeat this process even after you're sure that bed bugs are gone. This is great for prevention bed bugs from infesting your carpet again.
Step 7 – Be sure to steam a wide array of surfaces in your house – curtains, beddings, mattresses, and carpets, to make sure that you've cleaned all up.
Step 8 – Leave the steamed stuff to dry and use it after it's ready.
Method 3 – Diatomaceous Earth
Step 1 – Sprinkle the diatomaceous earth before you vacuum. Make sure to cover every part of the carpet as you sprinkle.
Step 2 – Wait a few minutes for the diatomaceous earth to properly lay on the carpet.
Step 3 – Vacuum the entire carpet with the diatomaceous earth on it. This way, bed bugs will not survive because they're exposed to the silica substance. Since bed bugs can escape your vacuum cleaner, this substance will make it nearly impossible.
Step 4 – Once you finish this process, you can repeat it a couple of times and then store your carpet properly.
Method 4 – Use Double-Sided Tapes
Step 1 – Steam your room.
Step 2 – Clean up your room, leaving only the carpet inside. Alternatively, you don't need to throw anything away from the room but only make it clean.
Step 3 – Apply the double-sided tape on the places you deem important. Since we're talking about carpet, apply it around it, as well as under the carpet. This way, bed bugs won't be able to walk away from it, as they will stick immediately after trying.
Step 4 – If there are cracks in your wall or bed, apply the double-sided tape there.
Step 5 – Finally, apply the tape outside of your room, right underneath the door, to make sure that bed bugs don't get out of that room.
Bed Bugs in Carpets Treatment: 4 Best Products
Now that you know all methods to get rid of bed bugs in a carpet, it's time to see our list of 4 best products for this purpose. Do you remember that diatomaceous earth from above?
Well, these bed bug carpet powder products are almost the same. These products are the most effective in killing bed bugs in your carpet.
1. Food-Grade Diatomaceous Earth
If you want the diatomaceous earth that's safe for you and your family, look no further than this one. It's food-grade, non-toxic, organic, and edible product that will keep out bed bugs from your carpet and on top of that, provide safety for your family.
It comes in a six-pound bag, which is more than enough for effectively killing bed bugs over an extended period. If you just take a look at the reviews of this product, you'll see that it's almost flawless, killing not only bed bugs but also cockroaches and ants.
For those who want an effective, affordable, and safe bed bug carpet powder, this is the product to go for.
2. Flea Powder for Carpets
Flea Powder for Carpets is a bit different product. Here, we don't have any trace of diatomaceous earth or crystalline silica, for that matter. Instead, this is a pure flea powder made of cedar, and perfect for killing bed bugs, mites, fleas, and other types of bugs in your home.
Although its 3-pound packaging seems small, make no mistake, this powder is deadly as a howitzer in WW1. That being said, small amounts of this powder can annihilate bed bugs, making the product long-lasting and of course, affordable.
It's a safe solution for those who want to get rid of bed bugs easily, quickly, and without too much effort. Since it's a natural product, it does zero damage to your carpet.
3. Rockwell CimeXa Insecticide Dust
Sale
Rockwell CimeXa Insecticide Dust (2) 4 oz. Bottles
Unmatched Control of Bed Bugs: Even strains resistant to...
Low-Toxicity, Non-Repellent, Odorless, Non-Clumping and...
The Preferred Treatment for Tough Indoor Spiders
Labeled for treating cracks, crevices, voids, mattresses,...
Extremely effective against fleas, ticks, lice, roaches, ants,...
Next, on our list, we have an amazing product, Rockwell CimeXa Insecticide Dust. This product comes in a modest 4-ounce bottle but when you buy it, you get two bottles, which equals to 8 ounces. It's not much, you'll agree but the sheer power of this dust is enough to kill tons of bed bugs for quite some time.
Once again, this isn't diatomaceous earth but amorphous silica gel, which is equally as deadly. However, there is a trick related to this product and it's that it only kills bugs when it's present. The bugs need to come in contact with the dust, for it to work.
This is why we recommend that you first vacuum the bugs and then apply CimeXa as a final hit. As for safety, it's not safer than the previously mentioned products. Users have reported some minor issues when it comes in contact with the skin, as the skin starts to become dry.
Thankfully, this can be solved by washing your skin and applying the lotion. Other than that, this is a deadly weapon for bed bugs and make no mistake, it will devour them quickly!
4. JT Eaton Kills Bedbugs Powder
Sale
The bed bug carpet powder from JT Eaton comes with an 85% of diatomaceous earth in a 7-ounce bottle. It's called a powder but it's sprayed, which is easier than scattering the powder with your hands.
When it comes to its use, it's pretty versatile. It can be applied around electrical outlets, between carpet and the floor, in indoor cracks, and much more. Unlike many products out there, this product is strictly labeled as bed bugs killer, making it one of the most popular products for this purpose.
The way it works is pretty simple – it attaches itself to the outer shell of the bug, it dehydrates there thus killing the bug in a matter of seconds.
The highlight of this product is that no bug is resistant to it! You can now successfully kill cockroaches, bed bugs, ants, fleas, ticks, sowbugs, etc.
Home Remedies for Getting Rid of Bed Bugs in Carpets
Alcohol
Alcohol is a very powerful substance in fighting against bed bugs. Don't believe me? Well, you can try it for yourself.
Buy an alcohol dilution of 90% or more, pour it in the spray bottle, and spray around your carpet, floor, furniture, and holes. Bed bugs will often lay their eggs in nook and crannies, which is where you should also spray the alcohol.
One thing we need to mention is that inhaling alcohol can be very toxic and on top of that, it's flammable. That's why you need to use it with caution and moderation. Other than that, it will exterminate bed bugs like it's nothing.
Hydrogen Peroxide
Hydrogen peroxide is great if you want an efficient contact killer. Although not as deadly as alcohol, it's enough to kill bed bugs as soon as it comes in contact with them.
Since this is a bleaching agent, it can leave some stains, so we recommend that you don't use it on the furniture.
Instead, you can spray it under your carpet, where bed bugs tend to hide. Sometimes, hydrogen peroxide will not kill bed bugs immediately upon contact, which is why it's better to use alcohol if that's what you strictly need.
Vinegar
Vinegar is another great substance but in conjunction with other home remedies. It's a contact treatment, meaning that it will kill bed bugs on contact but not larvae.
Because of that, you need to either vacuum or use diatomaceous earth alongside vinegar, to effectively eliminate both larvae and bugs. Vinegar doesn't leave stains, so you can use it on both your carpets and furniture.
Bleach
When it comes to the stains, bleach is probably the worst. It leaves stains, so we don't recommend it for your clothes, furniture or bed sheets.
However, spraying it under your carpet can wreak havoc upon bed bugs, killing them on contact by oxidizing their outer shell.
List of Sources
EPA. (May 2010). Controlling Bed Bugs. Pesticides: Controlling Pests. (26 April 2017)
Koehler PG, Pereira RM, Pfiester M, Hertz J. (July 2011). Bed bugs and blood-sucking conenose. EDIS. (26 April 2017)
Cimex lectularius Linnaeus (Bed Bugs), University of Florida/IFAS Featured Creatures Web site
[USDA] U.S. Department of Agriculture. 1976. How to Control Bed Bugs. USDA. Washington D.C.

Latest posts by Thomas Matthews
(see all)