Bed bugs are possibly some of the most mentally disturbing insects on earth because of their bloodthirstiness and stubbornness. Once they invade your home, they can be notoriously difficult to remove. The most effective way to treat these biting critters is to prevent them from ever infesting your house.
How to prevent bed bugs in your home? Some effective ways to keep bed bugs away from your home are learning how to recognize bed bugs, knowing the warning signs, using mattress encasements, utilizing bed bug interceptors, vacuuming carpets regularly, and inspecting used furniture before buying.
In this article, we made an in-depth analysis of bed bugs and revived the best methods to keep them off from your household. If you are concerned about these bloodthirsty bugs, we assure you that you will understand how to prevent them after reading this article. So let's get started!
Where Do Bed Bugs Hide?
Bed bugs are easily attracted to carbon dioxide. That is why homes and other places with frequent foot traffic are prime bed bug locations.
Nonetheless, there is a good reason why they are called "bed" bugs. Their most preferred hiding places are bed frames, box springs, mattresses, and bedding. It is in these places that they find a combination of access to blood, carbon dioxide, and warmth.
While bedrooms are their prime location, they can find their way and hide in other places including:
Floor cracks
Drawer joints
Electric appliances
Curtains
Wallpapers
Points where ceiling and wall meet
Cushioned furniture like ottomans, couches, and chairs.
Some people claim that having a dirty and messy house can attract bed bugs but in reality, these bloodthirsty critters can invade even the cleanest homes. Bed bugs mainly get into your home through people or things that have been previously infested with them.
If you get into contact with infected people, say in crowded places, or spend a night in a hotel that is infested, these bugs will attach themselves to your luggage or clothing and definitely you will travel back home with them.
How to Identify Bed Bugs?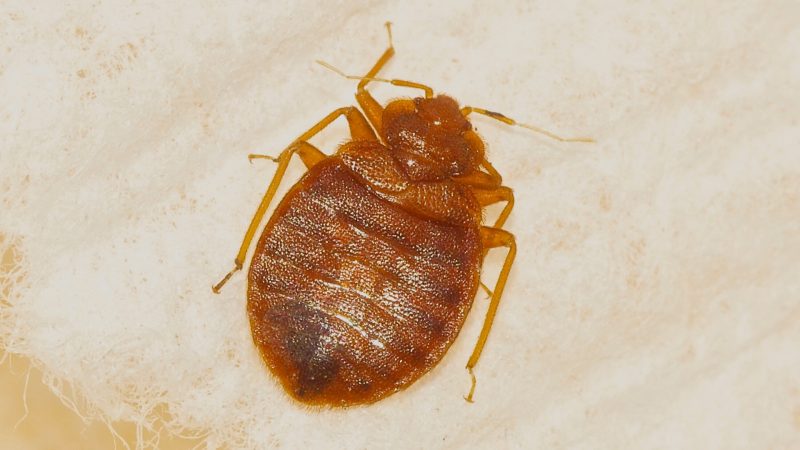 Bed bugs are brown, flat, oval-shaped, and wingless insects measuring about a quarter of an inch long when they're fully grown. At times, making a positive identification of bed bugs might be difficult because there are bugs that look similar to them.
In fact, bed bugs belong to the Cimicidae insect family which consists of over 100 different species. For this reason, it is vital to understand the differences between some common insects and it is very important not to mistake their similarly looking bites.
Bed Bugs vs. Mosquitoes
Bed bug bites can easily be mistaken for those from mosquitoes. In fact, some people may want to assume they have been bitten by mosquitoes instead of facing the reality that bed bugs have infested their homes.
There are no major differences between the bites of these two insects, which makes it challenging to make a distinction based entirely on the bites. That said, you must focus more on circumstantial evidence in order to ascertain it is really a bed bug that bit you. For instance, if you spend some time in a house with no window screens, you are likely to be feasted on by mosquitos.
Here are some differences between mosquito and bed bug bites:
Mosquito bites can only be found in areas where your skin is exposed but bed bugs can crawl and bite you underneath your clothing.
Bed bug bites take longer to pass than mosquito bites.
Mosquito bites usually immediately appear after the initial bite.
Bed Bugs vs. Fleas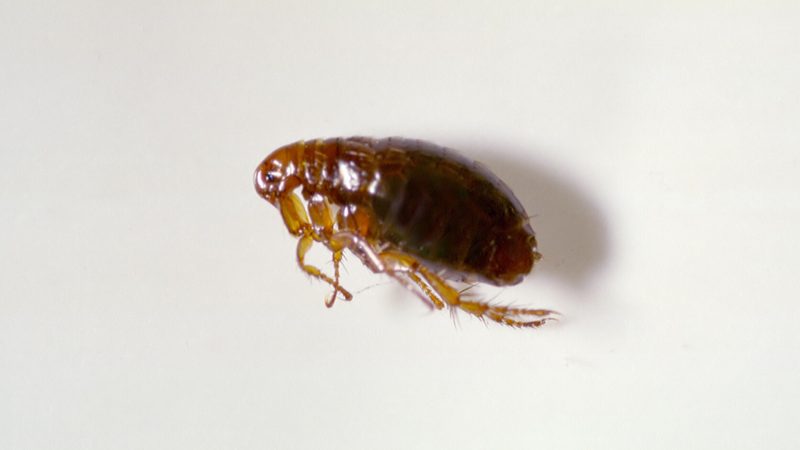 Fleas are oftentimes mistaken for being bed bugs not just because they look alike. But because they are usually found in bed and their bites resemble those of bed bugs. These blood-sucking insects don't have distinct variations.
However, here are some differences between them:
Fleas often bite the lower extremities feet and legs
Bed bugs are much bigger than fleas
Flea bite marks are erratic and look like a white halo
When bitten by fleas, people react differently. While some people develop itchy red spots, others get large rashes.
Bed Bugs vs. Bird Bugs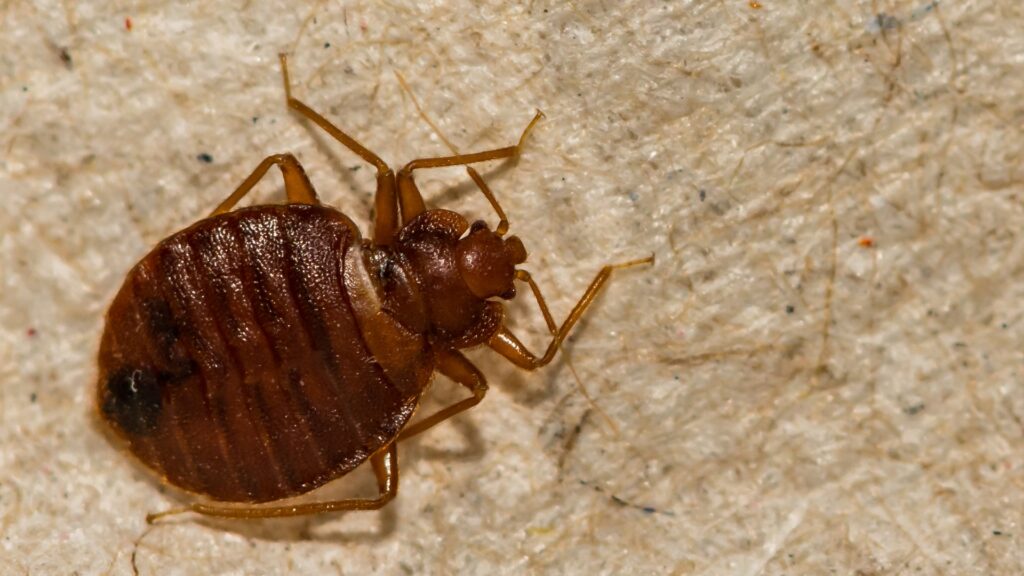 Bird bugs also referred to as bird lice or bird mites, resemble bed bugs in appearance but are smaller in size. A fully grown-up bird's lice measure about 0.5 mm. As the name implies, bird bugs usually feed on birds. Once a bird leaves its nest or dies, they crawl around in search of a blood meal. Eventually, they may end up in your house.
Some differences between bed bugs and bird bugs are:
Unlike bed bugs, bird bugs don't have any fecal trace
While bed bugs bite and get back to their hideout, bird bugs dwell within their host.
They are much smaller than bed bugs
You can keep off bird bugs by ensuring that nearby trees do not get into contact with your house. These bugs can also live on pets, so check them regularly.
Recognizing Early Signs of Bed Bug Infestation
It is very important to know what early signs of bed bugs look like. This knowledge will help you prevent a bed bug invasion from becoming a huge crisis. Here are some common warning signs you should look for:
Stains on Your Bed Sheets
The first early sign that suggests the presence of bed bugs in your home is stains on bedsheets. Once bed bugs bite you and feed on your blood, they usually crawl back to their hideouts. But some are caught up when you roll over in your bed and eventually get crashed. As a result, the blood they had sucked spills off on your sheets.
Blood spots on your sheets are an early indicator to look out for. This, however, does not mean that every time you find some blood on the bedsheet, it's from a bed bug.
Bed Bug Bites
At the beginning of bed bug infestation, you or your family members may get one or two bites. The challenging part about bed bug bites is that they can easily be mistaken for bites by other insects. Because of this, they are likely to be overlooked at the beginning.
Typically, bed bug bites look like small red marks that often appear in rows. They are way itchier than those mosquitos and other biting insects. Other distinguishing aspects are that they take longer to heal and are disposed to scare.
If you come across one or more of these signs, then your home might already be infested by bed bugs. Early identification of these signs will allow you to take appropriate measures and seek assistance beforehand.
How to Prevent Bed Bugs in Your Home?
Use Protective Mattress and Box Spring Covers
You can effectively protect your mattress and box springs from bed bugs by using bed-bug-proof mattress encasements. These covers ensure that both your mattress and box springs are enclosed completely, thereby hindering any form of penetration.
Sale
The casing safeguards your mattress in such a way that no bed bug can get through and hide. Usually, these encasements are designed using materials such as cotton and are fitted with a zip. So once you cover your mattress and zip the casing, no insect can penetrate through. The encasement completely protects your mattress and its box springs from a bed bug infestation.
Where bed bugs have already infested a mattress, the cover is very effective in trapping and killing them. Bed bugs can live without oxygen for quite some time. When enclosed in an airtight container, they are capable of surviving there for up to 5 days.
That said, a mattress encasement is designed with a breathable material that allows it to pass oxygen in and out. This means that it can't suffocate bed bugs. However, the cover kills them through starvation.
These encasements are specifically made to trap any insect so that they cannot escape once zipped. So, bed bugs trapped inside these covers eventually die because they can't access blood or any other food.
Use Bed Bug Interceptors
Bed bug interceptors are very effective in safeguarding your bed and furniture from bed bugs. A bed bug interceptor is a device that traps, catches, and collects bed bugs as they try to crawl between their hiding spots and human hosts. The design of these devices is based on the fact that bed bugs are not good at climbing vertical and slippery surfaces.
So they have a rough outer area that enables bed bugs to climb and enter the device easily. On the inside, they are fitted with a smooth-surfaced moat that hinders trapped bugs from escaping. Thus, any bed bug that tries to get onto your bed or furniture gets trapped in the smoothened area.
To protect your beds from bed bugs, place your interceptor cups under your bed's posts/legs. To ensure maximum protection, beds with these interceptors should neither touch walls nor any furniture. You should also ensure your bedding is not touching walls or the floor.
For monitoring purposes, you can place interceptors in any place where bed bugs are likely to hide. However, they are most effective when placed under bedposts. This is because a person will serve as an attraction for bed bugs.
To further enhance the effectiveness of your interceptors, try to couple them with a carbon dioxide source. Bed bug interceptors can also be used under upholstered furniture and sofas where bugs are likely to hide.
Vacuum Regularly
Vacuuming your carpets and rugs is a great way to prevent bed bug infestation. To be effective, you need to vacuum clean regularly. Carpets that are not vacuumed often can easily turn out to be hideouts and breeding points for bed bugs.
In order to mature, nymphs require places where they can stay undisturbed. A dirty rug or carpet will definitely serve this purpose and promote bed bug breeding. However, regular vacuuming will prevent this from happening.   
You can vacuum once every week. Ensure that vacuum rubbish is disposed of carefully especially when you suspect the presence of bed bugs in your house.
Related: How to Get Rid of Bed Bugs in a Carpet – Easy Instructions
Use Bed Bugs Repellent Oils
There are some essential oils that repel bed bugs. These liquids have scents that keep these bugs away. You just need to select the scent option that you like and use it in your house.
Healing Solutions 30ml Oils - Lavender Essential Oil - 1 Fluid Ounce
Highest Quality Pure & Natural Lavender Essential Oil - Our...
Gc-ms Tested for Purity & Dilution - Every batch of our lavender...
Bottled in a 30ml Glass Bottle with Built-In Eyedropper - All of...
Essential Oils are Used for a Variety of Uses & Applications -...
Healing Solutions Only Offers the Highest Quality Essential Oils...
Once you acquire your preferred oil, using it in your house is easy and straightforward. Just put a quarter of a cup of water in a spray bottle. Then add 6 to 10 drops of essential oil into the water.
Now shake and go ahead and spray your scented water in your home. Begin by spraying things and places where bed bugs are likely to hide. Next, spray items such as backpacks, totes, and handbags that you carry in public places.
Also, ensure that you spray your outerwear. If you don't want to use a spray bottle you can also buy an oil diffuser and your entire house will be filled whit an aromatic smell.
Sale
In doing this, you protect both your home and yourself from a bed bug infestation. Similarly, if some bugs are brought to your house by infested individuals, they will certainly not stay around because of the repelling oil scent.
Inspect Used Furniture Thoroughly Before Buying It
When you are planning to furnish your home on a tight budget, buying second-hand furniture can save you money. Nonetheless, used furniture poses a great risk of bed bug infestation if thorough inspection is not performed.
Whenever you decide to purchase second-hand furniture, make a habit of examining it closely. Check for possible bed bugs hideouts such as upholstery, joints, and drawers for any signs of bugs or their residue.
Although some furniture may look spotless, you should undertake effective cleaning before moving it into your house. All furniture with upholstery and fabric should be cleaned with hot, soapy water to guarantee effective cleaning inside out.
Install Door Jams or Door Sweeps
If your house is located near other houses, like in a townhouse row or an apartment, prevent critters by installing a door sweep at the main entrance. This will block the gap between the door and floor, where insects such as bed bugs can use to get into your house.
Having a door jam that blocks the open space makes it impossible for bugs to access your home. You can also keep off these insects completely by having cracks on the floor or walls repaired.
List of Sources
Protecting Your Home from Bed Bugs, EPA (United States Environmental Protection Agency)
Bed Bug Control in Residences. University of Minnesota
Do-it-yourself Bed Bug Control, EPA

Latest posts by Thomas Matthews
(see all)