As we all know, bed bugs love all your furniture and they prefer to live there. Out of all the furniture out there, the couch is the most critical one because it allows not only bed bugs but also other types of bugs to live there.
If you have an old couch that you're still using and is infested with bed bugs, you might want to get rid of bed bugs before throwing it away. Fighting bed bugs can be a bit of a tumultuous process but we ensure you that you can be very successful if you take our advice.
So, how to get rid of bed bugs in the couch? Bed bug couch traps, laundering (some parts can be washed), diatomaceous earth, couch encasement, and a steamer are just some of the methods that will definitely help you get rid of bed bugs in the couch.
In the following sections, we are going to talk about different ways of getting rid of bed bugs in your couch and with our methods, you can immediately start taking drastic measures. Remember that bed bugs can severely damage your couch's clothing but also make your skin itchy.
Signs of Bed Bugs in the Couch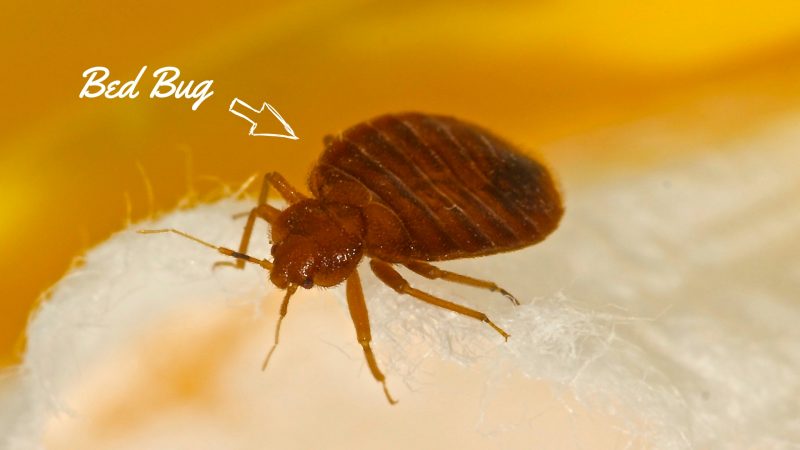 The signs of bed bugs on the couch are pretty straightforward. These signs never vary and every home with a bed bugs infestation can notice the same signs.
The first thing you need to do is check underneath the cushions. Sometimes, bed bugs won't be there, so you'll need to flip the couch and check underneath.
The wooden frame of your couch is an excellent hiding spot for bed bugs, meaning that you should take a good look there.
If you're not sure what to look for, here are the signs of bed bugs infestation in the couch:
1. Bed Bug Eggs and Shells
Bed bugs come from bed bug eggs, where female bed bugs lay. We all know that bed bugs love hiding their eggs on your couch and sometimes in your clothes. Wherever it's comfortable for the eggs to lay, this is where bed bugs will lay them.
Bed bug eggs are slightly larger, so you'll notice them pretty quickly. When bed bugs emerge from the eggs, they have their shells. Every time bed bugs increase in size, they cast away their shell.
This shell isn't going to dissolve on its own and it's usually what's left behind. It looks almost like a bed bug. These shells, as said, won't disappear on their own, as they're made of keratin. This is a good clue on whether or not your couch is infested with bed bugs. In fact, that's a real, tangible clue of the bed bugs infestation.
2. Bed Bug Feces
If there's an active bed bugs infestation going on, feces are the first sign. Although bed bugs eat (or drink) only blood, they still produce feces, like every living being in this world. We're talking about a dark and thick substance that can be smeared when touched.
As time passes, it hardens in that place and if it's left there for weeks or months, it's very hard to remove only with a towel. You'll need to spray it with cleaning fluid and then wipe it away.
To easier recognize their feces more, you need to look for small droplets that retain their shape even when completely dry. Feces imply that bed bugs live somewhere in that area, which is usually on the underside of the couch.
The particular places are corners and gaps in the wooden frame of your couch or other furniture. Feces can be smelled by bed bugs and it serves as a marker, telling them that this is the hiding spot they use. In our opinion, this is one of the most important signs of bed bug infestation.
3. Dead Bed Bugs
If you're applying some treatment to your couch, dead bugs are going to be scattered all around the wooden frame. They look exactly like alive bed bugs but they're not moving, which is the only difference. Size-wise, dead bed bugs are also the same, and color-wise, it's the color of an apple seed.
4. Living Bed Bugs
Living bed bugs can hardly be seen on your couch, that's why we left this sign for the end. The reason for this is that they prefer to hide in crevices and cracks, as this is where they can't be found. Living bed bugs will go out when they're hungry but that's rarely daytime. Instead, they go out for a meal when you're on your couch, sleeping.
Still, you may notice living bed bugs but that's very hard. However, if you notice them, this is a clear sign that they're there and that the infestation is advancing. In that case, you need to take drastic measures, which are described in the following paragraphs.
Related: Bed Bug Droppings | Identifying, Treating, and Preventing
Different Ways to Get Rid of Bed Bugs in Your Couch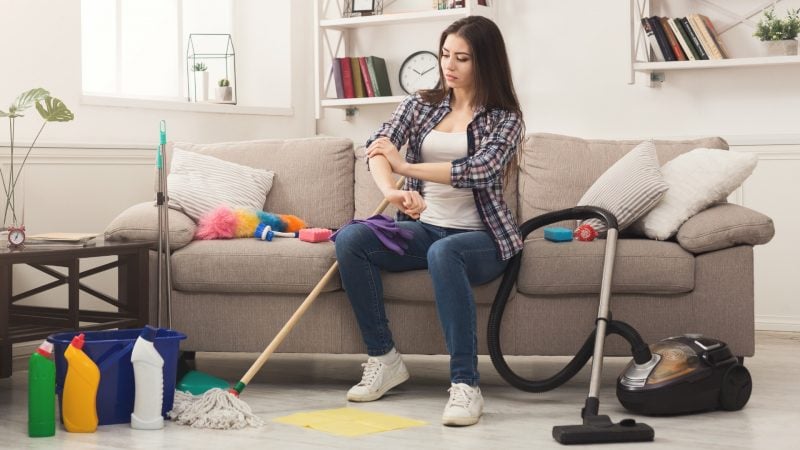 There are a couple of methods you can use to get rid of bed bugs on your couch and these methods that we're going to list are proven to be effective.
On top of that, we will give you a step-by-step guide, so you'll be able to grasp the principles within minutes of reading. In the next paragraph, we delve deeper into these methods.
How to Remove Bed Bugs and Their Eggs From the Couch – Step-by-Step Instructions
Method 1 – Laundering
Step 1 – Some parts of your couch can be laundered and these include small cushions, couch cushions, and the fabric. Before laundering, bag these into a large plastic bag or box.
Step 2 – Try to do it smoothly but quickly, to avoid disturbing bed bugs, which can then scatter around your house.
Step 3 – Put these parts of your couch in the washing machine.
Step 4 – Use the regular or high heat for at least an hour. This is enough to kill every bed bug.
Step 5 – When the laundering finishes, use your dryer to dry them up. Set up a high temperature and let it dry for at least half an hour.
Step 6 – While it dries, treat the frame of the couch. Clean it, wipe it, and look for holes in the structure.
Step 7 – Leave the frame to dry if needed and put back the dried cushions and fabric.
Method 2 – Using Bed Bug Couch Cover
Step 1 – Before you apply the bed bug couch cover, take the first method into an account. Treat your couch frame and cushions before moving on.
Step 2 – To make sure all bed bugs are dead, you can use your steamer along the edges of the couch.
Step 3 – After that, use your vacuum cleaner and vacuum all sides of the couch.
Step 4 – Now that your couch is completely clean and dry, wrap the bed bug couch cover around your couch and zip it properly.
Step 5 – Check around for holes and tears. If there are holes, be sure to buy a new one or request a replacement from the seller.
Step 6 – Leave the couch cover and use the bed normally. This will entrap all the bed bugs inside but also prevent other bed bugs from entering the couch.
Method 3 – Using Bed Bug Traps for Couches
Before giving you the steps, let's explain the bed bug traps. There are THREE types of bed bug traps – bed bug lures, bed bug interceptors, and glue traps. Bed bug lures contain certain chemicals, such as CO2 that attract the bugs. The lure is here to draw the bugs to it, rather than to you.
Interceptors are plastic traps that wrap around the feet of the couch. With this trap, bugs can climb in but they can't climb out because the plastic is slippery. Finally, we have glue traps, which need no special explanation. It's the same as an interceptor but with glue, to stick the bugs into place.
Bed Bug Interceptors/Glue Traps:
Step 1 – Plant the interceptors/glue traps around the feet of the couch.
Step 2 – Wait the whole night and check in the morning.
Step 3 – Bed bugs should now be in the interceptor (glued, if it's a glue trap) and you can dispose of them in any way you want.
Bed Bugs in Couch Treatment: 3 Best Products
1. Utopia Bedding Premium Bed Bug Proof Box Spring Encasement
Utopia Bedding has an amazing bed bug couch cover to make your life more utopian and less dystopian. With dimensions of 60 by 80 inches, it's able to fit a box spring up to 10 inches deep.
It's a 100%-polyester cover, meaning that it's soft, breathable, and waterproof, just as expected from a high-end couch cover. Thanks to its soft material, it's stretchable, so you can use it for bigger couches or even ordinary beds.
Not only that, but its ability to stretch implies that the build quality is quite good thus being resistant to tears. A mini-zipper is here to seal your bed tightly, not allowing a single bed bug to get inside.
2. MAYTEX Pixel Ultra Soft Stretch Sofa Couch Furniture Cover
MAYTEX Pixel Ultra Soft Stretch Sofa Slipcover, 2-Piece, Sand
TRANSFORM THE LOOK OF YOUR SOFA FOR LESS: A new Pixel slipcover...
EASY INSTALLATION: Durable yet comfortable slipcover is easy to...
PATENTED SEPARATE SEAT CUSHION: Sand-colored cover features a...
SUPERIOR DESIGN AND FIT: Soft, lightweight, stretchable fabric...
FITS STANDARD-SHAPE SOFAS: Pixel fits standard-shape sofas up to...
MAYTEX has its own couch cover that applies to your sofa, too. The effectiveness of this product is aided by a huge selection of colors, to be precise, we have a total of 7 colors to choose from, adding more versatility and the ability to adapt to every couch.
The installation is quite easy and thanks to the clear instructions inside the box, you'll be able to protect your couch in no time. Once again, we have stretchable fabric with elastic corners, to keep your cover in place. The maximum dimensions support the sofa/couch width of 76 to 96 inches.
3. CRESNEL Furniture Cover Plastic Bag for Moving Protection
Now, this is an ordinary plastic bag cover but it's an effective one, especially if you want to keep bed bugs out of your couch for a certain period. The width is 92 inches, while the depth is 42 inches, which is more than enough for a big, heavy-duty couch infested with bed bugs.
This ordinary plastic bag comes with some amazing features, including its increased thickness, which allows you to carry it confidently without worrying that it might tear. With its dimensions, this cover can sometimes cover the entire couch and even overlap as you wrap it again.
Since this is a couch cover, it's sealable, meaning that you can now prevent outer bed bugs from entering inside. It's a premium-grade, 100% non-recycled plastic and as such, it's healthy for you, your home, and your environment.
Home Remedies for Treating Bed Bugs on Couch
Diatomaceous Earth
As mentioned before, the diatomaceous earth is amazing when it comes to annihilating bed bugs. This powder can be scattered whenever you want and will instantly kill the bugs.
Sale
You can place it underneath your bed or in cracks in your bed frame. Alternatively, you can scatter the powder on the outside of your bed frame, if we're talking about food-grade diatomaceous earth. We suggest going for the food-grade one, as it's safe for you and your kids if you happen to have them.
Essential Oil Sprays
Essential oil sprays are also effective but not as diatomaceous earth. These serve to kill bed bugs on spot and usually require a bit more effort to apply. You have to go around with your spray bottle, and sprinkle the spray on your bed frame, holes, crevices, etc.
However, some essential oil sprays are very lethal for bed bugs and they're worth buying for smaller infestations.
Vacuum Cleaner
The good old vacuum cleaner needs no special introduction. This noisy contraption is here to suck in all the bed bugs as a frog would do with a fly. It's great for eliminating bed bugs on the surface and combined with a steamer, this boy can do some serious damage.
I wouldn't rely completely on the vacuum cleaner to do the job but hey, we all have it at home, so why not use it?
Related: Bed Bugs in Couch | Everything You Need to Know
List of Sources
Schuh R, Slater JA. 1995. True Bugs of the World (Hemiptera : Heteroptera) Classification and Natural History. Cornell University Press, Ithaca, New York.
Koehler PG, Pereira RM, Pfiester M, Hertz J. (July 2011). Bed bugs and blood-sucking conenose. EDIS. (26 April 2017)
Furman DP, Catts E. 1970. Manual of Medical Entomology, 3rd ed. National Press Books, Palo Alto, California.
EPA. (May 2010). Controlling Bed Bugs. Pesticides: Controlling Pests. (26 April 2017)