Professional exterminators are masters at killing bed bugs quickly, efficiently, and thoroughly. One of the most used methods is the well-known heat treatment. Bed bugs are known to dislike extreme temperatures, whether it's a very low or very high temperature.
So, how to kill bed bugs with heat treatment? If bed bugs are continuously exposed to 113°F for 90 minutes or longer, they will die from the heat. However, if exposed to 118°F for 20 minutes, they will die. The most common thing that we all have at home is a dryer or a steamer. The DIY heat treatment that also works well is by using very hot water, which is used by your washing machine.
These were some of the heat treatment methods that can be used against bed bugs. Conducting your DIY heat treatment isn't very hard but some people are encountering a bed bug infestation for the first time. This is why we decided to give them a helping hand and write a thorough article on how to kill bed bugs with heat treatment.
Do Bed Bugs Like Heat?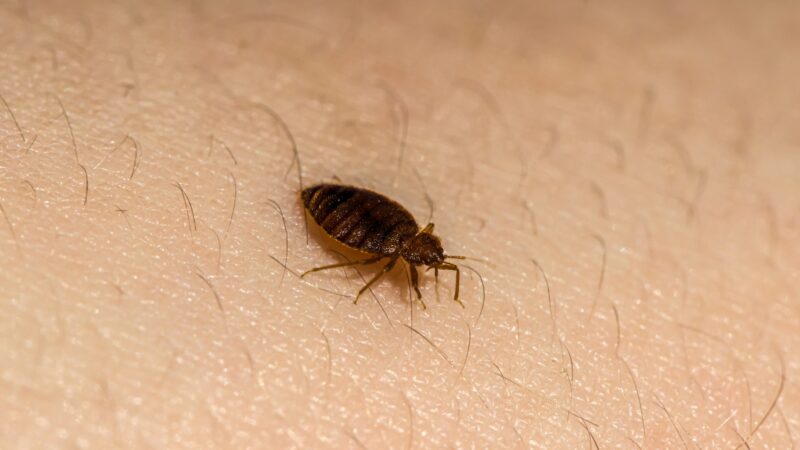 Bed bugs hate the heat and extremely high temperatures. This is why we use heat to kill bed bugs but bed bugs are some of the most stubborn pests out there and are made to endure even the harshest conditions.
In very cold conditions, bed bugs can live without food for a whole year and still survive! In the opposite case, it's not much different, as bed bugs can survive in some very hot environments.
However, using a steamer or a dryer, you can produce much higher temperatures – a lot higher than the temperatures we can encounter in different environments. This amount of heat is despised by bed bugs and it can kill them very fast.
Does Heat Kill Bed Bugs?
Extreme heat kills bed bugs swiftly and efficiently. Unlike other methods that include entrapping bed bugs in a plastic bag or box, heat directly kills bed bugs, killing both the bugs and their eggs.
The main reason why many people decide on this method is that it kills bed bugs very quickly and thoroughly, unlike many other methods, for example, some bed bugs pesticides can kill bed bugs on contact but spraying a pesticide on a surface will not kill bed bugs beneath that surface.
On the other hand, heat can pierce through your bed, mattress, clothes, carpets, etc.
Can Bed Bugs Survive Heat Treatment?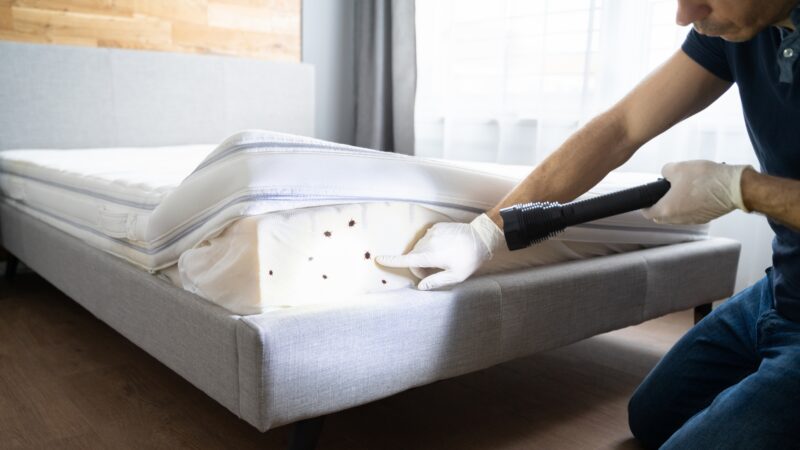 If done correctly, bed bugs can't survive the heat treatment. That's why we recommend hiring a professional to do that for you, in case you're not experienced. We mentioned that bed bugs can endure the harshest of conditions. This implies that even a very high temperature might not kill bed bugs immediately.
The lower the temperature, the higher the time it's required to kill bed bugs unless we're talking about sub-zero temperatures. In this case, very low temperatures are required for killing bed bugs.
A proper heat treatment will always ensure that every bed bug is dead at the place where you are applying the treatment. Let's say you're applying the heat treatment to your mattress. In this case, proper heat treatment will eliminate every bed bug from that mattress.
On the other hand, using a lower temperature than it's needed can result in some bed bugs dying and some surviving. Bed bugs closer to the surface of the mattress will probably die, while those embedded deeper inside will stay intact.
At What High Temperature Do Bed Bugs Die?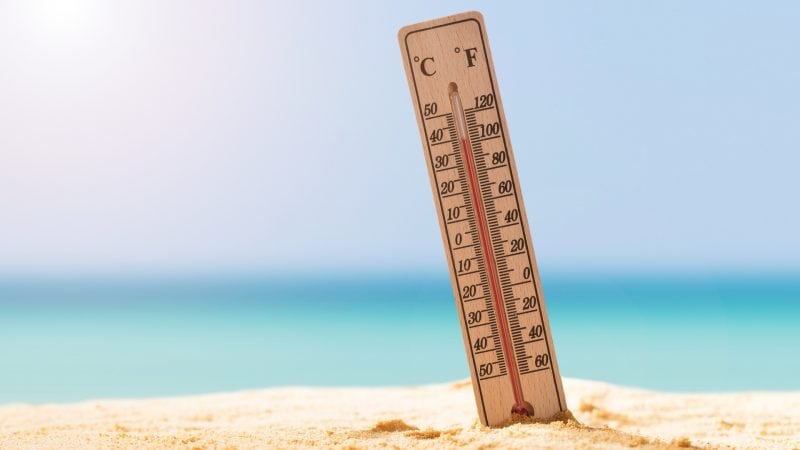 Bed bugs start to suffer and die off at 113 degrees Fahrenheit (45 degrees Celsius) but they need to be exposed to this temperature for 90 minutes. Although this temperature is enough to kill bed bugs, it might take a bit more to succeed, as this is just a bare minimum.
In most cases, a heat treatment is conducted with a temperature much higher than that. It's better to be sure that the temperature is higher than to go below that and risk underdoing it.
For example, professional exterminators use a temperature of 122 degrees to kill bed bugs inside the furniture. The higher the temperature the less time it takes for them to die. This temperature is way above the minimum temperature required to kill bed bugs and it's very effective. That's why professional exterminators always eliminate every bed bug with ease.
Bed Bug Heat Treatment Equipment | What Do You Need?
If you want to perform heat treatments like a professional, you'll need some fancy equipment. Big boys use big guns and they always manage to annihilate their enemies. Although bed bugs aren't big boys, they represent a chivalrous enemy that's capable of bringing destruction to your home.
For the simplest heat treatment using a dryer, you'll only need that. Although it's used for drying your clothes, it relies on the high temperature to kill bed bugs. That, in itself, represents a type of heat treatment.
The equipment for small treatments includes some heat treatment chambers like this one:
It's a very small chamber that lets you put your clothes or bedding inside, plug it into an outlet, and kill bed bugs inside due to the induction of high temperature. This can kill nymphs, adults, and eggs, making it a very versatile weapon for killing these creatures.
Bed Bug Heat Treatment | Step-by-Step Instructions
Method 1: Using a DIY Hot Box
1. Use a metal or plastic bin and wrap a layer of plastic around it. The bigger bin allows you to put more stuff inside, making the bed bug killing more efficient.
2. Use the insulation material and put it inside the bin.
3. Use the lid of the insulated bin and apply the same material there.
4. To make the heat get inside, you need to make a hole in the bin lid for a tube. The heat will get through that tube inside the bin.
5. At the end of the tube, place a small fan heater.
Sale
6. Check for cracks and seals in the bin. If there are cracks, fix them by applying more insulating material or plastic wrap.
7. Start the fan and let the stuff inside the lid get warm. This should kill all the bed bugs inside the bin if the temperature is right.
Method 2: Using a Dryer
1. The dryer is very easy to use. Before bringing your clothes or bedding to the dryer, pack them inside a plastic bag.
2. Carefully carry the bag to your dryer and place the clothes/bedding from the bag inside the dryer (do this to avoid spreading bed bugs throughout the entire house).
3. Choose a temperature of 120°F, which is, in most cases, the maximum temperature of commercial dryers.
4. Wait for the cycle to finish and check your stuff.
5. If the bed bugs are dead, the job is done. If you suspect that not all of them are dead, repeat the process.
Method 3: Using a Steam Cleaner
Using a steam cleaner lets you kill bed bugs on the surface. However, giving you step-by-step instructions for a process simply would not be wise. You can use your steam cleaner however you want.
Steam cleaners usually reach 245°F and the surface heats up pretty fast but also cools down fast. If the infestation isn't critical, using a steam cleaner will let you get rid of a vast majority of bed bugs in your house.
Sale
What Is the Cost of Professional Heat Treatment for Bed Bugs?
To be clear, professional heat treatment isn't very cheap. That's why many people decide on some DIY methods until the infestation reaches some critical levels. On average, expect to spend anywhere between $200 and $400 per room.
Depending on your number of rooms, you'll probably spend over $1000 and if you live in a bigger household, expect to spend $1500 or even $2000 for the entire house. As we can see, not everyone can afford a professional heat treatment but on the flip side, its effectiveness is undisputed, as it represents the best treatment against bed bugs.
List of Sources
Miller D. Using Heat to Kill Bed Bugs. Department of Entomology, Virginia Tech.
Bed Bug Control: Heat and Cold. The Ohio State University.
Do-it-yourself Bed Bug Control. (2022). United States Environmental Protection Agency.

Latest posts by Thomas Matthews
(see all)