With bed bugs becoming more and more resistant to some treatments, people are forced to find different ways of destroying them. Some use heat treatments, some use cold treatments, and some go for natural treatments that don't have a huge impact on the environment.
Speaking of these two treatments, have you read our article regarding different temperatures that kill bed bugs? If you haven't, you can read it HERE. Now, back to the topic. One of the most popular ways of naturally killing bed bugs is by using diatomaceous earth. This substance has proven to be very effective at eliminating a large portion of bed bug infestation.
So, how to use diatomaceous earth for bed bugs? Scatter the diatomaceous earth through your house, on the places where you suspect that the bed bug infestation is happening and watch how diatomaceous earth is destroying bed bugs. It can kill bed bugs swiftly, and every bed bug that comes into contact with this substance is killed, so the mortality rate is 100% – for bed bugs that touch the diatomaceous earth, of course.

We know that we've touched the topic of diatomaceous earth in some of the previous articles but since it's a very important substance, we thought we needed to expand on it in-depth.
That being said, we will cover everything related to diatomaceous earth and its interaction with bed bugs. Sit back, relax, and let's get straight to the point.
How Does Diatomaceous Earth Kill Bed Bugs?
Before answering this question, we need to see what is diatomaceous earth. Diatomaceous earth is a powder made out of the rock. This product is very popular and it is not used only for killing bed bugs but also a key ingredient in the cat litter, toothpaste, and so forth. Since it's made from rock e.g. it's natural, it's very good for household use. Some people who didn't try it are very skeptical whether it works or not but that's also the point of this article, to prove that it works.
So, what does diatomaceous earth look like? Well, it's very similar to corn flour but it has a white color. It feels different to the touch compared to flour. It's rough and abrasive, yet soft. This is because diatomaceous earth is made out of fossilized remains of algae that died a long time ago but they left their shells of which diatomaceous earth is made. These fossils formed rocks, which is why this powder is both soft and abrasive.
How does diatomaceous earth kill bed bugs? It works by scratching away bed bug's outer waxy layer when the bed bug steps on it. Since the diatomaceous earth particles are abrasive and sharp, they scratch the skin of bed bugs, causing bleeding, which makes bed bugs dry up and finally die. It's important to mention that diatomaceous earth kills bed bugs on contact, which is why it's so efficient.
Does Diatomaceous Earth Kill Bed Bug Eggs?
Since diatomaceous earth is so efficient at killing bed bugs, this begs a question we've seen coming – does it kill bed bug eggs? The answer to that question can be put in a form of the popular meme "well yes but actually no", although the short answer is no. But wait, don't shut down this tab in your browser just yet.
As mentioned before, diatomaceous earth kills bed bugs when they crawl across it. The tiny seashells and shards will rip their guts and kill it brutally. The reason why diatomaceous earth doesn't kill bed bug eggs is because the eggs don't crawl.
But, as soon as the eggs hatch and the bed bugs from the eggs start crawling around, this is where the magic happens and these bugs start dying like crazy. Another thing to consider is the amount of powder you put around your house. The argument "the more the better" doesn't drink water here because bed bugs already know what diatomaceous earth is and they avoid it like the plague.
If you're modest and you put a fine mist of powder at the right place, bed bugs won't be able to notice it and will walk straight into a trap.
How Fast Does Diatomaceous Earth Kill Bed Bugs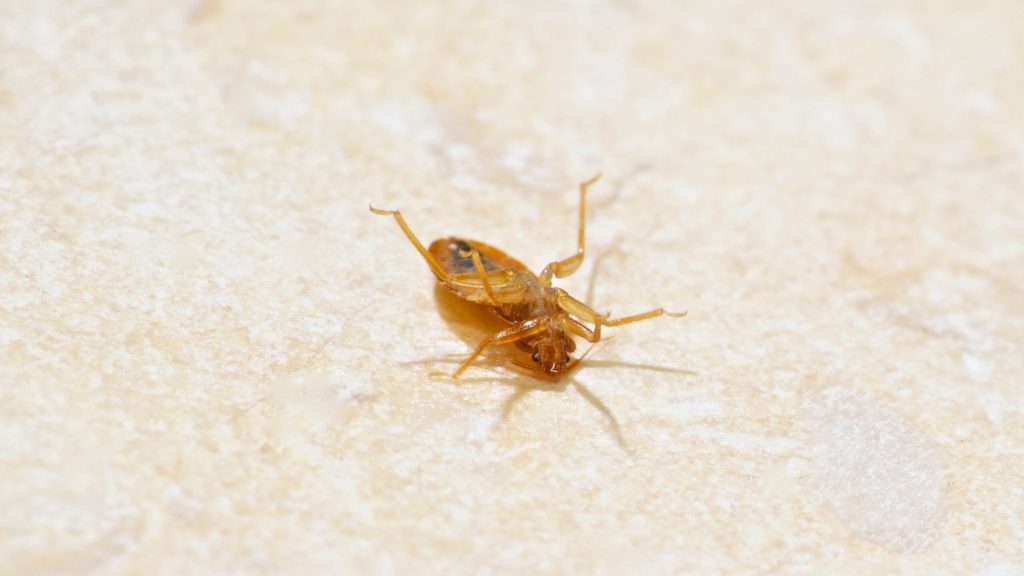 If a bed bug touches diatomaceous earth, chances of its survival are equal to zero. It's scientifically proven that this substance kills bed bugs and there's no further discussion. But how fast does it kill them? As we said, it damages bed bugs on contact, meaning that the death is guaranteed within a day or two. Earlier in the article, we said that diatomaceous earth kills bed bugs that touch it but what results do we get in practice?
Depending on the infestation, you can get solid to not-so-solid results, given the coping mechanisms of bed bugs. Bed bugs often evade toxic substances like this one, including tea tree oil and even pesticides, which gives them an advantage. Bed bugs also evade areas laced with diatomaceous earth and they also visit pesticide-treated areas rather than areas treated with diatomaceous earth.
With all this in mind, the overall mortality rate of bed bugs with diatomaceous earth is 36% depending on how badly the bed bugs are damaged. If the bed bug is severely scratched when touching D.E., they'll die much faster.
Can Food Grade Diatomaceous Earth Kill Bed Bugs? What Is Food Grade?
Food-grade diatomaceous earth can kill bed bugs effectively, the same way as normal diatomaceous earth can do. This is why the food-grade diatomaceous earth is more popular than the normal one. The food-grade diatomaceous earth is the same substance but with slight differences in specifications that must be met, regarding the heavy metal content.
For example, both substances contain less than 1% crystalline silica that must not be calcined, in order to be safe for both animals and humans. The difference is that food-grade diatomaceous earth must not contain more than 10 mg/kg of lead and 10 mg/kg arsenic. If these conditions are met, we're talking about food-grade diatomaceous earth that is safe for every living being.
Many people eat the food-grade diatomaceous earth, which is something you probably haven't heard about. It's often consumed mixed with juice or any other beverage and it's believed to help with parasite control, colon cleansing, and detox. However, to be effective against bed bugs, it must be kept completely dry. Otherwise, it's pointless using it for bugs.
---
How to Use Diatomaceous Earth for Bed Bugs (Step-By-Step Guide)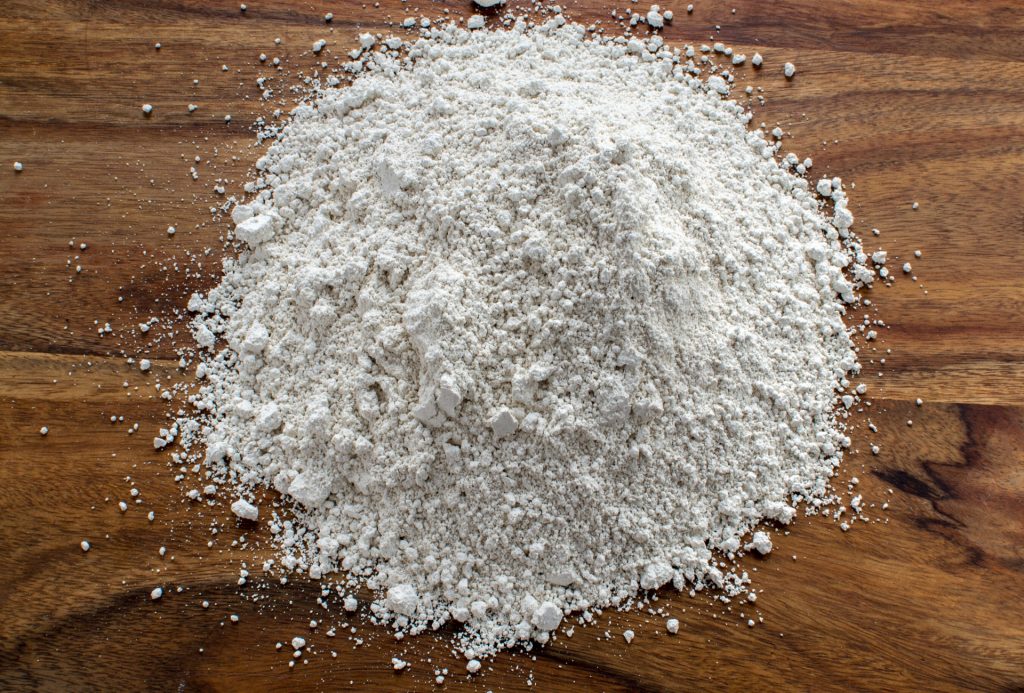 Step 1 – Open your diatomaceous earth bag.
Step 2 – Place diatomaceous earth modestly, on the places close to the infestation, not directly where the bed bugs are hidden.
Step 3 – Wait a couple of days and see if the infestation has reduced.
Step 4 – Repeat steps 2 and 3 until you get the desired results.
---
Now, let's talk a bit more about how you need to use diatomaceous earth. Placing the substance at the right place is crucial for eliminating a vast majority of bed bugs. You must think of route bed bugs usually use and place it there. If you place it in the lower corner of the room, for example, you'll kill zero bed bugs because no bed bug goes there.
Placing it somewhere bed bugs must go is the best-case scenario and it's usually close to their home, which is your bed. The places best suited for diatomaceous earth are the box spring, the feet of your bed, and the nearby furniture. Since most bed bugs live under the mattress, placing it across the box spring will increase the chances of them stepping on it.
The feet of your bed is where bed bugs must pass to climb, which is why it's a great place. Finally, nearby furniture should also be treated with diatomaceous earth to avoid spreading to other parts of your house.
---
Where Can You Buy Diatomaceous Earth for Bed Bugs?
Luckily for us, diatomaceous earth can be found in your local hardware store or online. There are numerous sources from which you can buy this substance and since it's very cheap, the price differences are negligible. In this article, we are going to give you the top 5 diatomaceous earth products from Amazon, which is our recommended vendor for this purchase.
---
Top 5 Diatomaceous Earth Products for Bed Bugs: Detailed Reviews
---
1. Harris Food-Grade Diatomaceous Earth, 5lb
HARRIS Diatomaceous Earth Food Grade, 5lb with Powder Duster Included in The Bag
Natural Product - Composed of 5lbs of 100% ground freshwater...
OMRI Listed - Listed with the Organic Minerals Research...
Powder Duster Included - Powder duster in the bag for easy and...
Supports a Great Cause - Harris donates 10% of profits to support...
Made in the USA – Mined in Nevada and packaged in Georgia. Does...
If you're a frequent visitor here on our site, that you probably know about Harris diatomaceous earth, a product that we always recommend first and foremost. With over 900 positive reviews, this diatomaceous earth product is the best you can get. You will get 5 lb of pure, food-grade diatomaceous earth that will last you for a whole year and even more, depending on the severity of the infestations. Harris made sure that there aren't additives and fillers, meaning the substance as pure as it can get.
This product is also listed on the OMRI (Organic Minerals Research Institute) list as one of the best products for eliminating bed bugs. In the packaging, we also get a powder duster, which makes it easier to apply to the required spots. If you buy this product, Harris will donate 10% of the price to Etowah Valley Humane Society, so you get to be charitable AND along the way eliminate bed bugs!
Check out the current price for Harris Food-Grade Diatomaceous Earth, 5lb on Amazon.
---
2. Earthborn Elements Diatomaceous Earth, 3lb
Earthborn Elements diatomaceous earth comes in a 3lb bucket that packs a 100% pure food-grade diatomaceous earth. The substance comes straight from Utah, so it's a USA-made product. The manufacturer prides itself on meeting the harsh U.S. Food Chemical Codex (FCC) standards, meaning that this product is safe for both animals and humans. As mentioned before, you can use this diatomaceous earth for improving digestive health, strengthening the immune system, and body detoxification, which the manufacturer also claims.
If you want to eliminate bed bugs and make yourself healthier at the same time, Earthborn Elements diatomaceous earth is the right product for you. Needless to say, the company offers a money-back guarantee, so you can get a full refund if you're not satisfied with the product.
Check out the current price for Earthborn Elements Diatomaceous Earth, 3lb on Amazon.
---
3. EasyGo Products Diatomaceous Earth, 10.5lb
EasyGo Products diatomaceous earth comes in four editions – 1.25 pounds, 10,5 pounds, 2.5 pounds, and 5.5 pounds. The reason we went for a 10.5-pound one is that it offers the best value for the price. So, we have a pure Nevada-mined freshwater food-grade diatomaceous earth packaged in California. As is the case with Harris diatomaceous earth, the product from EasyGo received an OMRI certificate for being the purest food-grade freshwater amorphous silica substance available.
What more can we say about this product aside from being the highest possible quality? All the standards for food-grade diatomaceous earth are met and the substance is mined from the quality sources in the USA. If you want to get the most for your cash, EasyGo Products D.E. is the best option for you. Those who aren't satisfied can get a refund within 30 days.
Check out the current price for EasyGo Products Diatomaceous Earth, 10.5lb on Amazon.
---
4. Safer 51703 Diatomaceous Earth, 4lb
Safer 51703 diatomaceous earth is perhaps one of the most popular products for killing bed bugs on Amazon. It has more than 1400 positive reviews, and as such, it's on top of our list of recommendations. It's not a food-grade D.E. but regardless of that, it's powerful as a nuclear bomb! Containing 85 percent of silicon dioxide and 15 percent of other ingredients, this product is excellent for killing earwigs, cockroaches, crickets, centipede, millipede, and bed bugs. Bed bugs won't be able to develop resistance to this one!
Check out the current price for Safer 51703 Diatomaceous Earth, 4lb on Amazon.
---
5. Dicalite Minerals Diatomaceous Earth, 50lbs
If you're all about going big, here's a 50 lbs package of premium-grade Dicalite Minerals diatomaceous earth. It's one of the rare products with all 5-star ratings, so it's worth taking a look. This diatomaceous earth is best used as filtering media for pool filters, as well as ground-level and underground filter systems. Being able to filter down to 3-5 microns, this D.E. is excellent for taking care of the tiniest spaces. If you take a look at other customers' reviews, you'll see that it abolishes bed bugs like nothing!
Check out the current price for Dicalite Minerals Diatomaceous Earth, 50lbs on Amazon.
---
Borax vs Diatomaceous Earth for Bed Bugs: What Is More Effective?
To put it simply, both borax and diatomaceous earth are equally effective against bed bugs. Why? Because borax kills bed bugs almost the same way as diatomaceous earth. Whereas D.E. will scratch the bed bug's body due to its abrasive structure, borax will stick to the bed bug's body, causing dehydration, making a bed bug die very soon.
In one study, scientists concluded that borax is more effective when bed bugs consume it, rather than affecting their exoskeleton. In this case, the mortality rate is an astonishing 95 percent, whereas, with the standard use, the mortality rate is 33 percent, just 3 percent lower than diatomaceous earth, which is negligible at this point.
For those who didn't know, borax is also called sodium borate or boric acid, which is used for medicinal purposes. You can also find it in laundry boosters, toothpaste, and hand soaps.
---
Summary
Diatomaceous earth represents one of the most affordable and effective bed bug treatments for the price . However, when it's compared to the professional methods, it doesn't come anywhere close. Those who want to save some cash and prevent a small infestation can use diatomaceous earth successfully. If we're talking about a big infestation, calling the professionals is always the best solution.
Whether you choose diatomaceous earth or borax, you can expect more or less the same mortality rate. Diatomaceous earth is much easier to get and if you need it, you can use our Amazon links to buy it.
---
List of Sources
Pesticides to Control Bed Bugs, United States Environmental Protection Agency
A Guide to Safe Handling of Diatomaceous Earth Products, IDPA
Krueger L. 2000. Don't get bitten by the resurgence of bed bugs. Pest Control 68: 58-64.