Bed bugs do bite cats. They feed on warm-blooded animals, and cats being in this category aren't spared either. Bed bugs are attracted to sleeping mammals, e.g., cats, because of the carbon dioxide they breathe out. They are expert hitchhikers and hiders, and while the cats' fur isn't their ideal home, bed bugs will certainly feed on cats if they need to.
Bed bugs have a very fast breeding period which starts with the female laying up to five eggs a day. The eggs hatch into nymphs in a span of 6 – 10 days after which this population takes about 16 days to multiply!
This rapid infestation can easily find its way into your cats' bed and easily settle into the poor animal's safe haven. This article covers all the possibilities of bed bugs and their eggs living on your cat, how to eliminate bed bugs on cats and we also recommended some safe products for eliminating bed bugs.
Do Bed Bugs Live on Cats?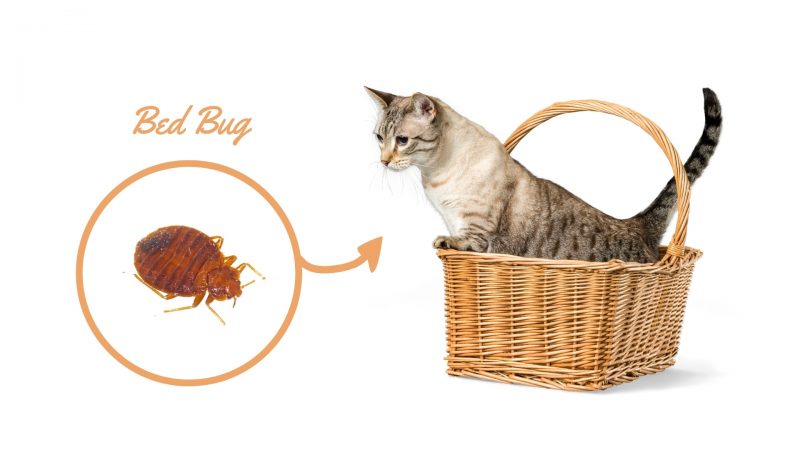 Studies show that bed bugs are not designed to traverse through surfaces covered with fur. These studies have gone to further note that bed bugs prefer cooler spots to call home and thus the possibility of bed bugs living on your cat is slim.
However, bed bugs are known for their resilience and unique characteristics to adapt to their environment. This very characteristic is the reason they are incredibly hard to eliminate. It is also the reason why we advise you to do a thorough check on your cat if you suspect the presence of bed bugs on them.
Bed bugs might not be living on your cat's body but they might have made a home a few feet away from its bed making a regular meal out of your cat.
Do Bed Bugs Live in Cat Litter?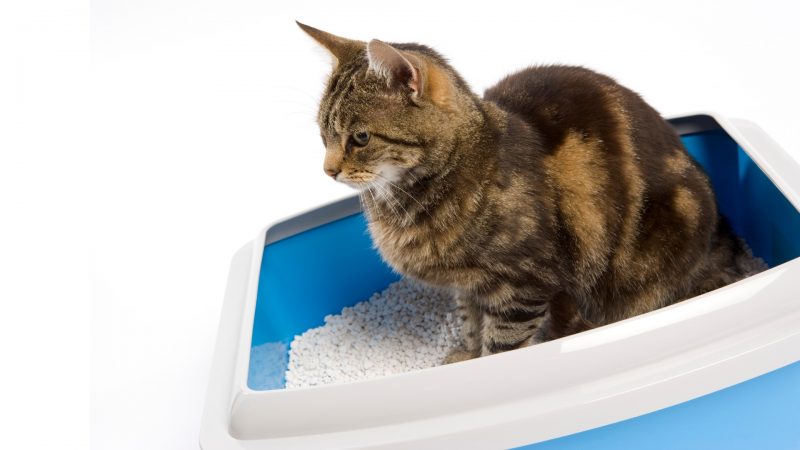 The possibility of bed bugs living in your cat litter box is extremely low in fact it is nearly impossible. There are different types of cat litter but all have one thing in common; they are designed to stay dry and they are cleaned every day. The dry environment in your litter box is not a good home for bed bugs. As we have seen in the points above, bed bugs reside in a cool environment close to the host.
Your cat uses the litter box several times a day and they do not reside where they poop, in fact, once they finish their business they cover it up and go off to another place to rest.
Silica-based cat litter is harmful to bed bugs. It dries out the bugs' exterior leaving it vulnerable and exposed to air where it dries out and dies. This deadly trait keeps the bed bugs far away from your cats' litter box.
Silica is one of the ways of eliminating bed bugs in your home. Grind up the silica-based litter and apply it in cracks and crevices around your home where they reside, they have no chance of surviving this.
Can Cats Carry Bed Bug Eggs?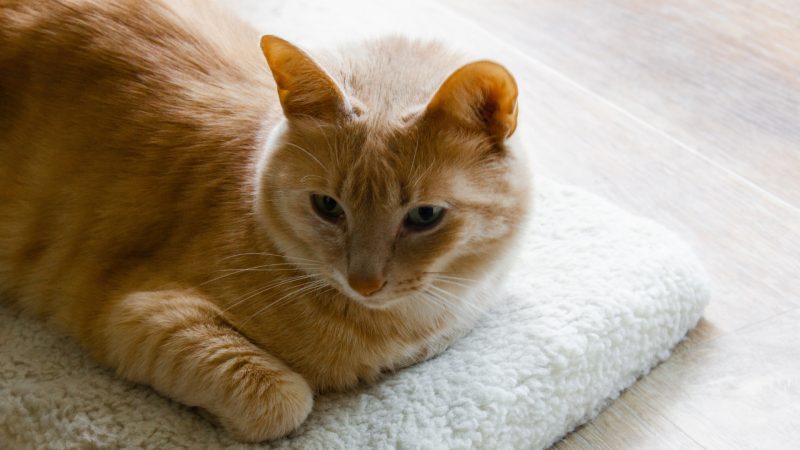 If your home is infested and your poor cat gets caught in the middle of the hungry parasites, you just might spot bed bugs eggs in your cat's fur. How they got there could be that they slept in an infested spot and once they got up, some eggs got caught in the fur and carried to another spot.
Will they reside there for long? Probably not because of all the movement your cat makes and all the scratching that will result from sleeping in an infested area.
Can Cats Bring Bed Bugs in the House?
Yes, cats can bring bed bugs into your house but this is possible only if the cat plays in another house that has bed bugs because these pests do not live outside.
Bed bugs may prefer cooler corners to call their home but those corners also must be next to a living breathing host. If your cat only plays in your enclosed back yard, then it is not responsible for bringing bed bugs into your home.
Check the cat's fur and bedding regularly to ensure that it isn't creating its own bed bug population right under your nose.
Do Cats Eat Bed Bugs?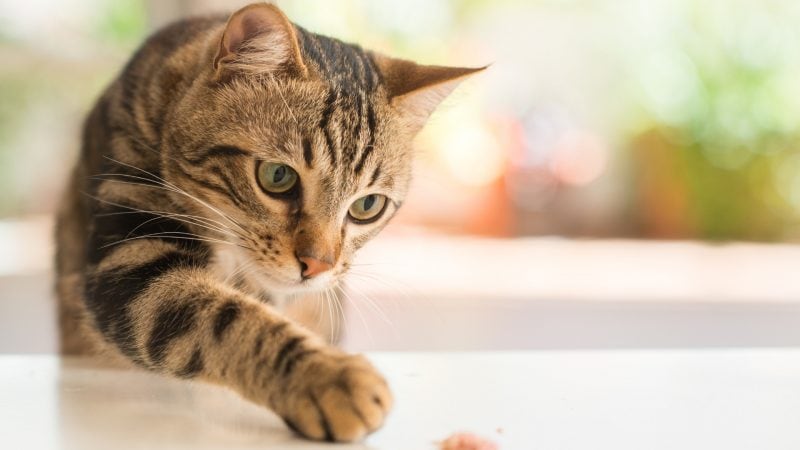 There are many attributes that make cats a wonderful companion for human beings and among them is their playful nature. You will find a cat playing with just about anything that crawls and bed bugs are no exception.
However, when the question of whether cats eat bed bugs arises, the answer is a quick no. A curious feline may put one in its mouth but that act is probably one that it will not repeat.
Bed bugs have a foul smell and they might taste just as horrible as they smell, therefore, lowering the chances of cats feeding on them.
How to Get Rid of Bed Bugs on Cats – Step by Step Instructions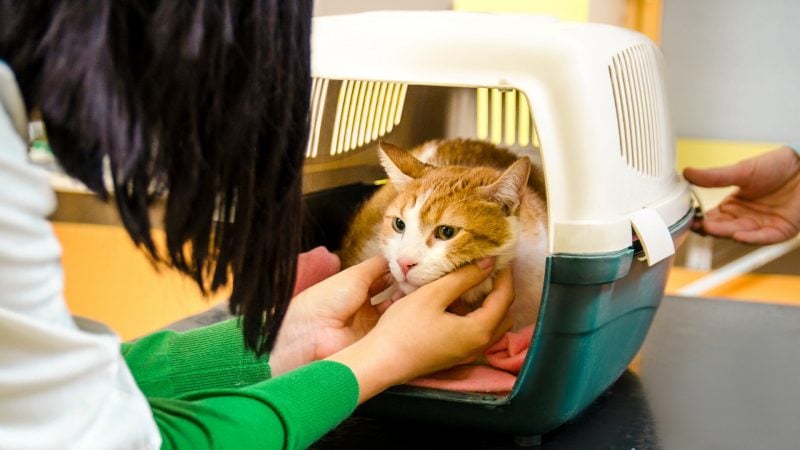 As mentioned earlier, bed bugs do not reside on cats. They instead make a nest near the cats' bed and turn the poor animal into a nightly warm-blooded buffet.
With this in mind, the best way to keep your cat safe from bed bugs is by eliminating them from the surroundings. There is no need to treat your cat directly for bed bugs and if the need arises, contact your vet for further guidance.
The following home remedies will ensure that your cat lives a happy bed bug free life.
Step 1 – Expose the cat's bedding to high temperatures by cleaning them with hot water. Bed bugs and their eggs cannot survive high heat which makes this an effective way of eliminating them.
Step 2 – Vacuum clean or steam clean your cats' favorite napping spots, crate, carrier, or even feeding areas.
Step 3 – This should be followed by a full home bed bug treatment that will ensure the cat doesn't stumble upon the blood-suckers once more.
Bed Bug Treatment for Cats: 3 Best Products
There are many products in the market which are effective when it comes to killing bed bugs. However, not all are safe to use around your pet cat and with that in mind, we compiled a shortlist of pet safe products that you can use.
1. Premo Guard – Bed Bug, Lice & Mite Killer Spray
Sale
Premo Bed Bug and Lice Killer is a safe and natural insect killer. Spray it around your cat's bed and feeding area in order to keep your cat safe and free from bed bugs.
2. EcoRaider Bed Bug Killer Spray
Easy application is a plus in the fight against bed bugs and EcoRaider Bed Bug Killer Spray promises just that. Keep your cat safe with this product.
3. Pro Pet Works All Natural Oatmeal Shampoo
Sale
If you feel the need to wash your cat during this treatment or if you notice bites from bed bugs on your pet, then consider using a safe shampoo that will soothe the sore spots on your pet such as this Pro Pet Works shampoo.
It should be noted that for you and your cat to be completely free of bed bugs a full home treatment needs to be done. This activity could include the possibility of hiring experts to carry out the treatment.
List of Sources
Bed Bug FAQs – Cornell University
Bed Bugs – The Ohio State University
Diseases & Conditions – Bedbugs, Mayo Clinic
Krueger L. 2000. Don't get bitten by the resurgence of bed bugs. Pest Control 68: 58-64.

Latest posts by Thomas Matthews
(see all)