Bed bugs love to drink blood from their host. In most cases, this host is human. To drink blood, they need a host that's not moving and you don't move a lot when you sleep in your bed. That's why bed bugs tend to find their shelter inside your bed or mattress, although they can invade other spaces in your home.
Bed bugs cannot burrow into human skin.. They might get on to your skin but that is as far as they will go.
People are often afraid of bed bugs because of their gross appearance. When you see them, they're always in the pack and that huge number tends to scare people. However, bed bugs represent an issue because of biting, which can cause redness of your skin and make it itchy.
In this article, we're going to examine the reasons why bed bugs bite, as well as go in-depth regarding bed bugs on your skin.
Can Bed Bugs Lay Eggs in Your Skin?
They will bite you but not lay eggs on your skin. However, they will lay eggs in clothes that you rarely use, so don't get surprised if you find some eggs in the sleeves of your favorite shirt or sweater.
Furthermore, they prefer a rugged surface, which is not the case with our skin. Your skin wouldn't hold bed bug eggs as firmly as your bed frame or the inside of the mattress would do.
Bed bugs reproduce by laying eggs, from where new bed bugs will emerge. They prefer a peaceful environment to do so, as a disturbance in the form of movement can crush the eggs and destroy them.
This is why bed bugs prefer hiding their eggs away from your eyes – in your mattress, bed construction, and holes and crevices. Those who are scared that bed bugs might lay eggs on their skin have nothing to worry about.
Bed Bug Bites on the Skin – Why Are They Biting You?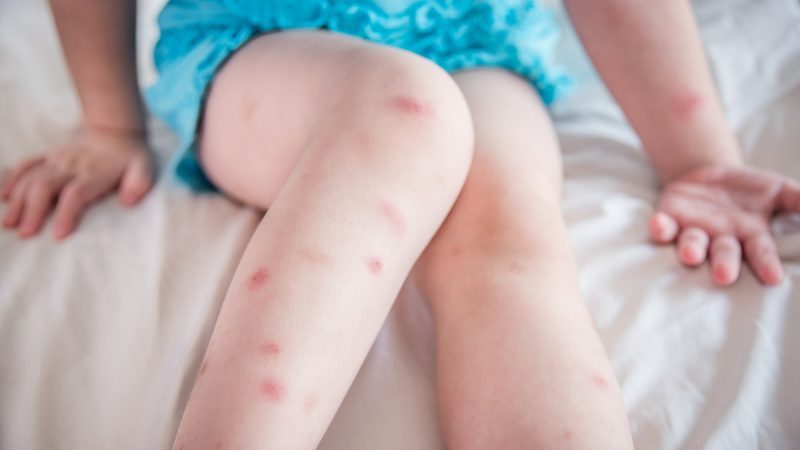 The reason is simple – your blood. Yes, they're insane for blood because blood for them is like water for us, as we can't survive without it.
A single bed bug won't drink an enormous amount of blood. However, for example, a mosquito drinks more blood than a single bed bug.
But, a single bed bug won't bite you. Instead, you get hundreds of bed bugs feeding off your blood during the night, when you sleep and rarely move. I know that this sounds quite terrifying but it's just a cold hard truth.
How do they manage to drink your blood and remain unseen? Well, because you sleep and they're so tiny that you don't even notice them. After biting, bed bugs make that part of your skin itchy and red but not red in a way that mosquito does.
When a mosquito bites you, you get one red itchy spot. With bed bugs, you get a couple of tiny spots, which is one of the main signs of a bed bug bite.
Do Bed Bugs Stay on Your Skin?
Bed bugs won't stay on your skin when they aren't hungry. They're timid but wise insects and don't waste time outside of the shelter for nothing. When they're hungry, they get out, consume some blood, and return to the hideout. The feeding time is usually less than 5 minutes, so they don't stay on your skin for longer than that.
This is also one of the reasons why you don't notice them during the night.
Don't Confuse Bed Bugs with Scabies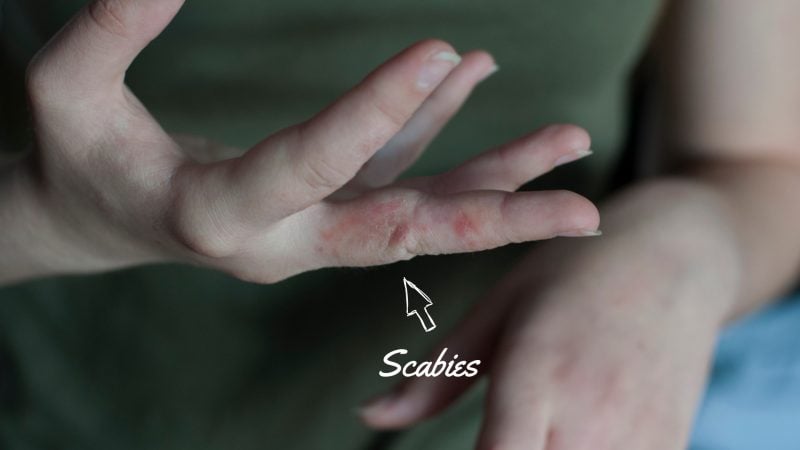 Now, many of you will confuse bed bugs with scabies, and although they both drink blood, there are some differences between these two:
Bed bugs drink blood outside of your body, while scabies does it from the inside.
Bed bugs feeding time is significantly shorter, as they use their specially-developed mouth to suck blood without actually "biting" you. Scabies, on the other hand, burrow underneath your skin, feed, and lay their eggs there. Bed bugs can't burrow!
Bed bugs are also much bigger than scabies. You don't need a microscope to see them, whereas, with scabies, they can be seen only through a microscope. They are microscopic parasites and they're sometimes called itch mites, which is the term you're probably familiar with.
Because they're different physically and they drink blood in different ways, their bites are different.
When bed bugs bite you, you see red welts, typically a couple of them in a row. On the other hand, because scabies burrows in your skin, you see grayish raised lines, which later turn into red papules.
At the beginning of scabies infestation, their bites can be quite similar to bed bug bites, which is why many people fail to properly recognize them.
Now, what happens if these aren't treated?
With bed bugs, nothing special. Their number increases, as they lay two to five eggs daily. You continue to get more bites and your skin gets itchier.
Scabies does it more brutally. The first thing you'll notice is skin lesions, scaling, and yellow crusting taking over your body. They lay up to three eggs daily. Since they can burrow, they get on the surface of your skin, mate, and get back inside to lay eggs.
What about biting places?
Bed bugs aren't very meticulous, as long as the particular body part touches the mattress. It's usually back, legs, arms, shoulders, and even face. Yes, your face can get bitten, too! Scabies like warm and moist skin. The places they typically burrow are toes, fingers, armpits, and waist.
Itching produced by bed bugs isn't as severe as with scabies. When they start biting you, you see the symptoms within a couple of days or couple of weeks. Scabies takes longer (two to six weeks) but after you see symptoms, it's much more severe. The skin starts to itch intensively, especially when you sleep at night. This leads to skin infections and sores, which can also happen with bed bugs.
Can Bed Bugs Cause Skin Infection?
Just as we mentioned skin infections, it's important to state that bed bugs are rarely, if ever, dangerous in that sense. However, there are some cases in which bed bugs can cause skin infection but not directly.
For example, if you scratch bed bug bites on your skin too much, you can make them bleed and this wound could get infected. In the case of scabies, the skin infection is always present and that's a more complicated case.
Do Bed Bugs Stay on Your Skin After a Shower?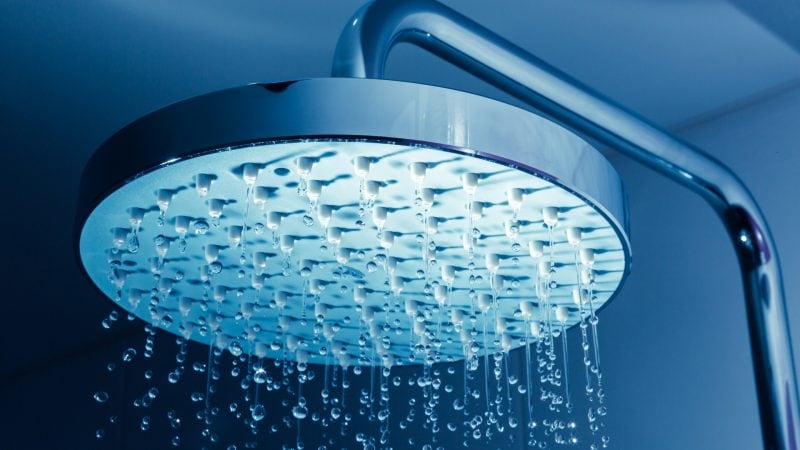 In our previous articles, we mentioned that bed bugs can be removed by washing your bedding or any other piece of furniture. When it comes to your skin, bed bugs can also be removed when taking a shower, especially a very hot shower.
Not many people like showering with insanely hot water but for those who do, this is a great way of getting rid of bed bugs from your skin.
Water, in general, can also kill bed bugs, as they are not skillful swimmers. But, as we mentioned before if you decide to go with water, make sure it's hot and use a quality shampoo.
Water is great at removing all kinds of dirt from your body and with bed bugs, it's also the case. The only thing is that bed bugs will rarely stay on your body when you're awake.
Bed Bug Repellent for Skin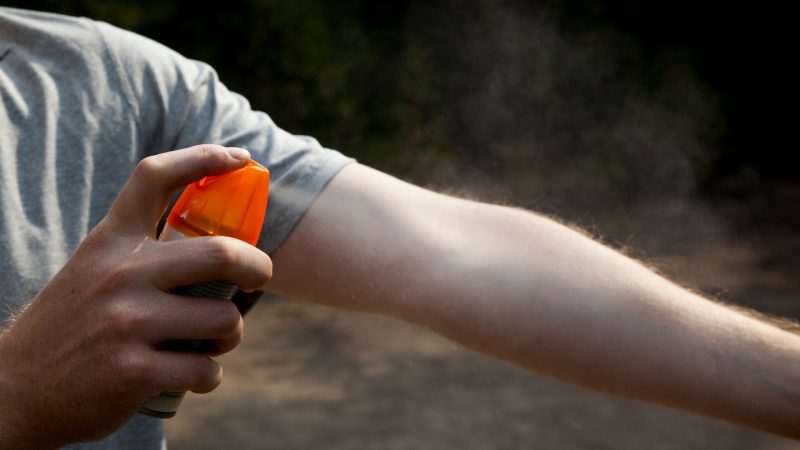 Since we have mosquito repellants, as well as repellants for other insects, is there a bed bug repellant?
Sure. You can find bed bug repellants online but to be honest, some of them aren't that effective and due to various chemicals, can be not-so-friendly to your skin. When purchasing a bed bug repellant, look for ingredients like para menthane, Picardin, and DEET-DEET.
The reason these are safe is that the USA EPA has approved these substances for sale. These substances are also great at repelling ticks and mosquitoes.
Here are some of our best picks:
Mitesil 10% Sulfur Cream Relief for Mites and Bed Bugs
Avon Skin-so-Soft Guard Plus Insect Repellent
Treatment for Bed Bug Bites on the Skin
If you failed to prevent bed bugs from biting you or you didn't know you have bed bugs, is there a need for special treatment?
Not necessarily. Some people barely feel it, although there are some people allergic to bed bug bites. In most cases, the bite symptoms, as well as bites, will reduce in one to two weeks.
But, if your skin is too itchy and you don't want to suffer, you can do something to weaken the symptoms. Our choice would be calamine lotions or anti-itch creams. They will help you not only with bed bug bites but also with mosquito bites, which represent a big problem in the summertime.
Another solution is that you take some oral antihistamines. They can also help you with burning and itching.
However, some over-the-counter pain relievers can also do the job, as they successfully reduce pain and swelling, which is less likely that you'll have. Still, we can't discard certain allergic reactions completely. If it happens, it's best to call 911 and react as soon as possible.
In rare cases, bed bug bites can cause cellulitis, which is a skin infection. This happens when you scratch the bites too much and the wound starts bleeding. In this state, the wound is prone to certain bacteria, which can enter inside and cause some problems. To avoid this, simply wash the bites with some water and soap, and avoid scratching.
How Long Do Bed Bug Bites Last on Your Skin
As mentioned before, bed bug bites can last anywhere from one to two weeks, depending on the severity of the symptoms. However, that's not always the case because if you get bitten every day, your symptoms can be exacerbated, prolonging the bites.
Typically, if you treat your bites the way we mentioned above, you can recover within a week or two.
Remember that every organism is different and as such, every organism reacts differently to bed bug bites. Bed bugs have anticoagulant agents in their saliva, which can often lead to bleeding.
A bleeding wound will always recover a bit slower. Allergic people will notice that bed bug bites last longer on their skin. Not only that but they also show other effects, aside from itchy skin.
Once again, the bed bug saliva is the main culprit here and is the main cause of the allergic reaction. Some cases were noted where people had psychological problems such as insomnia, anxiety, and stress.
Furthermore, if the infestation is severe, numerous bed bugs drinking blood from you can lead to anemia, which is a problem of its own and requires special treatment.
In most cases, however, you'll recover within one week, with a maximum of two weeks, in case you don't fare with bed bug bites well.
Homemade Bed Bug Repellent for Skin
Opting for some homemade solutions for bed bugs is a very smart thing to do. Luckily, we have a couple of options that can help you and that most of us have in our homes.
Alcohol
Although it kills pests on contact, it's not very good as a long-term repellent since it dries out and leaves no residual effect. Still, alcohol is all but bad for your skin and as a short-term repellent, it's quite effective.
Soap and Water
I know it seems ineffective, but believe me, it's far from the truth. There's nothing wrong about hot water and soap when it comes to repelling and killing bed bugs. If you have bed bug bites, it's also great to wash your wounds with a bit of hot water and rub the soap to disinfect and clean the wound.
It's not a long-term solution but hey, keeping yourself clean prevents possible complications.
Essential Oils
Essential oils are great at repelling bed bugs and some of them can be used on your skin. If you plan on spraying them on furniture, use a spray bottle, pour it inside, and spray it around.
Ola Prima Oils 4oz - Lemongrass Essential Oil - 4 Fluid Ounces
Huge 4 Ounce Bottle - Our Lemongrass oil Is bottled in a U/V...
Premium Quality Therapeutic Grade Lemongrass Oil (Packaging may...
Perfect For Your Aromatherapy Diffuser & More - Simply add a few...
Ola Prima Is The Leader In Aromatherapy Essential Oils - We offer...
However, if you want some of these oils on your skin, you can just smear it with your hands. Our picks include lemongrass oil, peppermint oil, thyme oil, cinnamon oil, clove oil, and eucalyptus oil. These are all safe for your skin and are proved to repel/kill bed bugs.
Neem Oil
Aromine Neem Oil for Skin, Hair care and Neem Oil for Plants (4oz)
100% Organic Neem Oil, Cold pressed neem oil, Unfiltered and...
BEAUTIFUL SKIN Great for minor skin irritations as well as...
SCENT. 100% pure Neem Oil extract has a unique earthy scent. Some...
HEALTHY PLANTS. Neem oil for plants, home gardening and leaf...
UNDILUTED neem oil is rich in essential Omega 6 & 9 Fatty Acids
The neem tree grows in India and it's a widely-researched herbal remedy at the moment. Its natural oil seems to be quite a weapon in repelling and killing bed bugs but also other insects and pests. Researchers have found out that its leaves, bark, and oil have been used for thousands of years in the East for treating illnesses produced by insects.
List of Sources
Insect Bites and Stings, MedlinePlus
Snetsinger R. 1997. Bed bugs & other bugs, pp. 393-425. In Mallis A, Hedges SA [eds.], Handbook of Pest Control, 8th ed. Franzak & Foster Co., Cleveland, Ohio.
Schuh R, Slater JA. 1995. True Bugs of the World (Hemiptera : Heteroptera) Classification and Natural History. Cornell University Press, Ithaca, New York.
Koehler PG, Pereira RM, Pfiester M, Hertz J. (July 2011). Bed bugs and blood-sucking conenose. EDIS. (26 April 2017)

Latest posts by Thomas Matthews
(see all)