Bed bugs don't transmit diseases to humans, but their presence is very annoying, and their bites are very itchy. People who are regularly bitten by bed bugs can suffer from anxiety and lack of sleep, while excessive scratching can lead to a skin infection. If you can no longer control them, you should hire an exterminator.
It is recommended to hire an exterminator, which can surely get rid of bed bugs. The main purpose of these professionals is to eradicate annoying pests in buildings and homes. Exterminators use a wide variety of techniques in killing pests, such as bed bugs, and can handle severe infestations with less effort.
There are several ways to kill bed bugs, but some of them are dangerous, not practical, and not applicable to every situation. In this guide, you will learn what can kill bed bugs instantly and how to use them properly. But if things don't work out as expected, there are also some helpful facts about exterminators.
Where Do Bed Bugs Come From?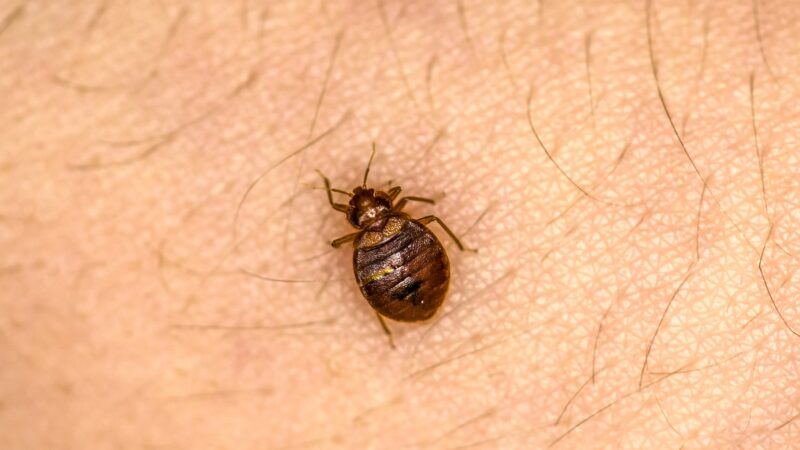 Scientifically known as Cimex lectularius, bed bugs exist more than 3,300 years ago, back to ancient Egypt. These creepy bloodsuckers were brought to America by the early colonists.
In the 1950s, there was mass treatment all over the country, and these wingless household pests were almost eradicated completely.
However, the insecticides used were highly toxic to humans and were banned from use. Today, bed bugs come from almost everywhere. These stubborn pests are spread through infested luggage, furniture, and other upholstered surfaces. They also hitchhike in cars and can travel in rooms in schools, hotels, and houses.
Related: Where Do Bed Bugs Come From? | All You Need to Know
Can an Exterminator Get Rid of Bed Bugs?
Bed bugs may be eliminated by an exterminator, who is also your best option. Exterminator has received training on the biology and behavior of bed bugs, so they are aware of where they should search for them and how to get rid of them completely. They can get rid of bed bugs at all phases of growth by utilizing a variety of procedures, which is practically hard to do with DIY remedies.
Why You Should Hire an Exterminator for Bed Bugs?
Even if you're unsure whether you have an infestation, we still advise calling an exterminator. Professionals are aware of where to search and how to spot bed bugs. If you discover bed bugs in your house, getting rid of them quickly will spare you future suffering. More reasons for choosing professional pest control include the following:
1. Quick and Efficient
Professional exterminators will have a plan in place from the outset to tackle the issue as quickly as feasible. To quickly eliminate these hardy pests, exterminators also employ a mix of chemicals and heat treatment.
2. Save Money
Although bed bug treatments may appear expensive up front, you might end up saving hundreds of dollars over time. You may prevent an out-of-control infestation by quickly addressing the bed insect problem.
3. Minimize Damage
You might need to toss these things away entirely if you're dealing with a lot of bugs in order to lower the possibility of bringing them back into your house. It's possible that you won't need to throw away any of your bedding, carpets, or curtains if you hire a professional and deal with the bed bugs quickly and effectively.
Furthermore, there is no need for you to be concerned about any of your possessions getting contaminated by chemicals. Both the origin of infestations and the ideal location to administer pesticides will be found by experts.
DIY Bed Bug Removal vs. Using an Exterminator
DIY Bed Bug Removal
A few home treatments for bed bug extermination can control an issue. You can vacuum your sheets, mattress, and the area around your bed frame. You should vacuum the surrounding area as well, making sure to reach each and every corner, which can remove bed bugs along with any eggs or larvae. Also, try washing and drying your bedding at a high heat temperature.
While these do-it-yourself solutions can deal with a bed insect problem right away, the bigger issue might not be resolved. An exterminator will be able to assess your particular infestation and suggest a course of action that is suitable for you.
Using an Exterminator
You might expect the following things from a bed bug exterminator:
Examination of the infestation and advice for a thorough treatment strategy.
Depending on your infestation level, budget, and house layout, specific treatments will be recommended.
Advice on how to prevent a bed bug issue in the future
Do Bed Bug Sprays and Insecticides Work?
Bed bug sprays and insecticides do work, but they depend on several factors. First, insecticide manufacturers should submit their research data to the U.S. Environmental Protection Agency (EPA) showing that their products can kill bed bugs. Once this is reviewed and a product has been approved, it should work effectively as advertised on the label.
But again, bed bugs hide in very tiny spaces, and sprays and insecticides can only kill them in contact. Also, not all chemicals contained in these products work in all situations.
Some of them can kill bed bugs instantly, while some only stop their activities. Most insecticides also don't work well in severe bed bug infestations.
What Chemical Kills Bed Bugs?
A lot of chemical compounds can kill bed bugs, but not all of them should be used as pesticides. So far, the EPA has only approved seven of them as components of pesticides. These chemicals are not only effective in getting rid of bed bugs; they are also considered safe and don't pose health risks.
1. Pyrethrins
Pyrethrins come from chrysanthemum flowers, which are composed of several chemicals that are very toxic to insects, such as bed bugs. Whether whole or crushed, these flowers contain impurities that are separated from them to get the toxic chemicals. Pyrethrins have been registered for use in pesticides since the 1950s.
2. Pyrethroids
Pyrethroids are man-made or synthetic chemicals similar to natural pyrethrins. In fact, they are derived from pyrethrins and are currently manufactured by almost 100 different commercial products.
Like pyrethrins, pyrethroids are very effective in forcing bed bugs to get out of their hiding places and eventually kill them.
3. Desiccants
Desiccants are chemical substances that destroy the exoskeleton (hard outer shells) of bed bugs. Once this coating is damaged, the bed bugs will become dehydrated and will slowly die.
Since this process is purely physical, bed bugs can no longer escape. A perfect example of a desiccant is Diatomaceous earth .
4. Neonicotinoids
Neonicotinoids (neonics) are synthetic chemicals that are derived from nicotine. As pest-controlling pesticides, they attack the nicotinic receptors of the nervous system of bed bugs.
Neonicotinoids paralyze insects, causing them to die soon. But then, be careful because these chemicals can also harm beneficial insects.
5. Pyrroles
Pyrrole is a relatively new chemical that kills insects such as bed bugs by disrupting their major functions, including the ability to produce energy. So far, Chlorfenapyr is the only pyrrole pesticide that is approved by the EPA against bed bugs. This chemical is a great alternative to conventional insecticides.
6. Cold-Pressed Neem Oil
Cold-pressed neem oil is derived from the seeds of a neem tree. It contains Azadirachtin, which repels and kills pests such as bed bugs.
So far, this is the only biochemical pesticide registered against bed bugs. Unlike regular neem oil, cold-pressed neem oil preserves most of the beneficial compounds of neem seeds.
7. Insect Growth Regulators
As the name suggests, insect growth regulators (IGRs) regulate the growth of bed bugs and don't kill adults. Instead, these insecticides either stop or reduce the development of juveniles by mimicking their hormones. In short, IGRs break the life cycle of bed bugs and prevent them from reaching maturity.
Related: What Chemicals Kill Bed Bugs?
Can I Get Rid of Bed Bugs Myself?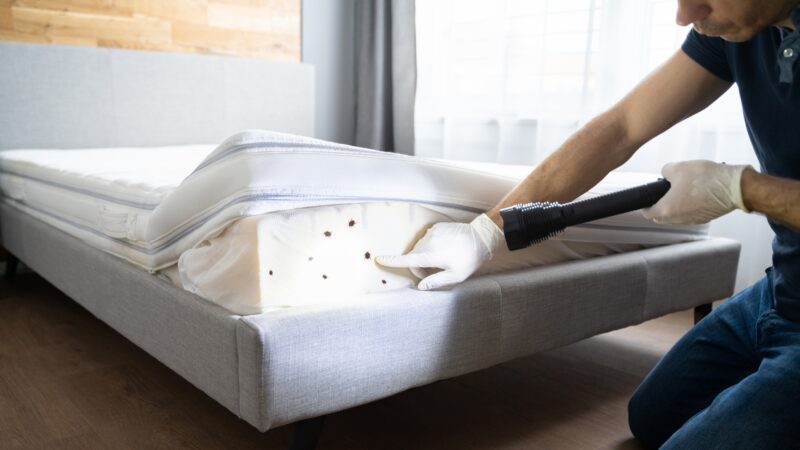 You can get rid of bed bugs yourself. But then, it depends on the severity of the problem. Note that these parasites are very small and can hide in very tiny cracks.
Bed bugs are also nocturnal insects, which means that they are active at night and rest during the day. They also usually attack while people are sleeping.
Aside from that, bed bug bites are painless at first, and itchiness is usually felt in the morning once the person bitten wakes up. In some cases, bed bug bite marks only appear one to a few days after the initial bite. This is because bed bugs tend to inject a natural anesthetic into the skin while sucking the blood.
Can You Get Rid of Bed Bugs Permanently?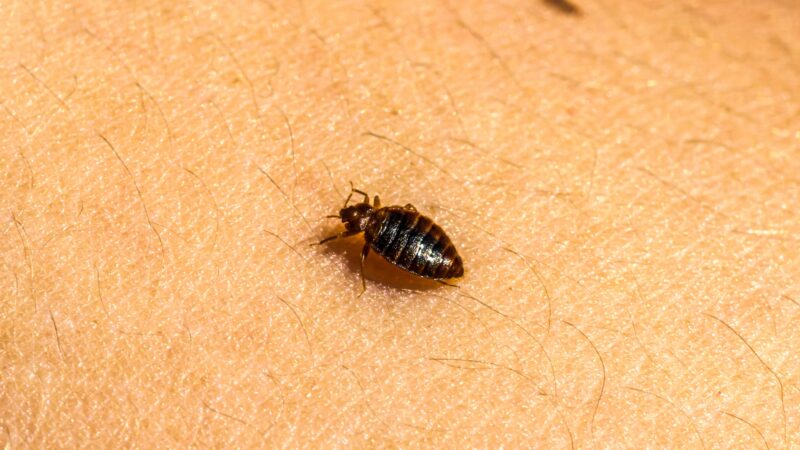 You can get rid of bed bugs permanently. If you are sure that you or an exterminator has killed all of them, the possibility of their return depends on the people entering your house. If you travel a lot, bed bugs from hotels and vehicles (especially public) may hitchhike via your belongings and will enter your house with you.
Bed bugs may also hide in second-hand or rented furniture. Therefore, the key to avoiding bed bugs returning to your home is to carefully check each item before bringing it inside. Since bed bugs can survive for about 400 days without a blood meal, regular inspection of all the rooms and vacuuming them is a must.
What Kills Bed Bugs Instantly?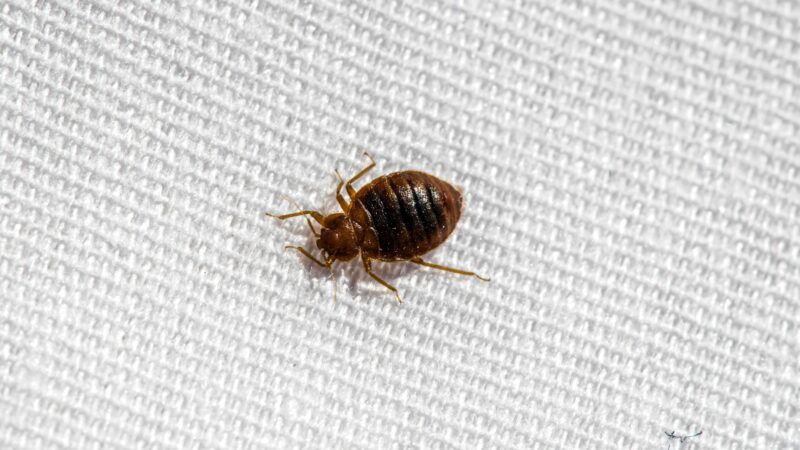 As mentioned earlier, some sprays and insecticides kill bed bugs instantly. But still, it depends on the situation. In most cases, these blood-sucking pests are only noticed once there are already a lot of them.
But if you find only a few of them, here are items and household equipment that can kill them right away:
1. Rubbing Alcohol
Also known as Isopropyl alcohol, rubbing alcohol can kill bed bugs instantly on contact. It is both a solvent and a desiccant, which dissolves bed bugs' outer shells and dries them out.
Although inexpensive, rubbing alcohol is flammable and not registered as an insecticide. A study also showed that it only kills 50% of bed bugs.
2. Diluted Vinegar
Diluted white vinegar kills bed bugs on contact due to its powerful acidic acid content and is much safer than rubbing alcohol. Just mix one part of water and one part of vinegar, and spray the solution on areas where bed bugs are present. But then, vinegar evaporates quickly and is not effective in severe infestations.
3. Boiling Water
So far, heat treatment is the best way to kill bed bugs almost instantly. Therefore, you can pour boiling water on infested fabric and surfaces.
However, some bed bugs might not get killed once the water gets cold, while others can escape. More importantly, boiling water can harm you, and it is not a practical solution.
4. Clothes Dryer
Speaking of heat treatment, exposing bed bugs to a temperature of 118°F (47.7°C) for about 20 minutes can kill them. These pests will also die once exposed at a temperature of 113°F (45°C) for at least 90 minutes.
If you have infested clothes or blankets, you can use a clothes dryer. Some items cannot fit in dryers, though.
5. Steam Cleaner
Using dryers is only effective if the bed bugs are visible on clothes and fabric. But for those hiding in corners and crevices on the bed frame, mattresses, and furniture, steam cleaners such as Light 'N' Easy Multi-Functional Steam Steamer at 212°F (100°C) kill bed bugs instantly. Just make sure bed bugs will not scatter.
How to Get Rid of Bed Bugs Without an Exterminator?
Hiring an exterminator to get rid of bed bugs is not always necessary. Once you confirm that you have bed bug bites, you can try killing these pests yourself. But then, the success depends on how many bed bugs there are and where they are hiding.
Nonetheless, here are the DIY (Do-it-yourself) steps for killing bed bugs:
1. Inspect the Area
Inspection of the area means identifying where the bed bugs could be hiding and how many they could be. One of the major signs of bed bugs is finding crushed bed bugs on bed sheets or mattresses that look like reddish stains. Check also for dark spots, which are bed bug feces or blood they have digested.
Apart from that, look for bed bug eggs, which are white and very tiny. They are usually in cracks and crevices.
Bed bugs also shed skin during the molting process. These casings are usually tan, translucent, and hollow outlines of young bed bugs. More importantly, look for live bed bugs and use a flashlight in dark areas.
2. Stop the Spreading
Before treating the infected areas, make sure that the bed bugs will not spread. Otherwise, you will be creating another problem.
Caulk all their hiding areas and possible exits. If your bed has bed bugs, move it away from the wall at least six inches away. Place bed bug interceptors under each of the legs of your bed.
Remove all infested items such as blankets, pillows, and bedsheets, and place them inside a sealed plastic bag. To trap the bed bugs, place the mattress inside a mattress encasement .
For box springs, place them inside a protective cover with a zipper. Also, remove everything under the bed and clutter in the bedroom.
3. Prepare for Treatment
Treating bed bugs takes time, depending on the extent of the problem. Hence, you should prepare yourself and the things you need.
It's better if you record the exact locations where you found the bed bugs. This will help you know where to start and how you can eradicate them. Then, create a schedule for the treatment.
If there is already an infestation, find another place or room where you can sleep temporarily. In most cases, you should sacrifice your other activities.
If you will remove items from an infested area, place them in a dryer or under direct sunlight for a few days. For heavily infested items, seal them and throw them away.
4. Kill the Bed Bugs
Again, heat treatment is the best way to kill bed bugs. Cold treatment may also help. If possible, place small infested items inside your freezer at 0°F and leave them for at least 3 days.
You also try some non-toxic bed bug sprays such as EcoRaider Bed Bug Killer . Make sure you follow the instructions on the label.
Avoid using foggers or bug bombs since they cannot reach cracks and crevices. Aside from being toxic to humans and pets, they can also cause fire when not used correctly. Regardless of the method you use, some bed bugs may still survive. Monitor the results every week, and call an exterminator if necessary.
What Do Exterminators Use to Get Rid of Bed Bugs?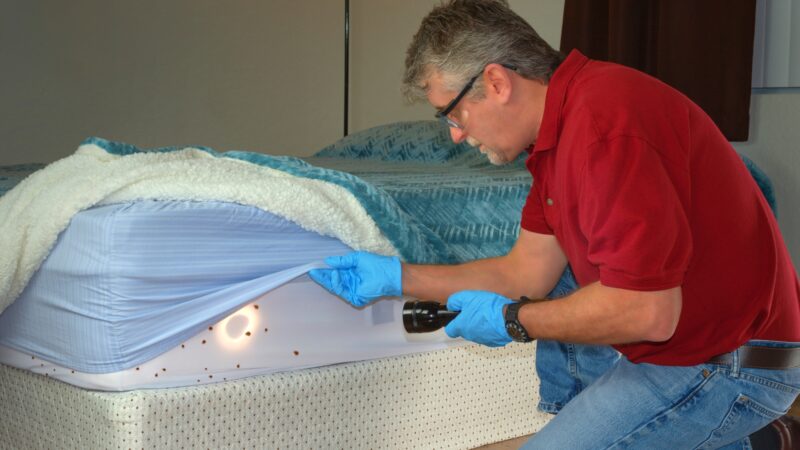 If the bed bug infestation is very severe, calling an exterminator for help is the best option. These pest professionals have years of experience in dealing with such problems and they have the right tools and equipment to do the job. This includes heat chambers and insecticides that are not commercially available.
How Do Exterminators Get Rid of Bed Bugs?
Exterminators don't only treat a bed bug infestation; they will also guide you on what to do before they do the job. Once the exterminator arrives, he will assess the area and will tell you how long the task is expected to be finished, as well as the cost. Afterward, you may be asked to leave the house for the whole day.
There are two methods that exterminators use to kill bed bugs – heat treatment and chemical treatment. During heat treatment, exterminators will place a portable heat chamber in the infested area to heat the air inside the room at a temperature of up to 135°F (57.2°C). Sometimes, it may reach 145°F (62.7°C).
Meanwhile, chemical treatments may involve any or all the three different types of insecticides – fast-acting, contact insecticide; residual insecticide, and dust insecticide. Although all of them are relatively non-toxic, you should not go back to your house until the exterminator tells you. This is after the residue dries out.
Depending on the severity of the infestation, heat treatments typically take between 6 and 8 hours. On the other hand, chemical treatments usually last from 30 minutes to 2 hours per room. However, this technique may require 2-3 visits from the exterminator. Chemical treatment is also cheaper than heat treatment.
Related: How to Kill Bed Bugs with Heat Treatment?
Are There Bed Bug Exterminators Near Me?
There are bed bug exterminators near you. A quick online search will show several results that you can check one by one.
Among the most credible ones are Orkin, Rentokil, and Terminix. These pest control companies have been serving satisfied clients for many decades and are experts in killing bed bugs.
Related: Bed Bug Exterminator Cost: A Helpful Treatment Price Guide
List of Sources
Sutherland, A. M., Choe, D. -H., and Lewis, V. R. (2013). Bed Bugs. Agriculture and Natural Resources, University of California.
Do-it-yourself Bed Bug Control. (2022). United States Environmental Protection Agency.
Pesticides to Control Bed Bugs. (2022). United States Environmental Protection Agency.
Wang, C., Cooper, R. (2019). Cost-Effective and Money-Wasting Bed Bug Control Methods. New Jersey Agricultural Experiment Station.