When the sun shines, it's the ideal time to relax in the pool. However, as time passes, you may notice some stinging pain and itch on your extremities. This might be due to the presence of water bugs.
To remove water bugs from your pool use these methods:
1. Use a skimmer.
2. Brush the pool walls and floors.
3. Vacuum the pool.
4. Conduct a pool shock.
5. Apply liquid dish detergent.
6. Make use of algaecide.
In the succeeding sections, we will be discussing the types of water bugs found in the pool waters, where they come from, and the effective ways of preventing and removing their presence from the pool.
How Do Water Bugs Get In Your Pool?
Water bugs are believed to be active all year, although they are most lively in the late summer and early fall, as well as during their mating season. They would usually fly to look for deeper areas where they can stay adequately active as winter comes.
Also, they are attracted to lights and algae. Thus, if these two things are predominant in your pool area, you might want to lessen their presence as these are considered water bug baits.
Types of Water Bugs | Identification and Prevention
The following are the distinguishing features of each type of water bug, as well as effective techniques for preventing and removing them:
Backswimmers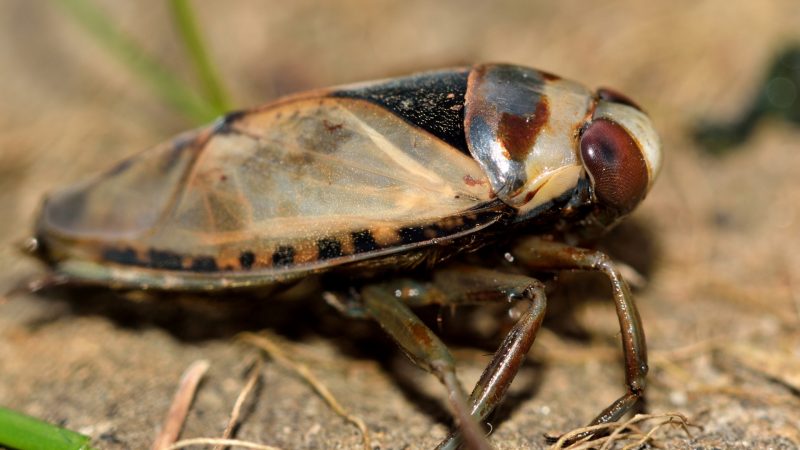 Classification: Also known as Notonectidae, belong in the order Hemiptera.
Physical: Generally, less than 0.6 inches in length. Their backs are light in color, while the rest of their bodies are black. They are slender types of water bugs that have oar-like hind legs and fine hairs.
Habitat: They swim with their backs submerged in the water with their bellies positioned in an upward direction. To stay on the water for a prolonged period of time, they depend on a bubble of air clenched against their bodies.
Risks: Their bite may cause stinging pain and a burning sensation.
Prevention and Removal: Regularly clean the pool, use algaecide, and maintain proper pool chemistry.
Gnats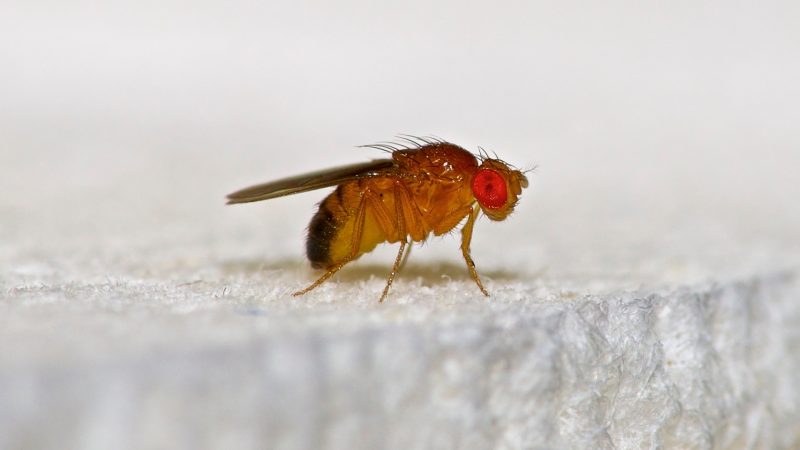 Classification: Gnats are flying insects belonging to the order Dipterid.
Physical: Adults are usually less than ¼ inch in length. Their color may be yellow or tan to dark brown.
Habitat: Can be attracted to decomposing vegetables and fruits as well as stagnant waters.
Risks: Gnat's bites have been linked to conjunctivitis. They may carry parasites. Additionally, they may be biting or non-biting and may be considered a nuisance since they can cause plant damage.
Prevention and Removal: Use a vacuum cleaner, as well as an apple cider vinegar trap, and candle trap.
Related: Do Gnats Bite? | Best Gnat Repellent, Treatments, and More
Jesus Bugs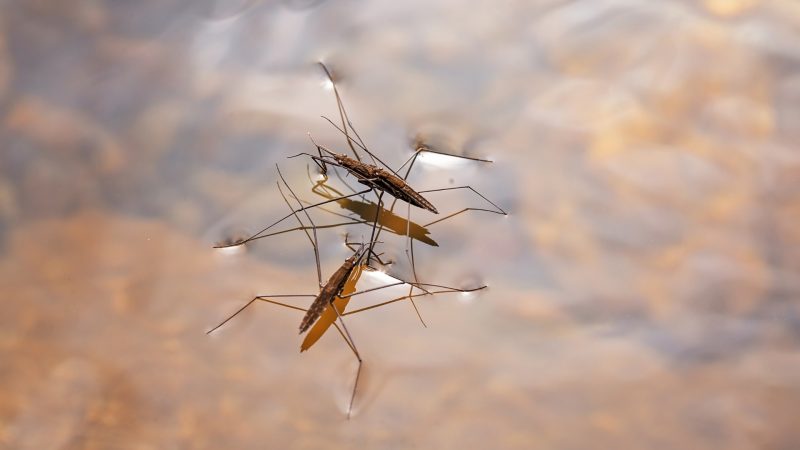 Classification: These bugs are famed for their ability to "walk on water," thus the name "Jesus Bugs."
Physical: Most Jesus bugs are 0.08 to 0.47 inches in size. Their colors may range from brown, to black, and ivory. Also, their bodies are entirely covered in hairs that enable them to resist and repel water.
Habitat: They are most common in slow-moving bodies of water, although they can also be found in rivers and streams.
Risks: May perpetuate painful bites that introduce disease-causing microorganisms in the body.
Prevention and Removal: Use a pool net, liquid soap detergent, pool brush, as well as replace bright lights.
Mosquitoes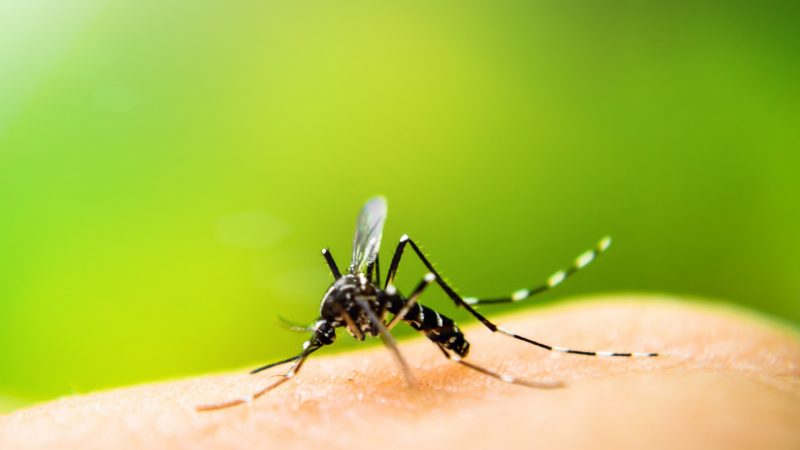 Classification: Mosquitoes are small flies belonging to the family Culicidae.
Physical: An adult mosquito is around 0.15 to 0.4 inches in length. They have a slender body figure, one set of wings, three pairs of legs, and a sucking mouthpart.
Habitat: They usually lay their eggs on stagnant waters so it could be a menace on the surfaces of the swimming pool.
Risks: Vector of various diseases such as Dengue fever, West Nile Virus, Malaria, and Lymphatic Filariasis.
Prevention and Removal: Clean the gutters and surroundings, remove the sources of water, and use pesticides.
Springtails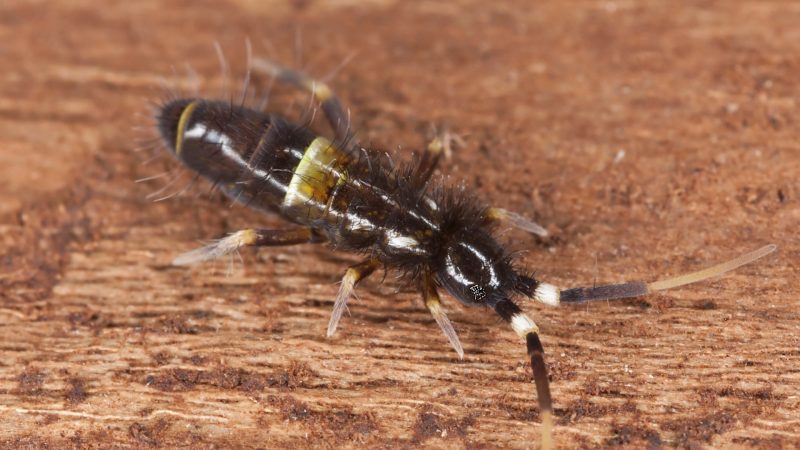 Classification: Springtails are insects under the class Entognatha, subclass Collembola.
Physical: Springtails may reach 3/8 inch long. Their scales are white or gray in color, and some species may be orange, lavender, or red. They have internal mouthparts but have no pair of wings.
Habitat: They adore moist conditions, wet soil, rotten vegetation, and a damp environment. However, they may run in swimming pools when their usual habitats turn dry.
Risks: They do not bite or carry diseases but may be a nuisance in houses.
Prevention and Removal: Use of pesticides and a reduction of moist areas.
Related: Springtail Control: How To Get Rid of Springtails?
Thrips
Classification: These are insects that are scientifically known as Thysanopthera.
Physical: Mostly, they measure 0.04 inches or less. Their colors may be white or yellow to dark brown or black. Also, their bodies are slim, while their wings are peripheral in the arrangement.
Habitat: They eat and live on plants, but if they find them near swimming pools, they may stay on them as well.
Risks: Some species can bite humans.
Prevention and Removal: Plant pruning, as well as the use of traps and insecticides.
Related: How to Get Rid of Thrips Inside the House? | The Effective Guide
Water Boatmen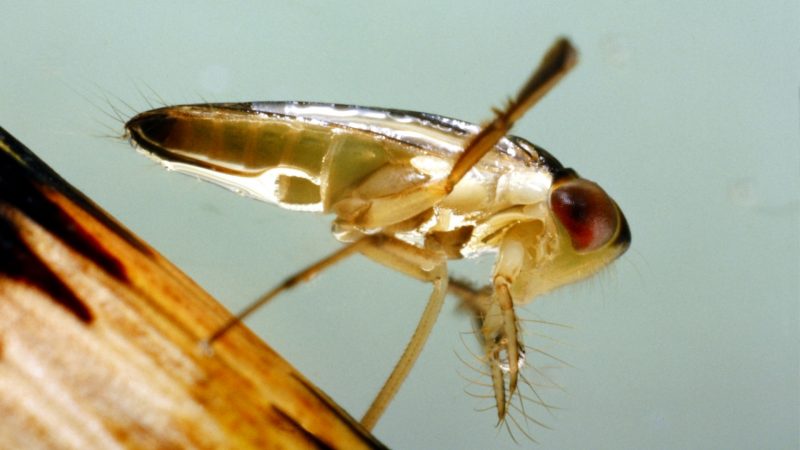 Classification: Also called Corixidae.
Physical: Generally, 0.12 to 0.47 inches long. Usually, they are brown or greenish-brown in color. These creatures have oar-like hind legs and spoon-like feet. They have dark brown to black alternating crosses on their wings.
Habitat: They are known to be skilled swimmers on slow-moving waters.
Risks: Do not bite and are not poisonous.
Prevention and Removal: Brushing, vacuuming, and testing the pool, as well as applying pool shock.
How to Get Rid of Water Bugs in the Pool?
1. Use a Skimmer
Since most of the water bugs can be found floating on the surface, a good way to remove them is through the use of a net skimmer. It comes with a long pole and a convenient handle that facilitates the easy scooping of insects or any debris.
One of the best skimmers that can be found online is the GKanMore Pool Skimmer Net . Its aluminum pole is extensive in length as it measures 17.3 to 41.3 inches. However, this can be adjusted to a smaller dimension to scoop out items that are within your reach.
Aside from that, it is made of a durable type of plastic frame and polypropylene mesh, which ensures effortless glide and long-term use.
2. Brush the Pool Walls and Floors
Brushing the surface of the pool enables you to remove the algae that give life and energy to water bugs. This prevents the further spread and growth of pool pests as they will no longer have an adequate food supply.
If you are looking for a sturdy kind of Pool Brush, you can order a Swimming Pool Wall & Tile Brush from Lalapool. It is made from high-quality aluminum and ABS plastic material that is ideal for scrubbing pool walls and floors, as well as house, hotel, and bathroom floors. Also, it has durable bristles and nylon filaments that can withstand extensive cleaning and sweeping of the pool surface.
3. Vacuum the Pool
Now that you have brushed the pool surfaces, it is time to use a vacuum device to completely remove the wastes and debris that can be found in the water. This vacuum apparatus can be purchased from the Aiper Smart Store  at an affordable cost. 
This vacuum is very convenient to use as it is cordless, automatic, and waterproof. It lessens the hassle of cleaning as you will no longer think of cord damage and entanglement.
4. Conduct a Pool Shock
To kill the algae lurking in the pool, it is advisable to conduct a pool shock through the use of Calcium Hypochlorite . It is usually performed by using one pound of Calcium Hypochlorite per 10,000 gallons of water. If there is an abundant growth of algae, you can double, triple, or even quadruple the dose.
This method is best done in the evening as the sun's heat could burn the chlorine off if applied in the morning.
5. Apply Liquid Dish Detergent
Liquid Dish Detergent is considered an excellent insect repellant. It works by altering the surface tension of the pool water, disabling the ability of the water bugs to float. You can apply this detergent directly on the insect itself or the pool water only.
6. Make Use of Algaecide
If you want to instantly kill algae, you might need an algaecide. This will reduce the presence of water bugs since algae growth will be reduced instantly. They will probably die or hop on to other areas where food sources are abundant.
When applying algaecide, keep in mind that the dosage may vary depending on the size of the pool or the degree of the algae infestation.
The best algaecide products can be easily found online. This includes the Algaecide from the brand Pool RX . It works on all types of algae, so getting rid of these aquatic organisms becomes easier and more convenient. Also, it guarantees long-lasting use as this product can be effective for up to six months.   
Related: Natural Ways To Get Rid of Waterbugs | Effective and Eco-Friendly Methods
How to Keep Water Bugs Out of the Pool?
Cutting down algae is still one of the primary strategies in preventing water bugs from swarming your pools. This can be done by maintaining the pool chemistry levels at an acceptable level, use of algaecide, brushing the pool tiles and walls, covering the pool, and turning off the pool lights when not in use.
What Can You Put In Kiddy Pool Water to Keep Out Water Bugs?
To prevent water bugs from invading your pools, it is advisable to apply natural insect repellants such as liquid soap detergents. However, it would be more beneficial if you would employ ways to minimize algae through the use of Calcium Hypochlorite during pool shocks and removing it through regular brushing.
Does Chlorine Keep Water Bugs Away?
Applying chlorine to pool waters does not completely extinguish water bugs. However, it is still beneficial to use it as chlorine maintains the cleanliness of the pool and stops the growth of small insects or larvae.
List of Sources
Choate, P. M. (2019). Giant water bugs. University of Florida.
Water Bugs. Utah State University.
Backswimmers. Missouri Department of Conservation.
Merchant, M., Muegge, M. (2004). Springtails. Texas A&M AgriLife Extension.