When you're stuck outdoors in a gnat swarm, you'll want to know, "How do I stop these gnats from swarming me?!" Gnats are annoying little creatures, but do they bite?
Do gnats bite? Gnats bite depending on the type. Sand gnats bite, and buffalo gnats' painful bites can sometimes lead to allergic reactions. Eye gnats, on the other hand, don't bite, but they can cause conjunctivitis. Planting lemon balm may help keep them away, and it's important to wash gnat bites immediately with soap and water.

If you want to learn how to avoid gnat bites and learn why they're attacking you, you've come to the right place! We've consulted medical and academic experts to learn how to stop gnat bites and have compiled some of the best gnat repellents for you to choose from.  
Can Gnats Bite?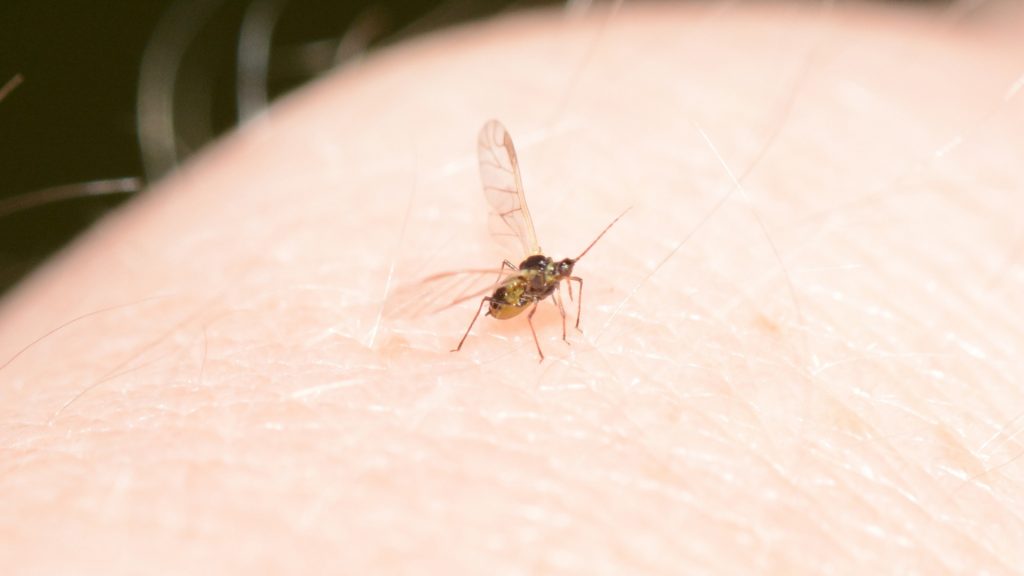 Gnats can bite depending on the type. Biting gnats (Ceratopogonidae spp.), also called sand gnats, are most often found around muddy areas near water. They're most active in the morning and late afternoon. Because they're so tiny, most never notice the feeding gnat, and hence they're sometimes called "no-see-ums."
Buffalo gnats (Simuliidae spp.), also called blackflies or turkey gnats, are small dark flies (1/8 inch or 0.32 cm or smaller). They're most prevalent during the late spring and early summer. Their bites can be painful and sometimes lead to allergic reactions.
On the other hand, eye gnats (Hippelates and Liohippelates spp.) don't bite, but they crawl over the skin, searching for eyes, nose, mouth, or open wounds. They're persistent and will keep coming back even after being swatted away. Cases of conjunctivitis ("pink eye") have been reported after contact with eye gnat swarms. 
---
Why Do Gnats Bite?
Most of the time, sand gnats and buffalo gnats live on nectar. But during the breeding season, female gnats must feed on blood to produce eggs. They'll get this blood from any warm-blooded creature they can find. Since humans are warm-blooded, we frequently wind up on Mrs. Gnat's menu.  
---
What Do Gnat Bites Look Like?
Biting gnats leave an itchy, raised spot on their victim's skin, very similar in appearance to a mosquito bite. Sand gnat bites are typically smaller than a buffalo gnat bite. The bite spot may be itchy, or it may simply leave a raised red welt.    
---
Do Gnats Bite Humans?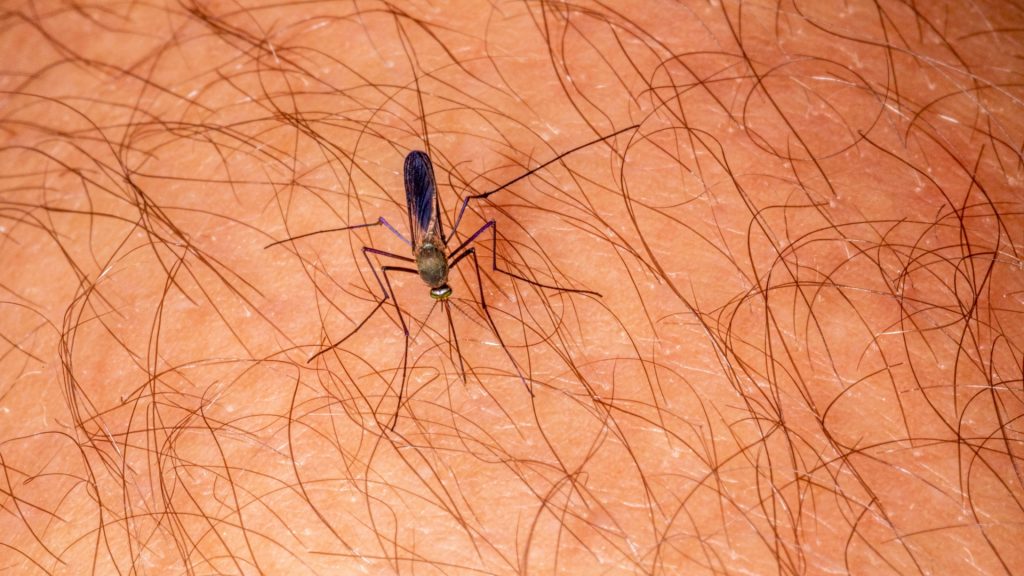 In tropical and subtropical regions, sandflies transmit the Leishmania parasite. Leishmaniasis can lead to ugly skin sores or liver damage. The Pan American Health Organization estimates 12 million people worldwide are infected, with between 900,000 and 1.6 million new leishmaniasis cases and 20 to 30,000 leishmaniasis deaths each year.
In sub-Saharan Africa and Yemen, blackflies carry Onchocerca volvulus, a parasitic worm that causes onchocerciasis, also known as river blindness. A 2017 study estimated there were at least 20.9 million people infected with onchocerciasis worldwide, of which 14.6 million had a skin disease and 1.15 million had lost some vision. 
Most European and North American gnats aren't disease vectors. While their bites may cause allergic reactions in sensitive humans, they don't carry contagious diseases or parasites. 
---
Do Gnats Bite Dogs?
Gnats torment outside dogs by biting at their ears. If you want to protect your pet from gnat bites, rub petroleum jelly on their ears to discourage biting midges. You can also deter gnats from coming to your yard by spraying with the ready to use Wondercide Flea & Tick Repellant Spray.
Wondercide - Ready to Use Flea, Tick, and Mosquito Yard Spray with Natural Essential Oils – Mosquito and Insect Killer, Treatment, and Repellent - Plant-Based - Safe Around Pets, Plants, Kids - 32 oz
KILLS & REPELS. A flea and tick yard treatment and preventative,...
SPRAY & PLAY! Safe around cats, dogs and people of all ages when...
TREATS UP TO 5,000 SQUARE FEET. Can be safely used on lawns,...
NO NASTY INGREDIENTS. No artificial colors, fragrances or harsh...
POWERFULLY EFFECTIVE WITH NATURAL ESSENTIAL OILS. Powered by...
How Long Do Gnat Bites Last?
While they're itchy and annoying, gnat bites don't take long to heal; they can last anywhere between 36-48 hours and a week. Sand gnat bites will generally fade faster than buffalo gnat bites and are less likely to cause an allergic reaction. 
---
Do Gnat Bites Itch?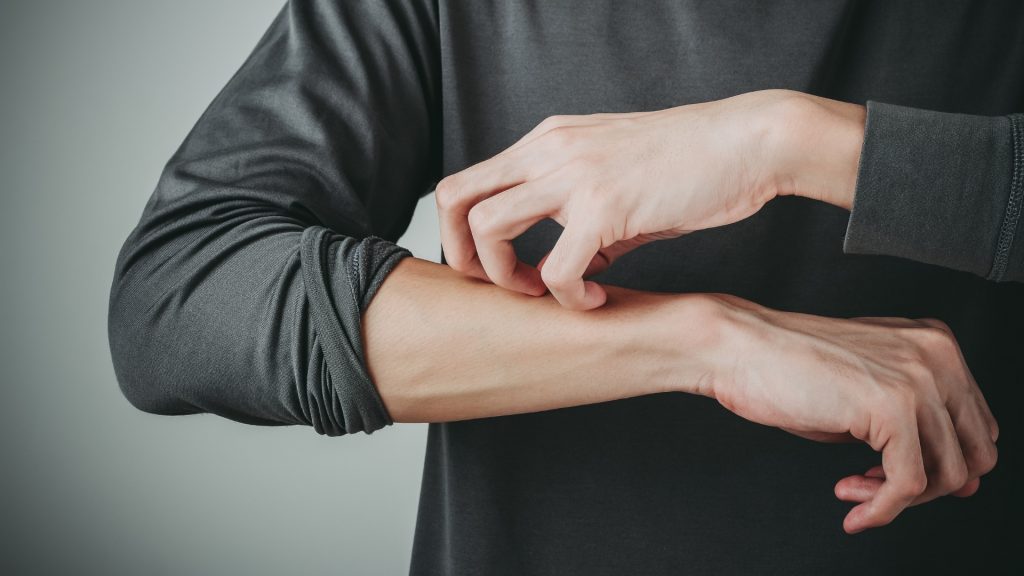 A gnat's saliva contains anticoagulant compounds, which allow the gnat to suck up blood without the wound congealing or scabbing over. These anticoagulants also trigger a histamine reaction at the site of the bite. Antihistamines provide relief from swelling and itching because histamines generally trigger those symptoms.
---
How To Prevent Gnat Bites?
One of the best ways to prevent gnats from biting is by wearing long-sleeved shirts and hats with netting that keeps flies away from your head and neck. Fine mesh netting will also help make patios and porches inaccessible to gnats. (Make sure it's fine mesh; gnats are tiny enough to get through most window screens!)
---
What Repels Gnats?
Nobody wants gnats at an afternoon picnic. If you'd like to enjoy your outdoor activities in comfort and free of swarming gnats, here are a few repellents that may help you enjoy a less itchy summer.
---
What Is a Good Natural Gnat Repellent?
The most effective gnat repellent essential oil, oil of lemon eucalyptus, deters gnats and other insects as well as concentrations of 20-30% DEET but for shorter periods. Keep lemon eucalyptus oil out of your eyes as it's a strong eye irritant, and don't use lemon eucalyptus oil on children under three years old.
Artizen 30ml Oils - Lemon Eucalyptus Essential Oil - 1 Fluid Ounce
Pure & Natural Lemon Eucalyptus Essential Oil - What sets Artizen...
Don't Fall Victim To Cheap Diluted Lemon Eucalyptus Oil - Most of...
Most 4 Ounce Lemon Eucalyptus Oils Contain Less Than 1/3 Of...
High Quality Glass Bottles With Eyedropper - We use high quality...
Lifetime Warranty - The manufacturer, Artizen Essential Oils,...
While several companies offer ultrasonic gnat repellers, there's little scientific evidence showing that ultrasonic sounds repel gnats. And a 2010 study that tested three commercial sonic anti-mosquito repellents found that the devices attracted mosquitoes rather than repelling them.
Lemon balm leaves contain high concentrations of citronellal, citronella's active ingredient. Planting lemon balm in your garden may help keep away gnats attracted to the moist, freshly watered dirt. Other plants that repel gnats naturally include geraniums, lemon thyme, lavender, and Mexican marigolds.
---
Best Gnat Repellents To Buy
If you're stuck facing swarms of hungry gnats, here are the best gnat repellents on Amazon.com that use chemicals that have been proven safe and effective after years of testing and use. These repellents have what it takes to get rid of gnats and will make your summer evenings much more pleasant and bug-free.
---
This lotion contains 40% DEET and will repel not only gnats but also ticks, flies, chiggers, fleas, and mosquitoes that may transmit the Zika, West Nile, Dengue, and Chikungunya viruses. Repel Max is designed for sportspeople out in the bug-infested wild. One application will keep biting insects away for up to 10 hours.
---
Sawyer Products SP564 Premium Insect Repellent with 20% Picaridin, Lotion, 4-Ounce
Safe for use on the whole family, long-lasting insect and tick...
Fragrance-free topical insect repellent with 20% Picaridin —...
Very comfortable to wear on your skin, it's ideal for all your...
Non-greasy; dries quickly and won't damage plastics or synthetic...
Top rated bug repellent by WireCutter/New York Times (May, 2020);...
Sawyer Picaridin Insect Repellent Lotion uses picaridin, a repellent that's as effective as DEET but won't damage plastics or stain synthetic fibers. One application not only provides up to 8 hours of protection against gnats, flies, and chiggers; it'll ward off mosquitos and ticks for up to 14 hours.
---
Best Natural Gnat Repellents
If you want to avoid synthetic chemicals, here are some gnat repellents from Amazon.com that use essential oils and natural scents to drive gnats away. These natural repellents are gentle on the environment, easy on your skin, and effective if reapplied regularly.
---
Buggins Natural Insect Repellent uses a proprietary blend of geraniol (the primary component of rose and citronella oils), peppermint oil, lemongrass oil, and clove oil. This gnat repellent spray doesn't last as long as DEET or picaridin-based repellents, but it smells great, and you can spray it on your kids or pets without fear of reactions. 
---
Bug Soother Spray uses lemongrass oil with a dash of vanilla to make a great-smelling gnat deterrent. This natural bug repellant was developed in 2008 when midwestern floods led to swarms of hungry gnats, so it has been proven to drive away gnats even in the most challenging conditions. 
---
Sale
Lemon eucalyptus oil, a proven gnat repellent, is the active ingredient in this insect repellent. Repel's lemon eucalyptus scent is far more pleasant than the usual bug spray smell, and one application can keep you and your family protected from gnats and other insects for up to six hours. 
---
Gnat Bites Treatment
Should your gnat bites lead to hives or shortness of breath, you should seek medical care immediately. While rare, anaphylactic shock can be fatal, and subsequent bites may also cause worse reactions. An allergic reaction to gnat bites could also lead to allergic reactions from biting flies, mosquitos, and other blood-sucking insects.  
---
How To Treat Gnat Bites?
Texas dermatologist Dr. Sherry Ingraham in this video recommends washing gnat bites with soap and water. Gnats can carry bacteria, so cleaning the bite area will help prevent any possible infections. Additionally, applying an ice pack to the itchy swelling bite will often reduce the swelling and itch.  
What To Put on Gnat Bites?
Ointments like the Cortizone-10 Maximum Strength will stop the itch and swelling of gnat bites almost immediately after application. You can also take an antihistamine tablet like Benadryl (diphenhydramine) if the itching persists. Should those steps not work, or should your gnat bites become infected, consult medical professionals right away.  
Summary
Gnats are annoying but essentially harmless. Armed with long sleeves and hat netting, you can garden in comfort no matter how thickly the gnats are swarming. And though most repellents are less effective on gnats than mosquitos, several natural and synthetic ointments will help keep your gnat troubles to a bare minimum.  
---
List of Sources
Afflitto, N., DeGomez, T. (2015). Sonic Pest Repellents. College of Agriculture Life Sciences, The University of Arizona.
Ballew, J. (2018). Gnats. The Clemson Extension Home & Garden Information Center.
Griffin, D. M. (2012). Insect Repellents. Cooperative Extension: Insect Pests, Ticks, and Plant Diseases. The University of Maine.
Illinois Department of Public Health. Black Flies ("Buffalo Gnats").

Latest posts by Thomas Matthews
(see all)