Ant hills can be a real pain for us who love keeping our yard and garden picture-perfect. These insects play an essential role in our ecosystem, but considering their mounds are a real eyesore, I prefer them to keep that elsewhere! Getting rid of ant hills is not complicated but requires a combination of preventive measures and treatment options. So, let's explore some effective ways to eliminate ant hills and keep your outdoor space picture-perfect!
One simple way to kill off many ants is to pour boiling water over the ant hill. However, this method will not eliminate the queen. Alternatively, you can apply boric acid over the entry points of the ant hills, which is toxic and will slowly kill any ants that come in contact with it. For a more effective long-term solution, place ant baits (granules) around your yard, particularly along pheromone trails where the ants are likely to find them. After the ants carry the toxic bait back to the nest, the queen will consume it, and the entire colony will die.
Depending on the size of the ant hill, you might need different solutions and products to suit your needs. Before we dive into the step-by-step process of getting rid of ant hills, let's take a moment to discuss what ant hills are and why ants build them. By understanding these fascinating creatures and their habits, you'll be better equipped to eradicate them from your yard.
Get Rid of Ant Hills Naturally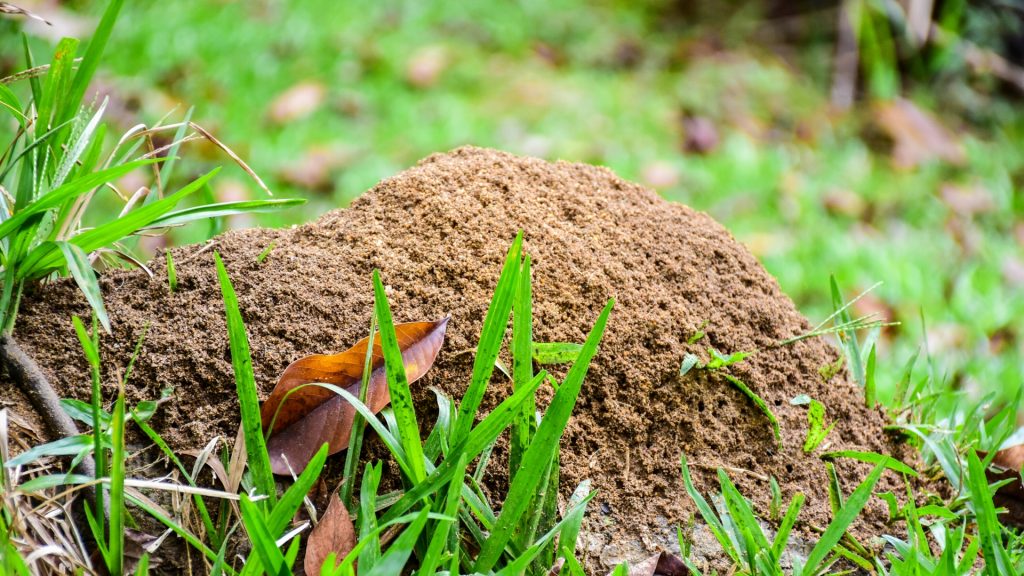 The following home remedies can also be used to eliminate ant hills, but they are generally less effective than the products and methods we have recommended.
• Borax and Sugar Bait: A mixture of borax and sugar, honey, or peanut butter can be used as an ant bait. Ensure that you have placed enough baits around the compound for maximum effectiveness.
• Diatomaceous Earth: Diatomaceous earth can be used to kill ants. Sprinkle the dust over the ant hill to dehydrate and kill the ants.
• vinegar: Using vinegar to eliminate ant hills is less effective than other methods. You can mix it with water and flood the ant tunnels to drown some ants, but the results may not be very good.
• Boric Acid: Boric acid is very effective. You can sprinkle it over the ant hill or on the ant trails to kill the ants.
• Mechanical Removal: If you prefer not to use chemical methods, you can manually remove the ant hills. Flood the tunnels with hot soapy water to kill any remaining ants. After that is done, level the ground and plant on it, ensuring that all entry points are well sealed to avoid any other ant colony.
Best Ant Hill Killer Products
How to Get Rid of Ant Hills
Yard
To eliminate ant hills in your backyard, you'll need a long-lasting pesticide. Most pesticides offer three to six months of effectiveness, after which you'll need to treat the yard again. For large ant hills, follow the instructions in the next section.
Liquid insecticides can harm the environment, so we generally don't recommend them except for use by professional ant exterminators. Instead, applying a granulated or powdered pesticide is a highly effective, long-lasting solution. You should apply the product generously to ensure the pesticide reaches all the ants, including the queen. Some pesticides require activation with water.
Note: Some of these products will be discussed in more detail below. Whatever product you choose, read the instructions carefully for the best results.
Related: How to Get Rid of Allegheny Mound Ants: A Complete Guide
How to Get Rid of Large Ant Hills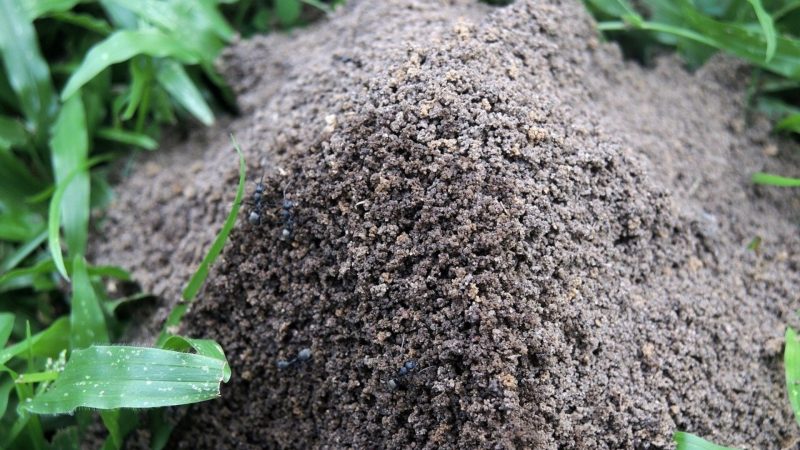 You can eliminate large ant hills by following specific steps and using the right tools.
Step 1: Mow Down the Grass
First, mow down the grass around the large ant hill, cutting it as low as possible.
Step 2: Apply Insecticide
Apply one of our recommended products, such as Amdro Ant Block Granules, around the ant hill in the areas where the grass has been cut. Create a barrier around the ant hill and apply as much of the product as possible directly to the hill. Allow the bait to work for several days or weeks, depending on the size of the ant hill, to ensure it reaches the queen and destroys the colony.
Step 3: Flatten the Ant Hill
This process may take some time, depending on the size of the ant hill. To speed it up, mix one of our recommended products with the soil, and sprinkle it around the yard to prevent ants from dispersing. If you encounter the queen, eliminate her to ensure the colony is destroyed. Remember that this method may not be as effective as waiting for the bait to kill the queen, so it's best to use both approaches for maximum effectiveness.
What are Ant Hills?
Ant hills are mounds of dirt found in various sizes almost anywhere. They are typically composed of soil, rocks, sand, and other materials and can be either soft or hard in texture. While ant hills indicate the location of the ants' residence, most of the colony is underground.
How Do Ants Build an Ant Hill?
Although building an ant hill may seem random, it serves several strategic purposes for the colony, including regulating internal temperature, acting as an entry point, and protecting the colony from predators. The ant hill provides a stable environment for the colony, which the ants regulate to maintain a constant temperature.
How Deep are Ant Hills?
Ant hills can be quite deep, ranging from 6 cm to 4 m (2.3622 inches to 13 feet) or more, depending on how long they have been there and the type of ant that resides within them.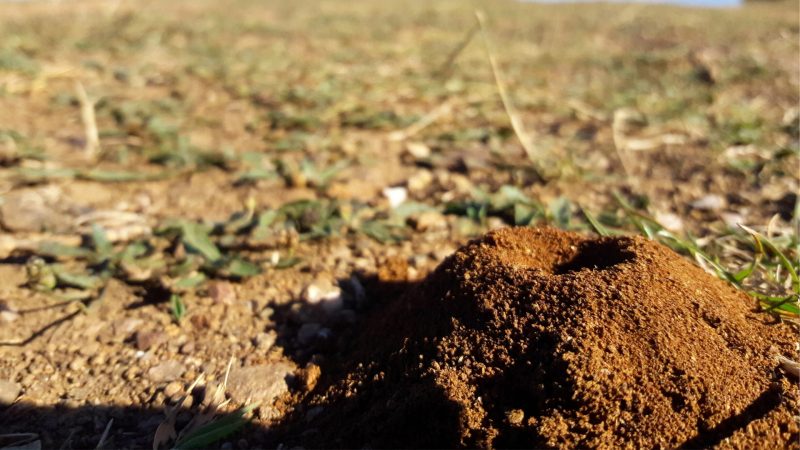 Are Ant Hills Bad?
Ant hills are generally harmless, but they can be a nuisance and disfigure your yard. In the case of large colonies, they can even kill the plants around them. Ants build their hills to be structurally sound and reinforce them to withstand heavy rain. Ants typically do not attack humans unless provoked, so you are safe from stings or bites as long as you don't disturb them.
What Type of Ants Make Ant Hills?
Numerous ant species build ant hills, including Texas leafcutter ants, Allegheny mound ants, Pyramid ants, Harvester ants, Argentine ants, and Fire ants. Fire ant mounds are typically made of soft earth, but they will sting when provoked, so it's important to avoid disturbing them during treatment.
Related: How Many Types of Ants Are There: Ant Identification Chart
Pouring Aluminum into Ant Hill: Is This a Good Way to Get Rid of Them?
Aluminum casting is an interesting method that requires caution and preparation. It can produce unique and artistic results. If you're interested in trying it to get rid of an ant hill, here's what you'll need:
Aluminum source, such as soda cans or scavenged aluminum objects
Forge, hearth, or fireplace for heating the metal
Melting pot for the aluminum items
Fire extinguisher
Welding gloves and apron
Face shield
Tongs
Sand
Once you have your equipment, you can begin the process. Heat the aluminum in the melting pot on the forge until it is liquid, making sure to take precautions to protect yourself. Then, shape sand around the ant hill's opening as a barrier to keep the molten aluminum from flowing away from the mound as you pour.
To prevent mishaps, keep a fire extinguisher nearby if the aluminum flows away from the opening. Also, ensure the sand doesn't block the hole or keep the molten aluminum from flowing through the tunnels.
Pour the aluminum into the ant hill's opening until the aluminum stops flowing inside the tunnels and fills up the sand opening. Melt more aluminum than you need to account for the depth of the ant tunnels. After a couple of hours, when the aluminum is solid, carefully dig around the top of the cast. Be sure not to burn yourself if the casting is still hot or even break it off.
Once you have removed the cast, hose it down to remove any dirt trapped between the casting branches. Depending on how well you followed the above instructions or even how deep the tunnels were, you should have a beautiful piece of art that you can display in your home or do as you, please.
World's Biggest Ant Hills: Information and Facts
Due to their organized nature, rapid reproduction, and elaborate mounds, ants have the potential to become a problem when left unchecked. While some ant nests can be easily managed due to their small size, others have become famous for their massive scale, earning a place in the Guinness Book of World Records.
In the year 2000, a supercolony of Argentine ants was discovered in Southern Europe, stretching over 3,700 miles with billions of ant workers and millions of nests. This discovery surpassed the previous record holder, the Japanese super ant colony, by a significant margin. The Hokkaido ant colony, which held the title previously, had 45,000 nests that stretched over 670 acres of land.
Takeaway: While ant hills can be a nuisance in your yard, some effective methods and products can help eliminate them and prevent a resurgence. You can even turn your discovery into a unique work of art with the right techniques.
If you're uncomfortable using the above methods, it's always an option to call a professional ant exterminator, who can quickly and effectively eliminate the problem. So don't worry – with a little effort, you can keep your yard ant-free and enjoy the outdoors without worry.
For more pest-related content, please continue following our site!
List of Sources
Lewis D., Ant Mounds in Lawns, Iowa State University
Ant mounds in lawns and sidewalks, Iowa State University
Vogt J.T., Wallet B., & Coy S. (2008), Dynamic thermal structure of imported fire ant mounds, Journal of insect science
Maier R.M., Potter D.A., Factors affecting distribution of the mound-building ant Lasius neoniger (Hymenoptera: Formicidae) and implications for management on golf course putting greens. J Econ Entomol
Mound ants, Michigan State University Extension
Bristow C. M., Cappaert D., Campbell N. J., Heise A., (1992), Nest structure and colony cycle of the Allegheny mound ant