The problem with ants is their size and the ability to hide in cracks and crevices. This is where ant killer dust steps into the game. The powder can easily get into these tiny places and, together with the right bait, this will kill the insects in no time!
So, what are the best insecticide dust for ants? Here's a list of some of the best products there is commercially:
TERRO T600 Ant Dust
Rockwell Labs Cimexa Dust Insecticide
Cyper WSP – Insecticide
Delta Dust Multi Use Pest Control Insecticide
Diatomaceous Earth
To know more about how ant dust generally works, what are the key features of each product, and instructions on using ant dust inside and outside your home, read further this article!
How Does Ant Dust Work and How Effective Are They?
In a nutshell, ant dust is an insecticide in powdered formulation. It can be used both outside and inside for insect control. The powder is so fine and small that it can easily get into cracks or crevices that are virtually inaccessible.
The active ingredient kills the insect only when it comes in contact with the dust. The insecticide affects the ants' nervous system and/or exoskeleton. Most insecticide dusts are waterproof, which means reapplication is not always necessary.
However, ant dust may not be a great solution for more severe infestations. Additionally, the queen and the ants that don't forage might not be affected by the powder. This is where bait and general sanitation comes into the play.
Review: Best Insecticide Ant Dust
Here are the list of some of the best ant dust products available in the market today, accompanied with their features to help you decide which one to purchase:
TERRO T600 Ant Dust
Sale
This product comes in a convenient shaker and will continue to kill up to 8 months. Not only does this ant dust kills almost every type of ant including carpenter and fire ants, but it also works against other insects.
This product works best when it is applied at a temperature between 65°F to 80°F and results will be visible within 3 to 4 days. Usually, 5 pounds of dust is enough for 1,000 square feet. Keep in mind that the dust is not pet friendly, so keep it out of reach from them.
Rockwell Labs Cimexa Dust Insecticide
Rockwell Labs CXID032 Cimexa Dust Insecticide, 4 Ounce (Pack of 1), White
For control of bed bugs, fleas, ticks, lice, roaches, ants,...
Kills bed bug adults, nymphs and nymphs hatched from dusted eggs...
Labeled for treating cracks, crevices, voids, mattresses,...
Odorless, non-staining desiccant structure will not absorb water...
Remains viable for up to 10 years when undisturbed
This product is non-staining, odorless, and is capable of destroying the insects' waxy cuticles which results in their death. It can be used as dust or a wettable powder and can be applied to carpets and mattresses.
Additionally, this ant dust insecticide is formulated with silica that remains effective for up to 10 years, if it goes undisturbed. The active ingredient is mineral-based, so the product has a low level of toxicity, making it the perfect use for environmentalists.
Cyper WSP – Insecticide
Control Solutions- Cyper WSP- Insecticide - 1 lb
Cyper WSP insecticide has the same ingredients as Demon WP but...
Gives up to 90 day residual and is virtually odorless
Makes up to 40 gallons; enough to treat your house 20-40 times
Can not ship to CT or NY
The active ingredient for this product is Cypermethrin. It is an economical option that quickly kills pests (specifically, over 30 different insects). You will be getting 49 water-soluble packets, which means you can control how much you use.
Moreover, this product's long-lasting residual increases its cost-effectiveness as a pest control insecticide. It can be applied in virtually anywhere where there are ants involved.
Delta Dust Multi Use Pest Control Insecticide
The active ingredient is Deltamethrin and 1 pound of this product covers around 2,000 square feet. This dust is great against ants, bed bugs, spiders, termites, and plenty of other pests. It is 100% waterproof and can even be applied to drains that lead to sewers.
When applying, it's best to use a duster (which is sold separately) or a paint brush so it better reaches into cracks and crevices. Make sure not to use too much of the product when applying to avoid spillage.
Diatomaceous Earth
Sale
Usually, ant dust has a toxic active ingredient that can harm the health of your pets or even humans when inhaled. If you want to go for all-natural solution, then diatomaceous earth is the best option for you.
How to Use Ant Dust: Instructions & Tips for Indoor and Outdoor Use
These ant killer dust products are usually ready-to-use, without the need to mix with water or prepare in any other way. The product may come with a special duster or in the form of a sprinkler. You can also buy a bulbous duster that will help you apply the dust (or use a simple tablespoon or paintbrush).
Even if the product is non-toxic, avoid applying it to exposed surfaces especially inside the house where it can be of reach to pets and children. The dust can be applied in cracks and crevices, behind various appliances, around windows and doors, in wall voids and false floors, along baseboards, and so on.
In case you are applying the dust outside, you can create a barrier around the perimeter of your house to keep the pests away. You can also sprinkle a tablespoon of dust on the top of the nest. Take note that these dusts work best when applied lightly and not in large quantities.
Ant Dust | Information
How Long Does It Take for Insecticide Ant Dust to Work?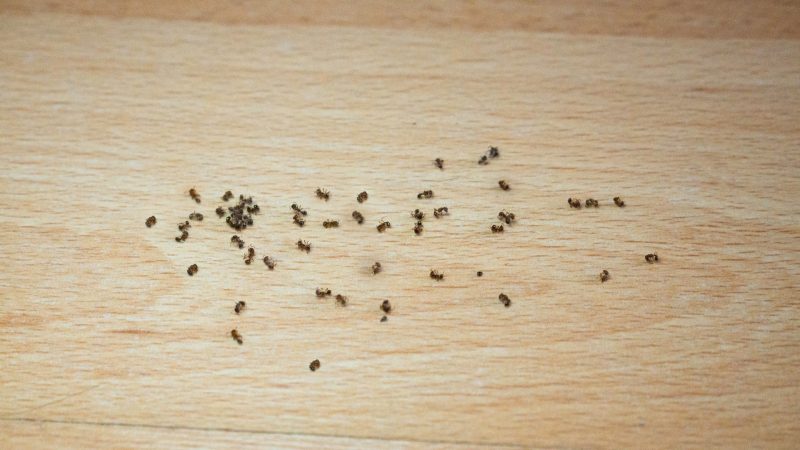 Usually, it will take around 3 to 4 days for the dust to work its magic. If nothing happens, make sure to reapply the dust. Some products might lose their properties in wet areas. Ideally, you should apply the dust when it's dry, in order for it to work.
Is Insecticide Ant Dust Toxic for Humans?
It depends on the product that you decide to use. Diatomaceous earth, for example, is non-toxic but you still wouldn't want to breathe the powder in. However, plenty of other ant dusts have toxic active ingredients that can be harmful to humans.
Make sure to read the label with care and don't sprinkle the dust to exposed surfaces or close to ventilation. Thankfully, ant dusts are usually applied to hard-to-reach places, so the chances are high that your family members won't come in contact with the product.
Is Ant Dust Toxic to Dogs, Cats, and Other Pets?
The dusts that use boric acid or Diatomaceous earth are non-toxic for humans or pets. However, you still don't want your pets to breathe in the solutions or, for example, eat them. So, just in case, keep your pets away from non-toxic products.
The rest of the ant dusts have a toxic active ingredient that can be harmful to the animal's health. Thankfully, ant dust that has been applied to crevices or cracks can't be reached by your pets. You have to be very careful when using any type of insecticide and ant killer dusts are no exception.
Summary
After reading this article, you now have all of the necessary information regarding insecticide dust for ants. We hope that one of the options mentioned above will help you get rid of the annoying ants for good.
Always remember to read the label and follow the instructions carefully. Be patient. In case the dust fails to work, reapply the product and wait for another few days. Still, have in mind that ant dust works best when combined with ant bait.
In case you are having a serious ant infestation it would be best to call a professional pest control service. They know the right thing to do when it comes to these situations!

Latest posts by Thomas Matthews
(see all)