Ants in your grill can damper outdoor cooking, but you're not alone in this problem. Understanding why ants are attracted to your grill is the first step to getting rid of them. Ants are foragers that scout the area around their nests for food, and once they locate a food source, they leave a pheromone trail for other ants to follow.
To get rid of ants in your grill, you can use chemical treatments like commercial ant baits and sprays, or natural solutions such as diatomaceous earth barriers and dish soap/water solutions. It's important to note that there are different cleaning methods for different types of grills.
As for safety concerns, you might wonder whether ants in your grill can be dangerous. Our guide will answer these questions and provide you with a step-by-step approach to cleaning your grill and keeping ants at bay. So, let's get started!
Why Are Ants Attracted to Grills?
To an ant, a grill seems like the perfect source of food. It's easy to access and if you grill frequently, the food supply gets replenished for them every time. While most ants are attracted to sweet foods, many species will feast on greasy and oily foods found on your grill.
Ants are attracted to grills because they see it as an easily accessible food source that frequently replenishes. While most ants are attracted to sweet foods, many species are also drawn to the greasy and oily foods commonly found on grills.
Related: What Attracts Ants? Information and Facts
What Type of Ants Attack Grills?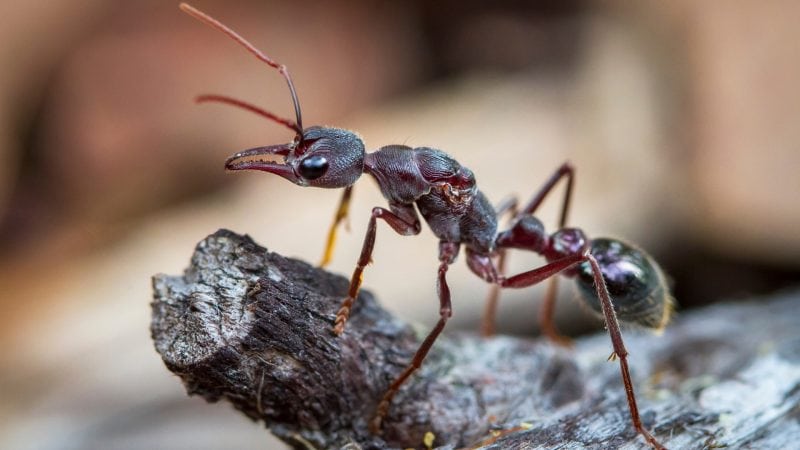 The pavement ants, little black ants, and big-headed ants are a few ant species known to infest grills, especially those with oily foods. Here are some tips to identify them:
Pavements ants are dark brown or jet black and about 1/8 inch (3mm) in length. Their legs and antennae are lighter in color than the rest of their bodies.
Little black ants are smaller, about 1/20 inch (1.5mm) in length. They have two nodes on their waist and are dark brown or black in color.
Big-headed ants are reddish-brown and easily identified by their bulbous heads. Their colonies have two classes of worker ants, with the larger ones reaching up to ¼ inch (6.5mm) in size.
Related: How to Get Rid of Pavement Ants: Proven Techniques and Tips
Is It Dangerous to Have Ants Around Grill?
While ants themselves cannot damage your grill, having an ant infestation around your grill can pose a few hazards. Using flammable pesticides around heat or an open flame can be dangerous, so they should never be sprayed directly onto the grill or stored nearby.
Additionally, an ant infestation on or around your grill can be distracting and lead to burns or accidents while cooking. Therefore, it's best to deal with any ant problems as soon as possible to avoid such distractions and to stay focused while cooking.
How to Get Rid of Ants in Your Grill – Step-by-Step Instructions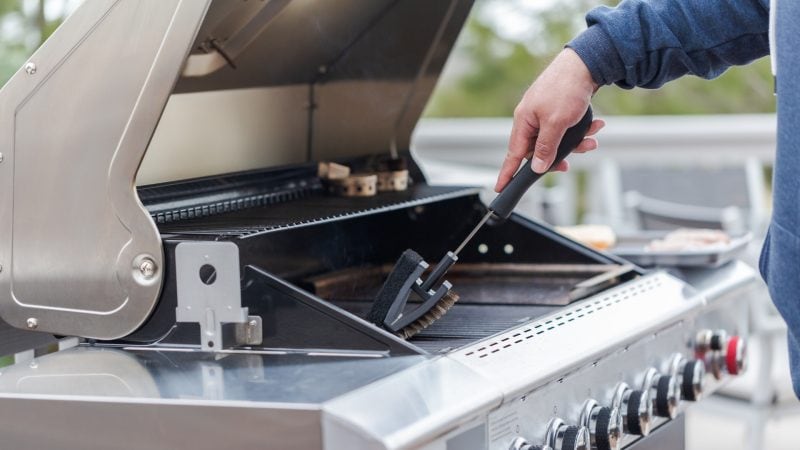 How to Clean a Gas Grill?
Preheat the grill on high heat for 15 minutes.
Turn off the gas.
Use a stiff wire brush or cleaning kit dipped in water and dish soap, vinegar, or a stronger cleaner to scrape off the grease.
Allow the grill to cool down.
Use a damp cloth to wipe down the grates and remove any residue.
Remove the heat deflectors and burners (located underneath) and clean them with a dish soap and water solution.
Remove the propane tank beneath your grill and replace it with a bucket. Clean the cook box and underneath the lid, then rinse the area with a hose. The bucket will catch any grease coming out from the bottom.
Dry all of the parts and place them back inside your grill.
If your grill is made of stainless steel, use a stainless-steel cleaner and a microfiber cloth to wipe down the outside of your grill thoroughly. If you have a porcelain, ceramic, or painted steel grill, use dish soap and water for this step.
How to Clean a Charcoal Grill:
Use a stiff wire brush or cleaning kit to scrape the grill grates.
Remove the charcoal grate and any ash from the cook box.
Scrub the cook box and the inside of the lid with warm water and dish soap.
Replace the charcoal grate.
Clean the outside of the grill using soap and water or a stainless-steel cleaner.
How to Clean an Electric Grill:
Using a rag, wipe any loose grease toward the grease tray.
Use a mixture of dish soap and water or an oven cleaner to soak any stuck-on grease.
After soaking, use a soft sponge or rag to wipe down the surface.
Dry the surface using a towel to prevent rust.
Wipe down the outside of your electric grill using dish soap, water, and a soft cloth.
How to Get Rid of Any Remaining Ants Around or on Your Grill?
There are both natural and chemical methods for getting rid of any remaining ants around your grill.
Method 1: The All-Natural Route
If you are looking for an eco-friendly way to get rid of ants, there are a couple of options available that are both safe and effective.
Diatomaceous earth: Diatomaceous earth is a powder made from the fossils of tiny sea-dwelling organisms. It is available at most hardware and gardening stores, and can also be purchased online. Diatomaceous earth kills ants on contact by drying them out. It also acts as an ant repellant.
Dish soap and water: Mix water and about 1 teaspoon of dish soap together and fill it into a spray bottle. Spray the solution directly on ants when you see them. Ants breathe through their exoskeletons. The dish soap causes the water to cling to their exoskeletons, suffocating them as a result.
Method 2: Chemical Pesticides
If you are eager to get your ant problem under control quickly, consider using chemical pesticides. Ant killer spray kills on contact and can help deter ants from returning to the area. However, be sure not to spray pesticides around your grill or surfaces where you eat as they can be extremely toxic.
Method 3: Ant Baits
Ant baits are an effective solution for getting rid of entire ant colonies. The ant baits contain a slow-acting poison that ants bring back to their nest, killing the entire colony. Place the ant baits around the perimeter of your grill area, away from any food and where children or pets cannot access them.
With these steps, you can easily get rid of ants in your grill and enjoy outdoor cooking without any worries.
Related: How to Get Rid of Ants | Safe and Effective Methods
How to Keep Ants Away From Grill | Ants Around Grill
To keep ants away from your grill, it's essential to maintain the cleanliness of the appliance and the surrounding area. Additionally, consider using one or more of the following products to keep ants at bay:
Ant Barrier or Ant Perimeter – available in spray or granulated forms, these products prevent ants from accessing a particular area. Apply the product around your grill or patio to stop ants from entering.
Ant Baits – considered the most effective method, ant baits contain two substances, one of which attracts ants, while the other is toxic to them. The ants will carry the bait back to their nest to share with the colony, resulting in the elimination of the entire colony. If you're patient and want to get to the root of your ant problem, ant baits are a great option.
Sale
1
TERRO T300B Liquid Ant Killer, 12 Bait Stations
Attracts & Kills – Kills common household ants including...
Kills the Ants You See & the Ones You Don't – As worker ants...
Works Fast – You should see a significant decrease in the...
Ready to Use – Place the bait stations, watch it attract ants,...
Use Throughout Your Home – Place stations near areas where...
2
3
How to Prevent Ants in Your Grill?
Here are five easy tips to help you prevent these pesky critters from invading your space:
Create a perimeter barrier around your yard or BBQ area. Sprinkle it generously with vinegar around the area you want to protect.
Keep food covered. Ants can pick up on the scent of food from far away, so by keeping everything tightly sealed, you'll be less likely to attract them.
Clean up spills, dirty plates, and utensils immediately. The longer food and debris are left out, the more likely it is that ants will be drawn to your space.
List of Sources
Cleaning Your Grill With Natural Cleaners, Auguste Escoffier School of Culinary Arts
Pavement Ant, The Pennsylvania State University
Nyamukondiwa C., Addison P., Food preference and foraging activity of ants: recommendations for field applications of low-toxicity baits, Stellenbosch University
Hansen L., Fredericks J., Henriksen M., Ant Survey Executive Summary: Exploring America's #1 Nuisance Pest, National Pest Management Association

Latest posts by Thomas Matthews
(see all)