Although most of them aren't dangerous, no one likes a bunch of spiders hanging out in or around their homes. However, spiders are pretty much everywhere, so how do you keep them away from your house and yard?
The seven best insecticides for outdoor spider control are:

In this article, we'll tell you everything you need to know about spider infestations and how to deal with them. We'll also review the seven best spider-killing sprays and provide you with some natural remedies for keeping spiders at bay. Let's get started!
Outdoor Spider Infestation
So how exactly do you tell the difference between a few spiders here and there and a spider infestation? If you have a spider infestation, you'll usually see webs, sometimes large, intricate ones, around your property.
You can also check the webs for egg sacs. If the webs have any, you probably have a spider infestation.
---
Why Do I Have So Many Spiders Outside My House?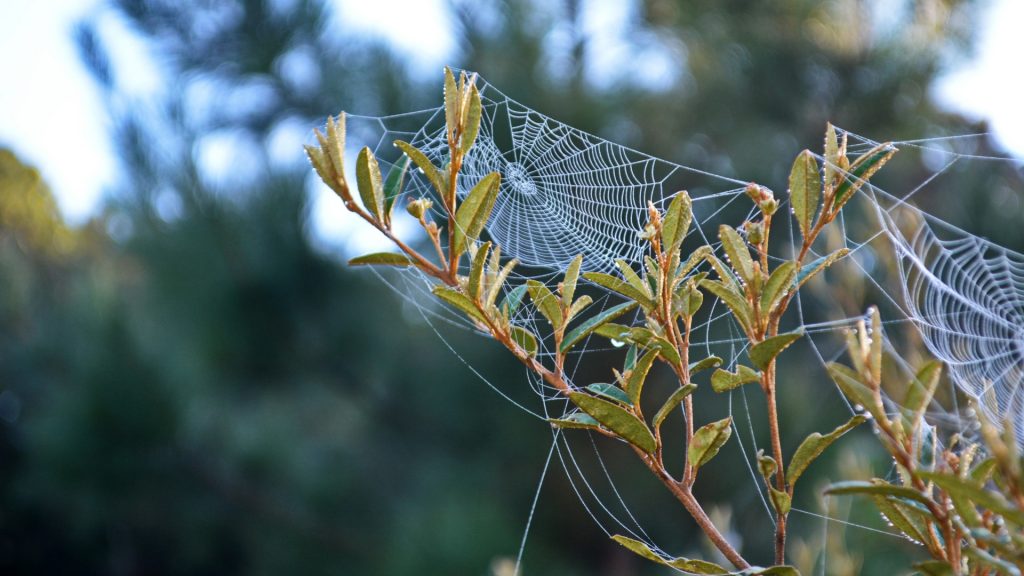 Aside from Antarctica, spiders are practically everywhere, so finding them outside your house isn't unusual, especially in the fall and summer months. However, if you feel like you have more spiders than usual, it's probably because your yard is full of things they like to eat.
If you have ponds, water features, or other standing water, or if you have a garden, a lot of flowers, or tasty compost or trash bins, you probably also have a ton of insects.
Mosquitoes are attracted to standing water, while Aphids, Japanese beetles, and mites love plants. Flies and gnats enjoy hanging around trash bins. If you have lots of insects, you're also likely to have lots of spiders.
---
How To Kill a Spider With Spray?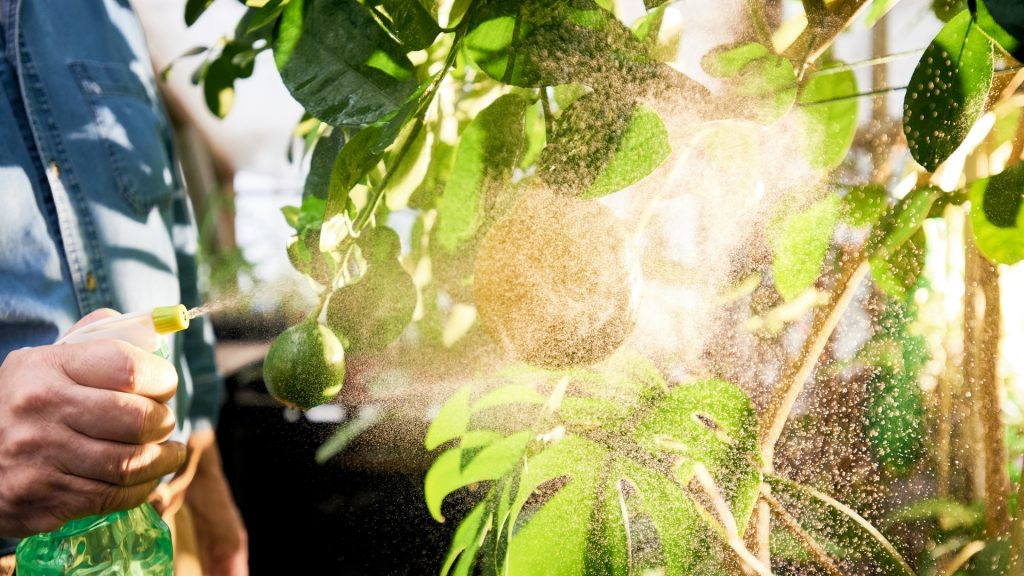 Killing spiders with a spray insecticide isn't hard, but the exact method for killing them will depend on the specific spray. For example, some spider sprays are kill-on-contact sprays. With those, you simply need to spray spiders when you see them, and they'll die.
Other sprays are nest sprays. Instead of spraying them directly on spiders, you coat the spider's web with the spray, which kills any egg sacs on the nest and poisons it so that the spiders that walk on it will die.
Either way, the process is simple. Just be sure you're using your product correctly.
Related: How To Get Rid of a Spider Nest?
---
7 Best Outdoor Spider Killer Sprays To Buy
There are several different options for spider spray on the market today, but not all of them are as effective as they claim to be. After much trial and error, we finally found these seven options that worked best for us:
---
Sevin Concentrate Pest Control, 1-Gallon
Garden Tech Sevin insect Killer Concentrate 1gal Can be used on...
It doesn't penetrate plant tissue and it is easily broken down by...
Use throughout the growing season to kill insects, with short...
Sevin is the best spider spray we've ever used. It's specifically formulated for use in the garden, but we've used it in other areas around the property, and it works just as well everywhere. Sevin is effective because it not only kills the spiders but also kills their natural prey.
Because it works to control over 500 insects, it doesn't leave a lot for the spiders to eat even if it leaves them alive, which it usually doesn't. The spiders that do survive often relocate to find a better, more convenient source of food.
---
Sale
If you're looking for a child and pet-safe spider spray, EcoSmart Natural is one of the best. You can use it indoors and outdoors, and it's 100% non-toxic for humans and pets. It can be sprayed directly on spiders you see running around the yard, but you can use it on webs, as well.
---
If you have a large area to cover, the best yard spray for spiders is Ortho Home Defense Insect Killer. It's in concentrate form, so you have to mix it yourself and add it to your sprayer, but it covers up to 5,300 sq ft (492.38 sq m). It also keeps on working for up to three months on all spiders except for black widows.
---
No products found.
This deal is an excellent option if you have more spiders than normal, as there are two spray bottles for one low price.
The spray is long-lasting and can eliminate spiders for up to 12 weeks. Additionally, you can buy spider traps made by the same brand to place in high-traffic insect areas or near the entrances to your home to further cut down on the spider population and keep them out of your house.
---
Hot Shot Pest Control Concentrate2, 1 fl oz
KILLS ON CONTACT: Hot Shot Pest Control Concentrate2 kills on...
CONCENTRATE STRENGTH: This 1 ounce concentrate product makes up...
CONTROLS INSECTS: For residual and contact control of...
FOR INDOOR AND OUTDOOR USE: Carefully read all directions on the...
OUTDOOR BARRIER TREATMENT: Spray around building foundations...
If you're looking for the best outdoor spider repellent that you can also use indoors, check out Hot Shot Pest Control Concentrate, which can be used both inside and outside the house. It comes in a tiny bottle, but it makes two gallons of spray, which kills spiders on contact and helps keep them away for up to two months.
---
Many people don't like aerosol spider spray because you can't cover a large surface area with it. However, it's inexpensive, kills on contact, and you can use it to spray nests and kill both spiders and hatchlings. Plus, if you're on a budget, Black Flag Aerosol is the best way to go.
---
Sale
Nisus Web Out Cobweb Eliminator
Thyme Oil 2.0% Lemongrass Oil 2.0% Citronella 2.0% Sodium Lauryl...
Web Out works in homes, offices, warehouses, school and other...
Web Out is safe and effective to use against spiders ants...
Item Package Weight: 28.0 pounds
The best spray to kill spider eggs is not always the same as the best spray to kill spiders. If we ever notice webs around our house with egg sacs on them, we reach for Nisus Web Out spray. You can buy it in concentrate or ready-to-spray formula, but both are just as effective.
Spray directly on the web and the egg sacs. It'll kill any spiders on the web, and will immediately start breaking down the nest and webbing around the egg sacs. The eggs will die, as well as the hatchlings on the web.
Related: Will Ant Spray Kill Spiders?
---
Best Homemade Spider Sprays for Outside
Making natural spider spray is another option for repelling or killing spiders. For example, studies have shown that chestnuts and peppermint oil help repel certain species of spiders.
Sale
Gefen Organic Whole Roasted and Peeled Chestnuts 5.2oz (4 Pack)
100% NATURAL - All Natural, No Artificial Coloring, No...
RECIPE READY - Roasted & Peeled, Tree Ripened, Ready To Eat Right...
VERSATILE -Makes a Delicious Chestnut Stuffing, Great in Soups,...
BETTER FOR YOU - Low Fat, Vegan, Gluten Free, Keto Friendly, Good...
CERTIFIED - Organic, Gluten Free, Kosher for Year Round Use...
Sale
Artizen 30ml Oils - Peppermint Essential Oil - 1 Fluid Ounce
100% Pure & Natural Peppermint Essential Oil - What sets Artizen...
Don't Fall Victim To Cheap Diluted Peppermint Oil - Most of the...
Most 4 Ounce Peppermint Oils Contain Less Than 1/3 Of Natural Oil...
High Quality Glass Bottles With Eyedropper - We use high quality...
Lifetime Warranty - The manufacturer, Artizen Essential Oils,...
How To Make Spider Spray With Essential Oils
Making your spider spray DIY with essential oil isn't difficult. Follow the steps below:
1. Find the appropriate essential oils and dilute them with some water.
2. Add the mixture to a spray bottle.
3. Coat spiders' webs and areas around your property where spiders often frequent.
Aside from peppermint oil, which is one of the best options, other oils that are most effective against spiders include:
Sale
Sale
Artizen 30ml Oils - Cinnamon Essential Oil - 1 Fluid Ounce
100% Pure & Natural Cinnamon Essential Oil - What sets Artizen...
Don't Fall Victim To Cheap Diluted Cinnamon Oil - Most of the...
Most 4 Ounce Cinnamon Oils Contain Less Than 1/3 Of Natural Oil -...
High Quality Glass Bottles With Eyedropper - We use high quality...
Lifetime Warranty - The manufacturer, Artizen Essential Oils,...
Artizen 30ml Oils - Citronella Essential Oil - 1 Fluid Ounce
100% Pure & Natural Citronella Essential Oil - What sets Artizen...
Don't Fall Victim To Cheap Diluted Citronella Oil - Most of the...
Most 4 Ounce Citronella Oils Contain Less Than 1/3 Of Natural Oil...
High Quality Glass Bottles With Eyedropper - We use high quality...
Lifetime Warranty - The manufacturer, Artizen Essential Oils,...
These oils also repel mosquitoes, and since mosquitoes are a common food source for spiders, getting rid of them can also help get rid of spiders.
Related: Do Mosquito Bracelets Work?
---
How To Prevent Spiders Outside?
There's no 100% effective way to prevent spiders outside, as they go where they want to go. However, there are things you can do to keep as many of them away as possible. Making your own essential oil spider spray and spraying it frequently around your yard is one way.
Here are some other things you might want to do:
Seal cracks, holes, and other crevices to prevent spiders from hiding inside them.
Reduce the amount of clutter around your property.
Regularly clean the outside of your house and outbuildings.
Regularly remove webs you find on your property.
Keep piles of things (firewood, lumber, sacks of potting soil, etc.) as far away from your house as possible.
Don't have shrubs and bushes right next to your house.
We recommend using Harris Food Grade Diatomaceous Earth.
Sale
You can also use perimeter spray around your house semi-regularly, but you don't want to use it so often that it becomes problematic for people, plants, or animals in the area.
---
How To Clean Outdoor Spider Webs?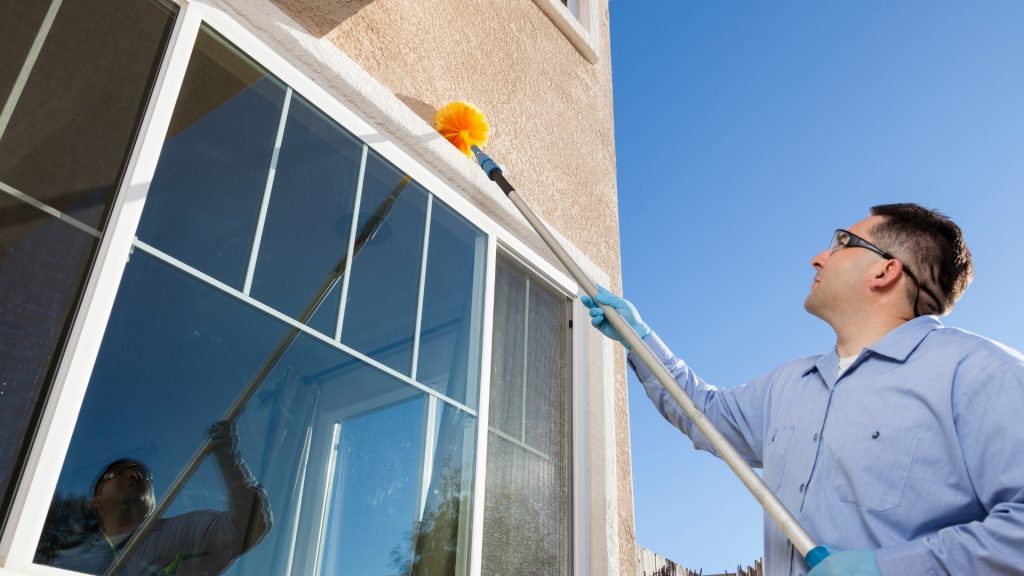 To clean outdoor spider webs, all you need is a broom, feather duster, or vacuum cleaner. You can also tear them down with a high-powered water hose. However, simply tearing down the web won't necessarily kill any eggs or spiders attached to it, so you may want to spray the nest with something to kill them before you tear it down.
---
Summary
If you have a spider infestation outside your home, don't worry, as there are plenty of products that can help you take care of it. Whether you use spider spray repellent, insecticides, or a homemade essential oil spider spray, you should be able to take care of the spiders without much of a hassle.
However, if the infestation becomes more than you can handle (or you're allergic to spiders), you can always call in a professional to help you take care of it.
Related: Can Spiders Bite Through Leggings?
---
List of Sources
Lewis, D., (2020). Fall and Spiders Go Together. Horticulture and Home Pest News, Iowa State University Extension and Outreach.
Fischer, A., Ayasse, M., Andrade, M.C.B., (2018). Natural Compounds as Spider Repellents: Fact or Myth? Journal of economic entomology.
National Pesticide Information Center. (2021). Spiders.
Potter, M.F., (2018). Eliminating Spiders Around Homes and Buildings. College of agriculture, food and environment, University of Kentucky.