Finding mosquito products that actually work is imperative in the spring and summer months. Many bug sprays work well, and citronella candles can sometimes help keep mosquitoes at bay, but what about mosquito foggers?
Do mosquito foggers work? Mosquito foggers effectively keep down the mosquito population in an area, which is why commercial mosquito foggers are used so often by city governments. If you're overrun with mosquitoes, you can call the city bug sprayer or buy personal-use mosquito foggers and spray your yard yourself.
For this article, we've pulled together all the information we could find about personal-use and commercial mosquito foggers. We'll also discuss which mosquito foggers work best for outdoor spaces.
What Is Mosquito Foggers?
A mosquito fogger is a fantastic insect repellent that releases a thin mist of water vapor and pesticide solution into the air. It's like a bug spray that's been amplified.
It's crucial to understand the distinction between a mosquito fogger and a mosquito sprayer. Foggers are devices powered by electricity or propane that spray pesticide into the air as tiny droplets providing the illusion of a fog. They both use chemicals to control mosquito populations.
Do Mosquito Foggers Work?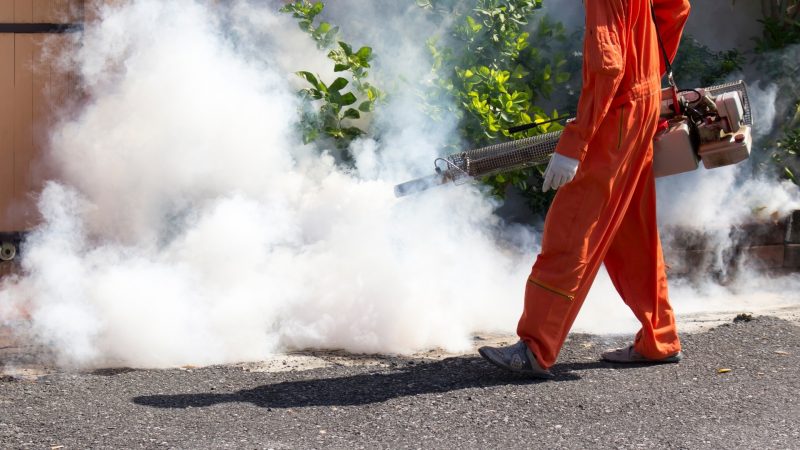 Mosquito foggers work. That's why you'll often see city trucks driving around your neighborhood, spraying for mosquitoes.
Foggers are one of the safest, most effective ways of controlling mosquito populations on a large scale. The products for personal use are much smaller and cover less area than the commercial mosquito foggers, but as long as you purchase a good brand, they're just as effective on a smaller scale.
How Long Do Mosquito Foggers Work?
How long the mosquito foggers will work depends on the brand and what type of fogger you're using.
For example, if you're using thermal foggers for mosquito control, you can expect to get several hours to over a day's worth of relief from the pesky bugs. Other personal-use foggers can last for up to three days.
Commercial mosquito foggers sprayed from the truck will last a little longer. They'll kill almost all the mosquitoes in the area, but after a few days, the lingering effects of the insecticide will wear off, and new mosquitoes will return to the site and be unaffected.
What Chemical Is Used in Mosquito Foggers?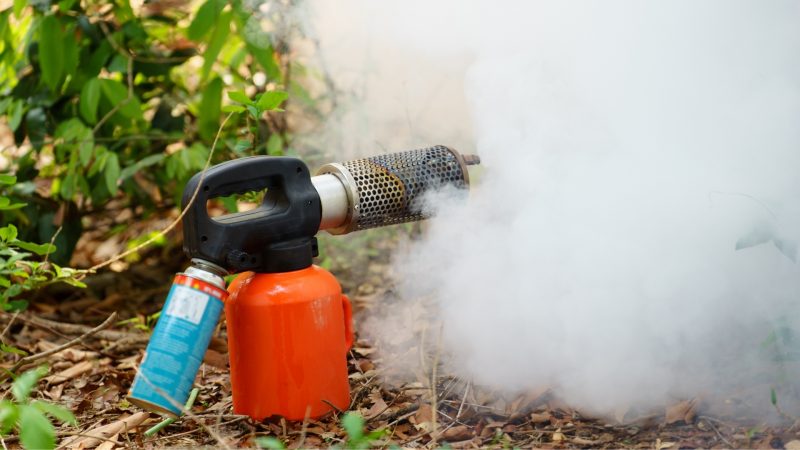 There are several different chemicals in mosquito foggers, including:
Permethrin
Pyrethrins
Naled
Malathion
Phenothrin
Piperonyl butoxide
Resmethrin
Sumithrin
Prallethrin
Etofenprox
The most common chemicals are the first four on the list. If you're unsure which ingredient is in a specific fogger, check the label for the active ingredients.
How Effective Are Mosquito Foggers?
Mosquito foggers really work. However, they aren't miracle cures that will eradicate mosquitoes from your home all year long. Instead, they're a quick, temporary fix.
They'll only rid you of mosquitoes for several hours up to several days, which isn't equivalent to not being effective. It just means they're effective at killing mosquitoes in the immediate area; they have little to no effect on new mosquitoes that move into the neighborhood after you've fogged.
What Are the Main Types of Mosquito Foggers?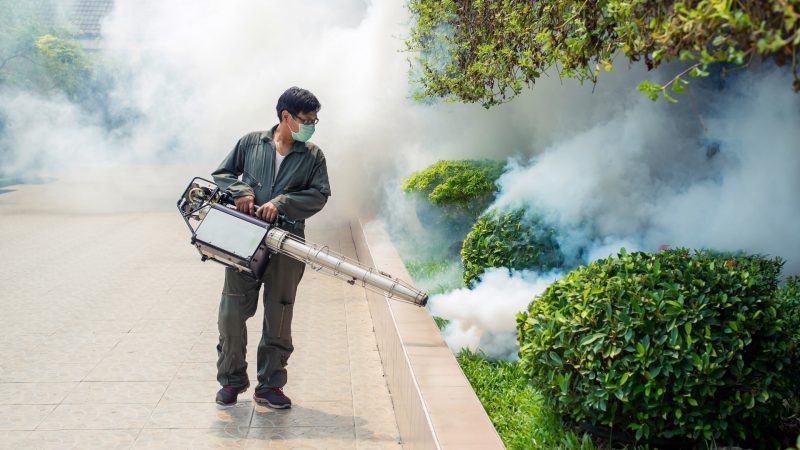 There are six main types of mosquito foggers. These include the following:
Aerosol foggers (Also known as "bug bombs" or aerosol spray cans)
Thermal foggers that run on electricity (battery-powered mosquito foggers)
Thermal foggers that run on propane (gasoline-powered foggers for mosquitoes)
Commercial mosquito foggers (Also known as "the bug spray truck")
Ultra-low volume foggers (ULV foggers)
Mosquito misting systems (automatic mosquito foggers)
Best Mosquito Foggers for Outdoors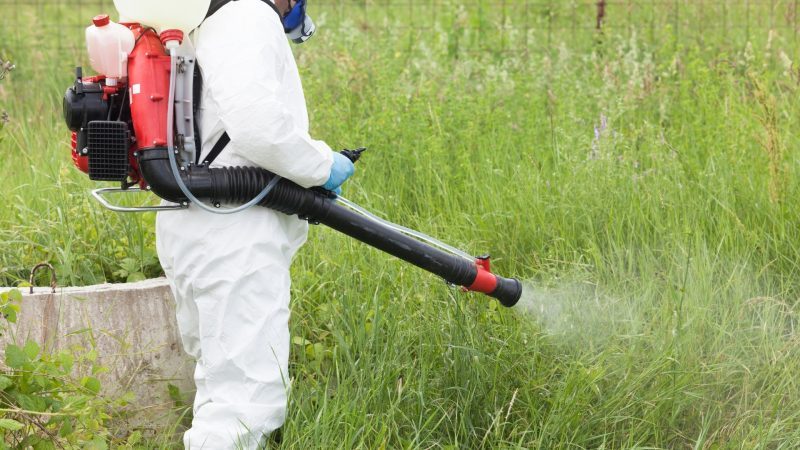 If you're looking for the best mosquito yard fogger for your home, there are a lot of great options.
First, determine whether you want to do it yourself or call the city bug man to come to spray in your neighborhood. And if you're taking the DIY route, what type of fogger do you want to use? Once you've answered those two simple questions, you should be able to find a product that works for you.
Best Overall: Invatech Italia New Mister Duster Mosquito Sprayer
When it comes to mosquito foggers for large areas, it's hard to beat the Invatech Italia. It's big, and its manufacturers designed it with results in mind.
Marketed as being "ideal for crop protection and pest control," it has more power and volume than any other machine of its kind. It can put out up to 1.2 gallons (4.54 liters) per minute. It's a hardcore machine built for serious mosquito fogging.
Best Propane-Powered Mosquito Fogger: Bonide Products Propane Insect Fogger
Sale
Weighing only five pounds (2.27 kg) and made of durable nylon plastic, the Bonide 420 is supremely lightweight and portable. It's great for carrying around the yard and fogging various areas.
The trigger has safety so that you won't fog anything unintentionally, and the insecticide container is translucent, making it easy to see how much you still have left. You have to preheat it before use, which is its only major downside.
Best Battery-Powered Mosquito Fogger: Burgess Electric Insect Fogger
No products found.
The Burgess 960 is one of the best battery-powered mosquito foggers you can buy. It's affordable, durable, and has a high-capacity tank that allows you to cover 5,000 square feet in no time. It's also odorless, safe, and easy to use.
The only downside is that it only guarantees to get rid of mosquitoes for up to six hours at a time.
Best UVL Mosquito Fogging Machine: Longray Basic ULV Fogger With Adjustable Flow & Flex-Hose
Longray Basic ULV Fogger with Adjustable Flow & Flex-Hose
Cold/ULV electric fogger: Produces fine, 5-50 micron droplets....
Functional, portable design: At bottom is a generously-sized,...
Built to last: Clog-resistant vortex nozzle. Solution tank made...
Compatibility: Works with water and oil-based pesticides,...
Manufacturer support: 1 year warranty. U.S.-based technical...
This ultra-low volume sprayer uses a high air compressor to shoot out insecticide particles as small as 5-50 microns. It's a cold fogger, so it doesn't emit any harmful fumes like propane foggers. Plus, it weighs less than seven pounds (3.18 kg), so it's easy to carry around your yard.
Its primary disadvantage is that it runs off an electric cord, so you'll most likely need an extension cord to use it.
Best Aerosol Mosquito Fogger: EcoSMART Mosquito Fogger
Sale
EcoSMART Mosquito Fogger, 14 oz. Aerosol Spray Can
Kills and repels not just mosquitoes but other bothersome flying...
To create barriers to open areas, simply direct spray toward...
EcoSMART is 100% organic so you can feel confident using this...
Take chemicals out of your lawn, garden, and home equation with...
I'm not a huge fan of aerosol mosquito foggers because they cover such a small area and don't last as long as other types of foggers. However, there's no denying the fact that they're inexpensive, easy to use, and readily available in most stores.
Of all the aerosol options, I prefer EcoSMART because it's all-natural and toxic-free. It's also ready to use and has a lovely smell.
If you're looking for something small to keep the bugs away for short periods in small areas outside, this is a good option. It's not going to work well for you in large, open spaces, however.
What Are the Downsides to Mosquito Foggers?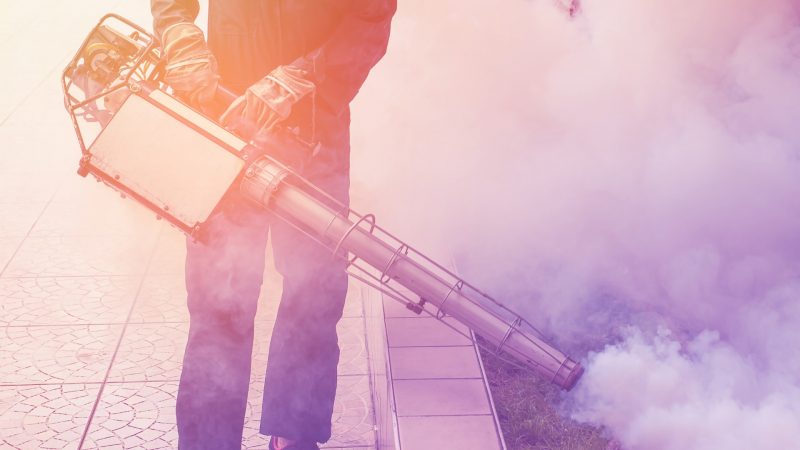 The big downside to using mosquito foggers outdoors is that the effects don't last nearly as long as we'd like them to last.
However, that's not the only downside. While the insecticides found in most mosquito foggers aren't usually harmful to humans or pets, they can kill other insects that are beneficial to humans and the environment.
Do Mosquito Foggers Kill Bees?
Sadly, yes. Some insecticides used for killing mosquitoes will also kill bees, butterflies, and other non-pest insects. For example, insecticides that use pyrethroids are just as toxic to bees as they are to mosquitoes. Bees play a pivotal role in pollination, and killing them is detrimental to our entire ecosystem. That's one reason people choose not to use mosquito foggers.
Are Mosquito Foggers Safe for Pets?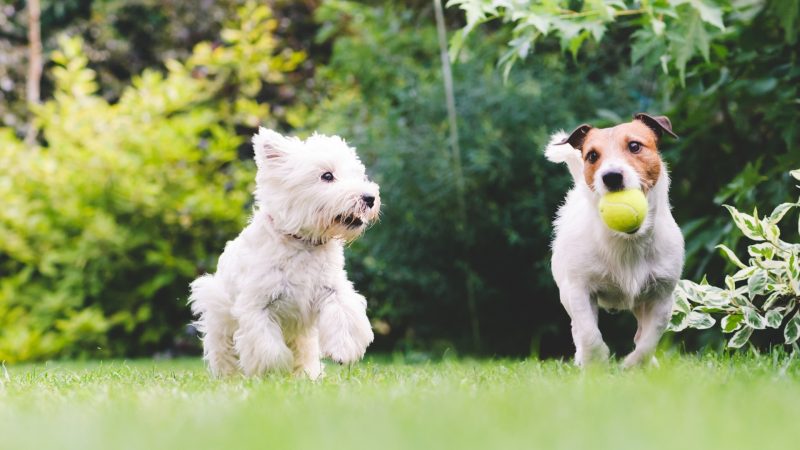 Commercial mosquito foggers use the most potent pesticides of any mosquito fogger, and even they are safe for pets. Because they stay in the environment for only a short period, the EPA judged that they were no threat to the safety of humans or domestic animals. Of course, you shouldn't pour the insecticide into your dog's water or anything, but him just being in the recently sprayed area shouldn't be dangerous.
Can Mosquito Foggers Harm Lake Fish?
Unfortunately, fish are a different story. Pesticides made with permethrin are extremely toxic to fish. However, as long as you're not spraying or pouring the chemicals directly into the water, they should be fine. Try to avoid spraying areas close to rivers, lakes, ponds, or ornamental ponds containing fish.
If your pond or ornamental pond is the problem area in your yard, try using a larvicide instead. Larvicides kill mosquito larvae before they ever become adult mosquitoes, and they aren't toxic to fish. The Summit Responsible Solutions Mosquito Bits from Amazon is one of the best larvicides available.
Sale
List of Sources
Centers for Disease Control and Prevention. (2017). Mosquito Control: What You Need to Know About Truck Spraying.
Merchant, M., (2016). Insects in the City. Texas A&M AgriLife Extension.
Illinois Department of Public Health. FAQs: Spraying for Adult Mosquitoes.
United States Environmental Protection Agency. (2021). Controlling Adult Mosquitoes.
United States Environmental Protection Agency. (2019). Mosquito Misting Systems: Outdoor Residential Misting Systems.

Latest posts by Thomas Matthews
(see all)