One of the best ways to prevent mosquitoes from overtaking you is to kill them before they're fully grown. Catch them at the egg or larvae stages, and you can get them before they grow up to get you. But how exactly do you kill mosquito larvae?
How to kill mosquito larvae? To kill mosquito larvae, you need to eliminate standing water, apply coffee grounds to your lawn, purchase mosquito-eating fish for ponds, spray pesticides, and make homemade pesticides. You can make these from soap, essential oils, or apple cider vinegar.
This article should give you all the information you need about identifying and killing mosquito larvae. If you're looking to take care of a mosquito problem at your home, keep reading.
What Does Mosquito Larvae Look Like?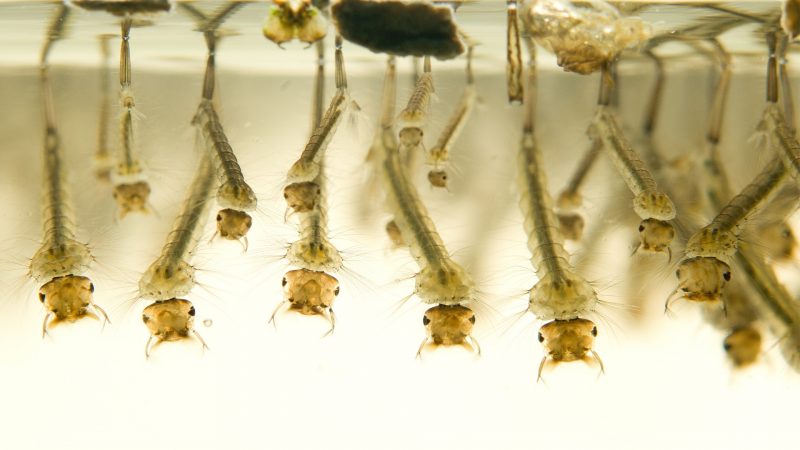 Mosquito larvae don't stay larvae for long. Within five days, they develop into mosquito pupae instead.
While in the larvae stage, they're about ¼ of an inch (6.35 mm) long and look like worms covered in hair. Their bodies are soft with 10-segment abdomens. They have round heads and siphon tubes at the tips of their abdomens.
What Are Mosquito Larvae Called?
Mosquito larvae are called "wrigglers" because of their distinctive wriggling motion when they swim. When under the water, they're hard to see, but you can often catch glimpses of them when they "wriggle" to the water's surface to take a breath through their siphon tubes.
Breeding Mosquito Larvae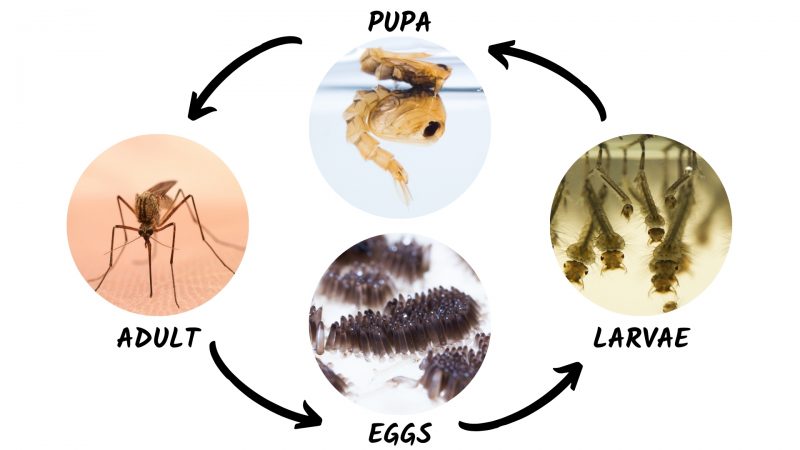 There are four stages to a mosquito's life cycle:
The eggs won't hatch until they're submerged in water. Female mosquitoes lay their eggs on the top of standing water, and once the eggs become fully immersed, they hatch, and the larvae stage begins.
How Long for Mosquito Larvae To Mature?
As is often the case with small animals like insects, their life spans are brief. That means each stage of their development is much shorter than the corresponding stage of a human's development. Mosquito larvae turn into pupae within five to ten days, and the pupae become adult mosquitoes in two to three days.
How Long Do Mosquito Larvae Live?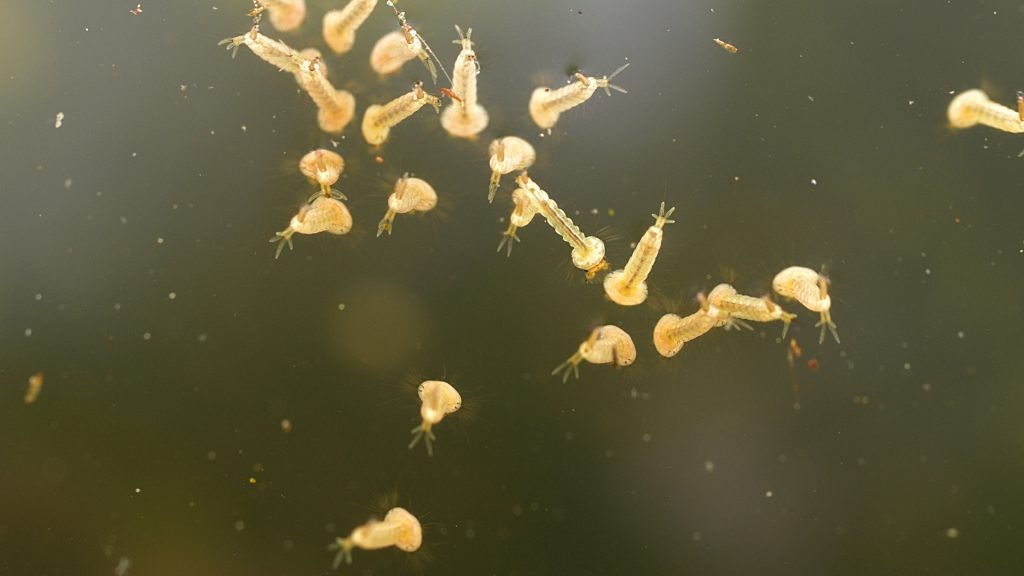 Although most larvae turn into pupae within five to ten days, larvae can live in water from four days to two weeks, depending on the type of mosquito and the conditions in the water. Most transform into the next stage of development before the two weeks are up, though.
Can Mosquito Larvae Live Out of Water?
Without water, both mosquito larvae and mosquito pupae die quickly. Eggs, on the other hand, can survive in a dormant state for years. As long as they aren't exposed to water or moisture, they'll survive, just waiting until enough water covers them to hatch.
What Do Mosquito Larvae Eat?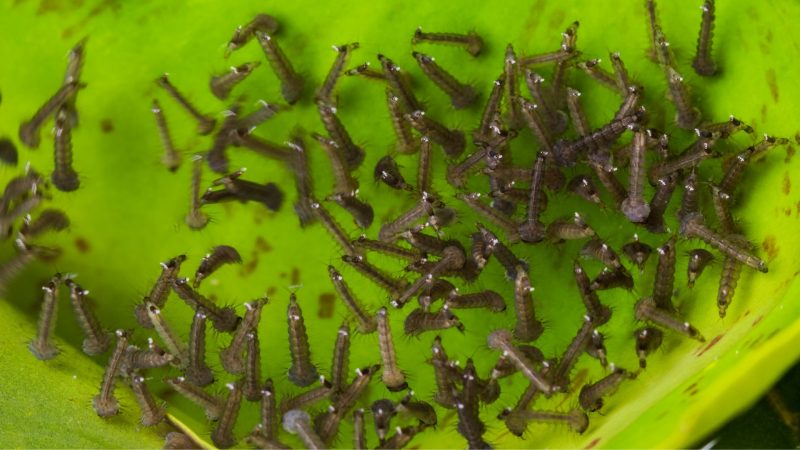 There are different species of mosquitoes and larvae, and they feed on different things. Most larvae are known as filter-feeders. Their mouths sweep through the water, catching small bits of decaying matter and other microorganisms.
There's a larger breed of larvae that feed on other, smaller mosquito larvae. These larvae, known as predatory larvae, don't bite humans once they become full adults; therefore, they're considered allies in our fight against mosquitoes.
7 Ways on How To Get Rid of Mosquito Larvae
There are plenty of ways to get rid of mosquito larvae. Determining the best one depends on where the larvae are located. Getting rid of larvae in a pool, for example, is different from getting rid of larvae in a pond. In the following few sections, we'll go over different ways of getting rid of larvae in various places.
How To Kill Mosquito Larvae in Pool?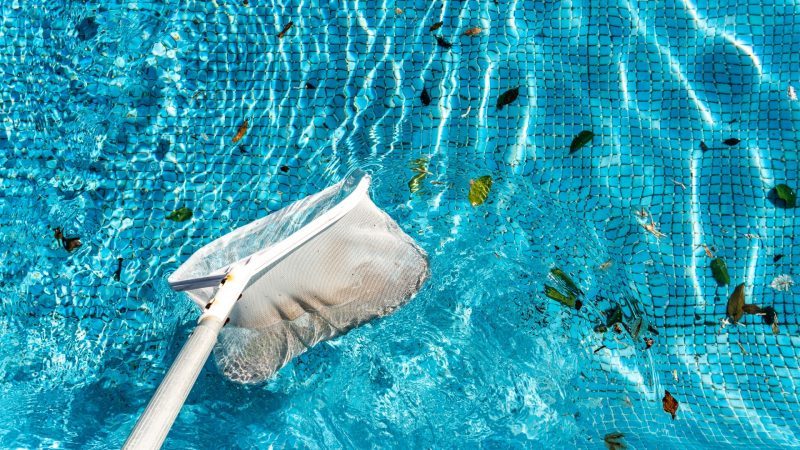 One of the most common questions people with pools ask is, "Does chlorine kill mosquito larvae?" The answer is both yes and no. In high enough doses, chlorine can kill mosquito larvae, but those high doses might not be safe for the people swimming in your pool.
Using a safe amount of chlorine will help keep the larvae in check, but you should still use other methods to control mosquito larvae. Doing the following things will help:
Use a pool filter three to four hours a day.
Use a pool cover.
Frequently get rid of any standing water on top of the pool cover.
Clean your pool regularly – vacuum, scrub the walls, etc.
Use a net to skim the surface of your pool regularly.
All of these things will help keep larvae out of your pool.
How To Kill Mosquito Larvae in Water?
Getting rid of mosquito larvae in water can be as simple as pouring oil into the water. For example, if you leave a bucket outside in the rain, and you find it's full of mosquito larvae, pour some oil into it. Even cooking oils like olive oil and vegetable oil will work. There are plenty of essential oils you can use, as well.
How To Get Rid of Mosquito Larvae in Pond?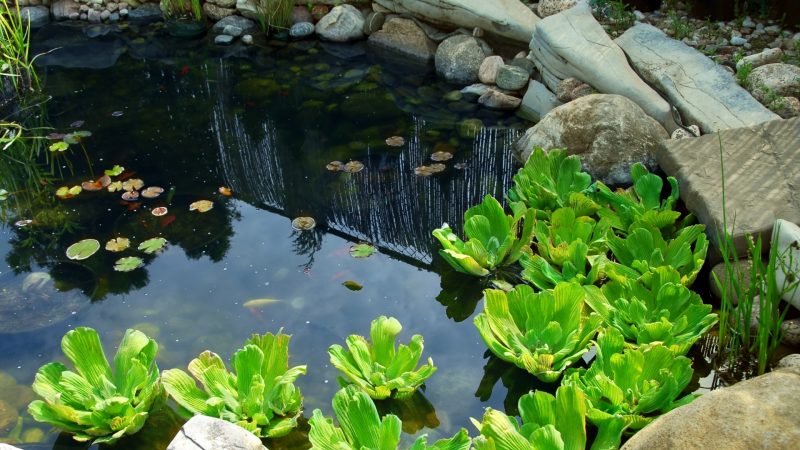 One of the easiest ways to get rid of mosquito larvae in a pond is to purchase mosquito-eating fish. There are plenty of fish that will eat mosquito larvae—most fish do, in fact—but some also eat tadpoles, which you might not want.
There are, however, several fish that eat larvae but will leave your tadpoles alone. These include:
Koi
Guppies
Goldfish
Minnows
How To Kill Mosquito Larvae in Water Tank?
The most common methods for ridding water tanks of larvae include adding liquid paraffin or kerosene to the tanks. These methods are effective if employed early and often; however, the best "remedy" is to ensure mosquitoes can't get in to lay eggs in the first place.
Follow these steps to help keep mosquitoes out of your water tanks:
Keep all access points closed with close-fitting lids.
Cover overflows and inlets with close-fitting insect screens.
Check tanks regularly for rusted, weak, or damaged areas and repair them immediately.
Keep the gutters clear of debris and standing water.
How Do I Kill Mosquito Larvae in My Fountain?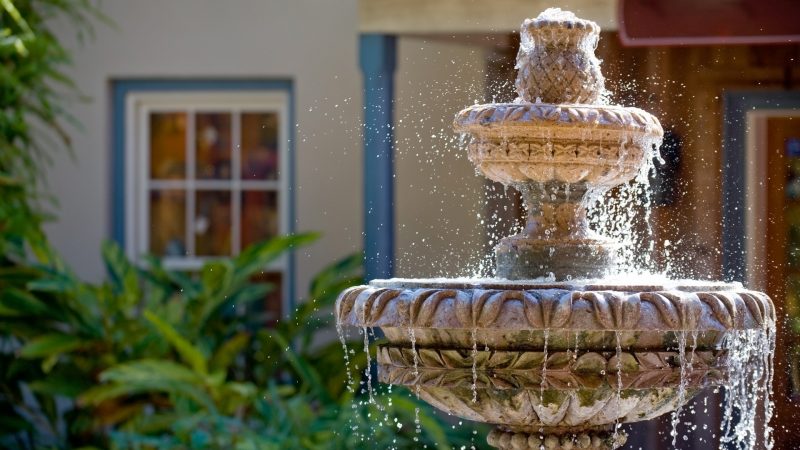 Larvae prefer water that's less than two feet deep, and that stands still. If you're going to install a water feature on your property, make it more than two feet deep. Moreover, adding lots of steep declines and keeping the water moving will help ensure larvae don't hatch in the water. If you already have larvae in your fountain, add oil, kerosene, or liquid paraffin to get rid of them.
You can also use the Summit Responsible Solutions Mosquito Bits available on Amazon. It's incredibly effective at killing mosquito larvae in standing water and is safe around people, plants, and pets.
Sale
You can also make your own mosquito killer with apple cider vinegar, dish soap, or cinnamon.
How Do I Kill Mosquito Eggs in Water?
Most of the tips we've given you will all work just as effectively on mosquito eggs as they do on mosquito larvae. You can also eliminate standing water as frequently as possible to prevent mosquitoes from laying eggs in the first place.
How To Keep Mosquito Larvae Out of Pet's Water?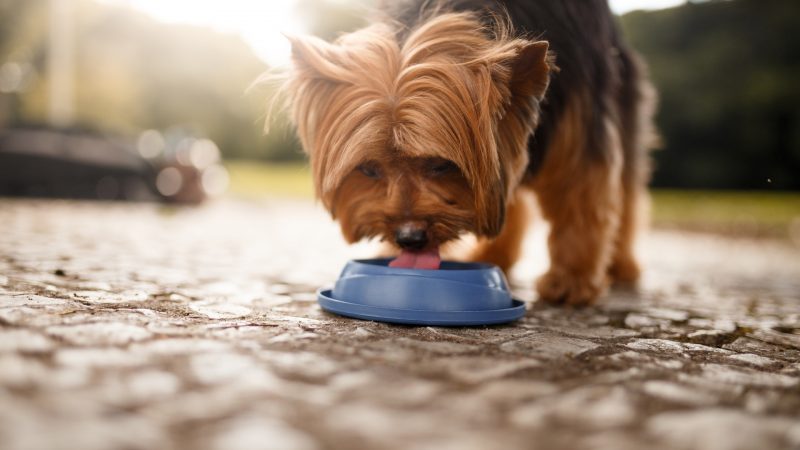 It takes mosquito eggs a few days to hatch, so the best way to keep the larvae out of your pet's water is to change it frequently and wash the bowl between water changes. If you change your pet's water a couple of times a day, cleaning the dish each time, the eggs shouldn't have time to hatch.
Best Mosquito Larvae Control Products
In addition to the Mosquito Bits product we mentioned above, several other products are pretty effective at getting rid of mosquito larvae. If you don't mind using chemicals and pesticides, here are some things you might want to try:
Terro T1210 Mosquito Larvacide Pouches
Sale
TERRO T1210 No Mess Mosquito Larvacide Pouches - 10 Pouches Included
Kills mosquito larvae when added to stagnant water
Dissolvable pouch – no dust and requires no breaking
Long-lasting larvacide Continues working for up to 2 months
Use in fish ponds, bird Baths, gutters, rain barrels, and other...
Can be applied in areas used by people and pets when used as...
Summit Responsible Solutions 110-12 Mosquito Dunks
Sale
Bonide Mosquito Beater WSP Larvicide Insecticide Pouches
Any of these should help you rid yourself quickly of mosquito larvae.
Natural Way To Get Rid of Mosquito Larvae
We've already talked somewhat about using oil, apple cider vinegar, or essential oil to kill mosquito larvae, but we wanted to go a little more in-depth into which essential oils work best.
Multiple studies have proven that cinnamon oil works well at killing mosquito larvae. Thyme oil and eucalyptus oil also work.
Home Remedies for Killing Mosquito Larvae
Have you ever asked yourself, "Can vinegar kill mosquito larvae?" Apple cider vinegar certainly can.
Luckily, there are several different home remedies for killing mosquito larvae, all of which we have mentioned in this article. So, the best essential oils you can use to get rid of mosquito larvae are cinnamon oil, thyme oil, and eucalyptus oil.
Oil of Youth Essential Oils 4oz - Thyme Essential Oil - 4 Fluid Ounces
Premium Grade Thyme Essential Oil - 4oz bottle of the highest...
Fresh Thyme Aroma - Enjoy the fresh soothing aroma of thyme...
Perfect Essential Oil For 100s Of Uses - People have been using...
Bottled In The USA - Purchase with confidence, knowing our thyme...
Customer Satisfaction - Oil of Youth stands behind every product...
You may also want to cover your yard with coffee grounds. They've proven to be very helpful in eliminating the mosquito population at all stages – egg, larvae, pupae, and adult.
List of Sources
Potter, M.F., Townsend, L., Knapp, F.W. (2003). Mosquitoes: Practical Advice for Homeowners. University of Kentucky College of Agriculture
United States Environmental Protection Agency. (2017). Mosquito Life Cycle.
Crawley, S. (2021). Mosquito Control around Home and in Communities. NC State Extension Publications.
Chmielewski, M. (2007). Some Notes on Mosquito Natural History. Clark University.
American College of Healthcare Sciences. (2017). Green Cleaning: 10 Essential Oils that Naturally Repel Insects.

Latest posts by Thomas Matthews
(see all)