Using wood to warm your home during winter or days with cooler weather can come with some storage difficulties, including insect infestations of firewood, particularly of ants.
So, how to get rid of ants in firewood? The best way to get rid of ants in your firewood is by using an ant bait. You can use all-natural ingredients such as boric acid and diatomaceous earth or purchase commercial products. Afterwards, apply preventive measures in place to keep them from coming back.
Keep reading this article until the end, and you will surely know what to do when it comes to getting rid of the ants in the firewood as well as storing and using your firewood correctly. Let's begin!
How To Get Rid Of Ants In Firewood: Instructions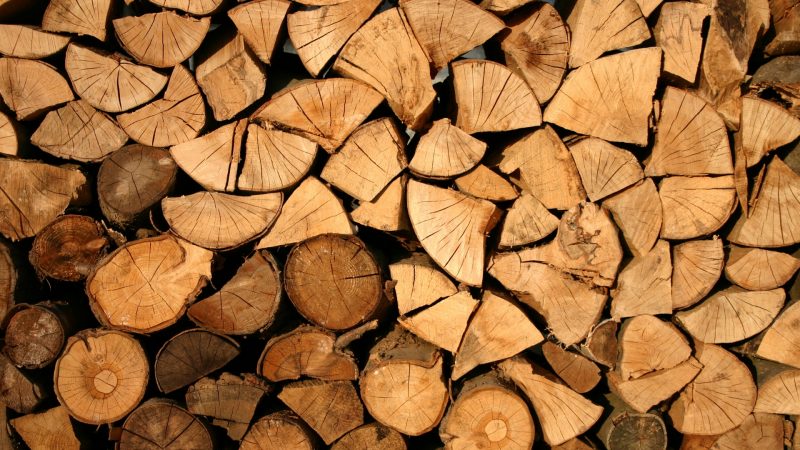 Getting rid of the ants in the firewood is a tricky business because if you use conventional heavy pesticides and spray the wood around it, you will contaminate the wood itself, and you will have to wait a certain period before being able to use it inside.
However, there are other methods like using an ant bait which is a non-invasive way of getting rid of the ants, and after this method, the firewood will still be usable. If you want to buy ant baits, there are some perfect ones commercially available:
There are also several DIY ant bait options for you to try, and all of the ingredients can be found in your home:
You can make a liquid ant bait with boric acid and a wet cloth. Cover it with a plastic bottle cut in half so that the ants can access the bait. Wait a day or two, and you will see results. Ants will get the bait and carry it with them. That way, they will infect many ants or even the whole colony.
You can also do the same method of preparation and application but instead of boric acid, try using diatomaceous earth.
Both of these options give good results, and what is essential is that you can use your firewood inside without releasing poisonous fumes inside your home.
How to Prevent Ants in Firewood From Getting Into Your Home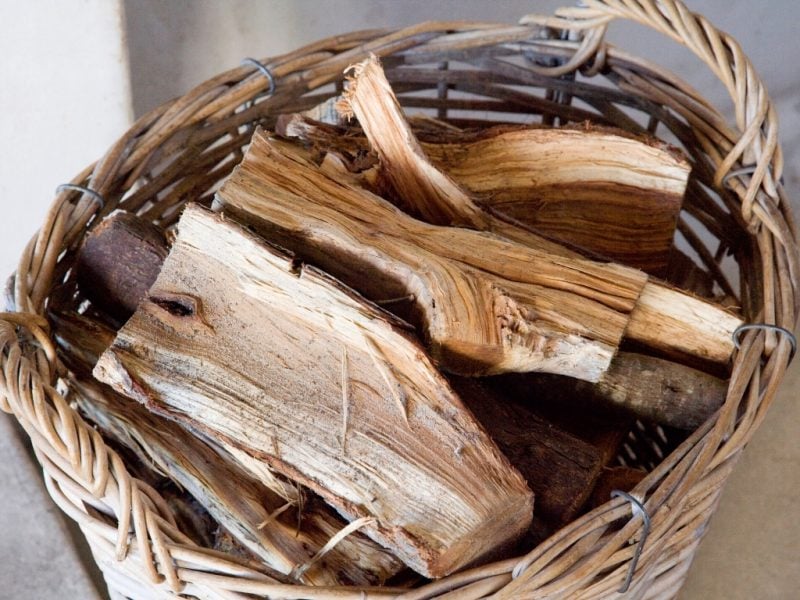 Ants don't eat firewood but use it to make tunnels and hide during winter. Common ants that inhabit firewood are carpenter ants, and there are several ways to minimize the chance of them moving into your home.
Collect the Firewood Around the Late Autumn Period
Ants and other insects are highly active from April to October, so cutting and collecting wood afterward would be wise. Freshly cut trees are an invitation for ants, so try to collect all the firewood as fast as possible.
Keep the Firewood Covered at All Times and Above Ground Level
It is also recommended to keep the firewood above ground level. You can use bricks, blocks or other building materials to keep firewood off the ground. There are also grates made especially for that purpose.
By keeping firewood above ground, you also keep the airflow beneath the wood, which helps it dry faster. Try to store your firewood in a place with a lot of direct sunlight. That will also help it dry faster, and strong sunlight will kill most of the ants inside the firewood.
Avoid Having the Firewood Shelter Near a Vegetation
When you are constructing a shelter for your firewood, be sure to avoid building it near other trees. Ants and other insects can crawl from them and infest your firewood.
Also, avoid building the storage near other buildings, especially your home or garage. That way you are keeping ants away from your home. If the firewood is stored against your house, that is practically an invitation for ants to enter.
Keep the Firewood Away From a Wooden Construction
Also, keep firewood away from the garage or any other object with wooden construction. If ants get inside, they can severely damage the wooden construction.
Clean the Firewood Before Getting It Inside the House
Before you bring firewood inside your home, clear it of any surface ants and pests. Check every log, shake them, knock two logs against each other – those are the ways to force the ants out of their hiding spots. That is no guarantee that the firewood is ant-free, but some pests or ants will come off.
Do Not Stack Firewood Inside Your Home
Try to keep enough firewood supply for daily or two days' needs. When firewood is inside a warm home, it will wake all the ants, but that takes about a day or two, so try to use all the wood during that time.
Never add new supplies of firewood before you use all the old ones first. If there are any ants inside it, use the firewood before they start coming out of it. If you leave some old firewood on the bottom of the pile, you risk ant infestation.
What Can You Do To Stop Ants From Infesting Firewood?
You can try using diatomaceous earth around your firewood pile. That will keep some of the pests away, but because it is used outside, you can't expect it to have its full effect.
Do not spray firewood with pesticides! Using firewood treated with liquid pesticides can cause a severe health hazard because, once ignited, the wood will release poisons from the pesticides into the air.
Related: How Strong Are Ants? | Incredible Strength Explained
What to Do If Ants Invaded Your Home From the Firewood?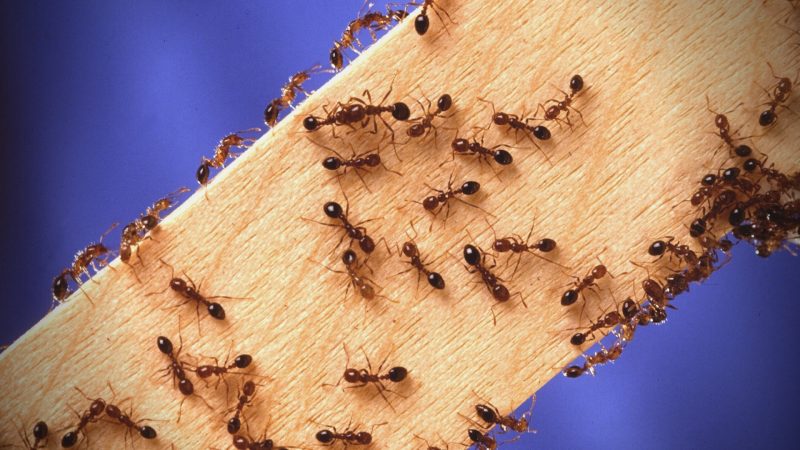 You can become a victim of carpenter ants infestation if you keep wood logs too long or if you don't clean them before carrying them inside. Once warmed inside your home, ants will start coming out of the tunnels they made in the wood.
As soon as you spot them, use a vacuum cleaner to get rid of them. It is best to get rid of them before they can build a nest somewhere in or around your home. A vacuum cleaner is the best option.
Is There a Chance Ants Will Make a Nest in My Home From Firewood?
If the ants come out of the firewood and go into your home, in most cases, it is hard for them to make a nest. If you notice the ants on time, getting rid of them will be relatively easy.
Checklist to remember:
Keep your home clean and tidy. That way, ants will have less reason to stay in your home.
Throw away garbage regularly.
Check for any moisture under the roof or anywhere in your garage because those places are a magnet for ants, and they choose spots like those to make nests.
When you build your firewood storage, you should place it away from your home and garage and keep it away from any trees. Choose a time to collect your firewood or get it when insects are less active, from late October, through the rest of the fall and winter.
It is of utmost importance not to pile firewood inside your home or garage, always use the ones you got, and then bring a new one inside. Keeping firewood inside for too long will wake any ants if there are any inside.
Related: How to Get Rid of Ants | Safe and Effective Methods
List of Sources
Bricault, R. (2012). Use Firewood Wisely and Keep out Unwanted Pests.
Jesse, L. (2003). Insects in Firewood.
Maine Department of Agriculture, Conservation & Forestry Division of Animal and Plant Health. (n.d.). Tips for Managing Carpenter Ants.
Sloderbeck, P. (n.d.). Pests Associated with Firewood, Southwest Kansas Research-Extension Center
Waldvogel, M. (2019). Ants in Your Plants and Your Firewood.

Latest posts by Thomas Matthews
(see all)