Cockroach infestation is a serious problem a lot of people are facing inside their homes. Seeing a cockroach crawling over your floor or, even worse, your food is always a stressful thing.
As cockroaches are dangerous, they need to be dealt with as soon as possible. Paying professional exterminators can cost a lot of money. But don't worry, here are some remedies you can easily make at home and eliminate the cockroach problem from your home once and for all.
How to get rid of cockroaches with home remedies? Home remedies are a healthier but less effective choice for resolving a cockroach infestation when compared to some pesticides. If you are looking for a home remedy, here are some suggestions:
Boric acid and peanut butter
Essential oils
Borax
Bleach
Baking soda and onions
Duck tape
Bay Leaves
Vinegar
Getting rid of roaches and preventing their return takes a little more effort than just using the chosen remedy. You'll need to repair your drains and pipes, fix the small holes, and establish a regular home cleaning regime. Read our entire guide and follow our advice, and your problem will soon become history. Let's begin!
Home Remedies for Cockroaches | Information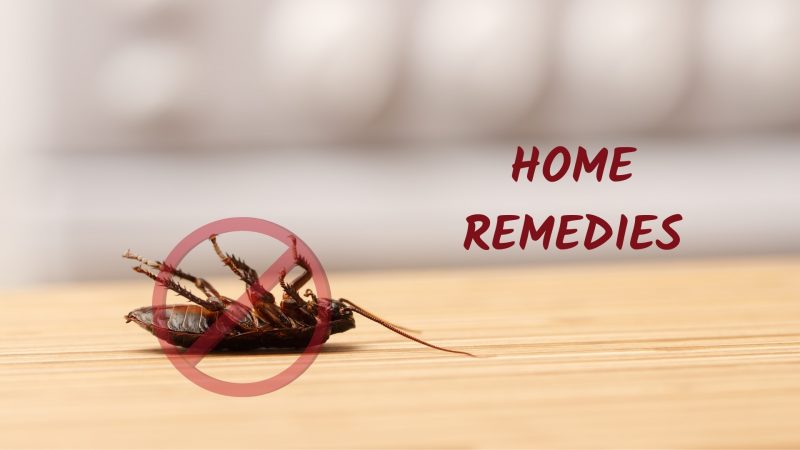 How to Remove Cockroach from the Kitchen with Home Remedies?
If you have a roach infestation located in your kitchen, the first thing you should do is clean it. If your kitchen is full of food leftovers, crumbs and stains, opened cans, and dirty dishes in the sink, then cockroaches will simply be enjoying their stay! You should clean thoroughly your entire kitchen.
If there are any clogged or leaking drains and pipes, repair them. Cockroaches adore moisture and always try to find shelter near moisture. By repairing pipes and cleaning your kitchen, you will cut two main things they need for survival (food, and water).
Next, chose a home remedy. Boric acid, for example, is highly effective. Not harmful for you or your family, but a strong-killing pesticide for roaches! Just mix it with any starch, and make little baits. Roaches will be attracted to starch and soon after eating the bait, they will just drop dead.
How to Get Rid of Cockroaches Outside with Home Remedies?
If you have a nice garden, it will become much nicer and safer with some lavender! Lavender is a natural repellent for roaches, as the strong fragrances bother them. You can prevent getting roaches by simply planting lavender outside.
On the other hand, make sure that your trash can is clean and that there is no spilled trash around it. Roaches feed on literally anything, so make sure that you are not providing them free meals.
How to Get Rid of Cockroaches Using Natural Remedies? | Step-by-Step Instructions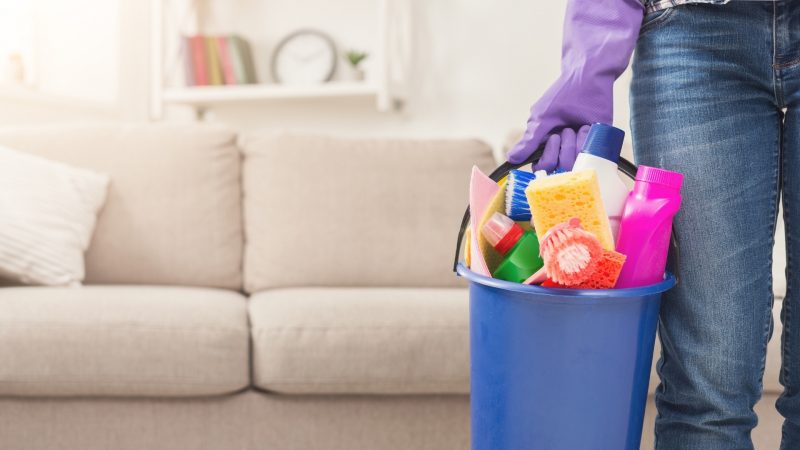 Step 1: Cleaning
Eliminate all the stains from spilt liquids, any food leftovers, and dirty dishes in the sink. Clean the food preparation and eating surfaces with mild detergents. Make sure there are not even crumbs left on the floor.
Clean the drawers, kitchen cabinets, and area around your trash can and take out the trash. Make sure that your food is kept in sealed packages. That way, you'll make it much harder for roaches to get access to food.
If the affected area is your bathroom, a wise thing to do is to put a strong detergent or bleach inside your drains and leave it for 30 minutes. After that, let the water go down the drain for a few minutes.
Step 2: Fixing Plumbing Installations
Fix every leaking pipe or clogged drain. Also, fix any small holes and cracks, as they make perfect shelter spots for roaches. Following the first two steps, you will cut their sources of food, water, and shelter which are essential components for their survival.
Step 3: Choose a Home Remedy
Once you've decided which remedy to use, apply it in roach-affected areas. If you use baits, wait for them to start working. Bleach and boric acid can be harmful to your pets, so they should be kept away from the affected areas during the entire process.
Have patience, sometimes the process of roach elimination can take time. In some cases, you'll have to repeat it until your problem is finally solved. As we have mentioned above these are the remedies that you can use:
Boric acid and peanut butter
Essential oils
Borax
Bleach
Baking soda and onions
Duck tape
Bay Leaves
Vinegar
How to Get Rid of Cockroaches Home Remedies Boric Acid?
If you want to use boric acid, the best way to use it is mixed with flour or sugar. Create small baits and leave them on the floor, under the sink, refrigerator, and all the dark and unreachable areas of your kitchen and bathroom.
Sale
1
Sugar attracts them, and when ingested, boric acid acts as a poison and kills them. It's one of the safest and easiest ways to eliminate roaches using home remedies.
How to Get Rid of Cockroaches Home Remedies Borax?
Borax is a mineral mostly known to be a part of many cleaning products, cosmetics, and even some brands of toothpaste. It is usually sold as a white powder to use around the house. Using borax, you can easily make a remedy for roaches.
1
Borax 20 Mule Team Laundry Booster, Powder, 4 Pounds
Add 20 Mule Team All Natural Borax Laundry Detergent Booster to...
Use 20 Mule Team All Natural Multi-Purpose Household Cleaner to...
This 20 Mule Team all-purpose household cleaner removes soap...
20 Mule Team Borax is an amazing, all-natural mineral found in...
This package contains one 65 Ounce box of 20 Mule Team All...
Mix borax and sugar in equal parts. Apply the mixture in cracks, under sinks, cabinets, and anywhere you've seen roaches crawling. You can also put it in little dishes, and roaches will gather around it. Repeat several times if needed. The borax works only if cockroaches ingest it.
How to Get Rid of Cockroaches Home Remedies Fabric Softener?
A great alternative to market repellents is a mix of fabric softener and water. Put the mixture in a spray bottle. Whenever you spot a cockroach, spray it directly and cockroaches will die in a couple of minutes. This is, however, not a great solution for bigger infestations.
How to Get Rid of Cockroaches Home Remedies Baking Soda?
Mainly the same way you did with boric acid, just mix baking soda with flour and sugar in order to make baits. Put the baits in strategic places in your home and wait. Baking soda kills them pretty quickly.
Essential oils
The most effective natural repellents are lavender, peppermint, and tea tree oil. You can use it on a piece of cotton to wipe down the affected surfaces you want to keep from roaches or use it in a form of a spray.
Sale
1
1
1
EVOKE OCCU 100% Pure Tea Tree Essential Oil for Toenail Fungus,Hair Damage,Skin Problems,Add to Shampoo,Body Wash,Conditioner 4 FL Oz
Tea Tree Essential Oil-Melaleuca alternifolia, Woody, Earthy &...
100% Pure tea tree oil, undiluted, no additives, no fillers.
Tea Tree Oil is best known for its purifying qualities. Diffuse...
Amber Glass Bottle with Premium Glass Dropper- Amber glass bottle...
For external use only.A skin patch test is recommended prior to...
When strong enough, the essential oil can kill a cockroach. Strong fragrances suffocate roaches, that's why they find essential oils so repellent.
Catnip Plant
Not good for killing roaches, but it can truly repel them and keep them away. Put catnip into boiling water and cook for a couple of minutes. Please wait for the mixture to cool, then put it in a spray bottle. Spray the area of your home where you've seen roaches. Repeat from time to time. This is a remedy that can help you fight the infestation, but it cannot kill them.
Bay Leaves
Similar to catnip, bay leaves can be used to repel cockroaches. Just put some of the leaves inside the kitchen drawers, cabinets, under the sinks, or under the refrigerator. Try to cover all the possible hiding spaces. Bay leaves cannot kill roaches, but they are very effective in keeping them away.
Step 4: Cleaning Routine
Use mild detergents and repeat the cleaning after you are done with home remedies. That way, you'll get rid of roaches' dead bodies, and leftovers of baits and start enjoying your home, which will be a safe and healthy environment once again!
To prevent roaches from ever coming back, set a regular cleaning routine in your home. Never skip washing the dishes, and don't leave them dirty in the sink during the night. Take out the trash regularly, and never keep a trash can full for days in the house. Make sure that the area around the trash can is kept clean.
Important Read: Different Types of Cockroaches – Identification Chart
List of Sources
Cockroaches, University of Minnesota Extension
Cockroaches, Home and Gardening Information Center, University of Maryland Extension
Latest posts by George Climer
(see all)