Insect repellents are usually designed for getting rid of mosquitos, flies, and sometimes bees. However, some of them don't always include ticks and fleas on the list of affected insects.
Do insect repellents work on fleas and ticks? Insect repellents work on fleas and ticks if they have an insecticide called pyrethrum. This insecticide can eliminate both species when it comes in contact with them. They'll stay away from the area as long as the substance is present.
If you are having problems with fleas and ticks we suggest you stay with us until the end of the article in order to learn the means you can use to get rid of them. Let's begin!
Can You Use an Insect Repellent to Get Rid of Ticks and Fleas?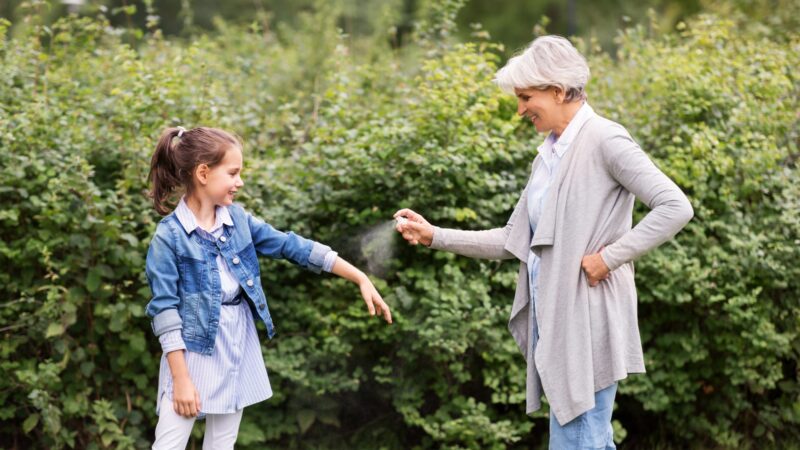 Getting rid of fleas and ticks is much easier than you might think. Both of them are well-known for being able to cause severe health conditions, so it's worth trying to do whatever you can to stay safe. Fortunately, there are a few options that are effective, including the following insect repellents:
DEET
You can also use a popular repellent DEET, but it is important to note that it doesn't work on the type of tick that causes Lyme Disease. Products containing DEET, such as Tender Ben's 100% DEET Spray, can remove ticks and fleas from the area. It's toxic to them, and they also don't like the odor at all.
A few sprays of this repellent and you won't have to worry about either of them coming in that area any time soon.
Pyrethrum
The pyrethrum is another great example of an effective repellent. Oxford Academic's Journal of Medical Entomology notes that pyrethrum is incredibly effective against ticks. They also made a list of 12 other chemicals that were useful, but many of which aren't used in modern repellents.
Capric Acid
Capric acid is another chemical that naturally repels ticks and fleas, but it's not found in most repellents. Instead, it's used in the production of safety gloves, artificial flavoring, perfumes, and other products. You can also take capric acid in a pill form, though it's not yet known if it'll prevent ticks and fleas from biting.
Permethrin
Permethrin also repels ticks and fleas. Better yet, you can use it on your clothing, tent gear, and other equipment to keep them away for good. Sawyer Products Premium Permethrin Insect Repellent is an excellent example of high-quality, concentrated permethrin that eliminates most insects.
Sale
Combining products, such as permethrin and DEET, will increase the effectiveness of both chemicals. You can use DEET directly on your skin and permethrin on your clothing, resulting in a limited amount of ticks and fleas that want to come anywhere near you. Nevertheless, always check for bites after a camping trip.
As you can see, there are more than enough insect repellents that work on fleas and ticks. However, you can't use any old repellent and hope it does the trick as these products can expire. If you want to know how to use various insect repellents to deal with ticks, fleas, and other bugs, read on and we will explain everything.
How to Remove Fleas and Ticks with Repellent?
If you've never used insect repellent or you want to make sure that you're abiding by the safety standards, you'll learn everything that you need to know in this section. Contrary to popular belief, not all insect repellents can be used on the skin. In fact, many chemicals can prove harmful rather than helpful.
Here's a quick step-by-step process to use insect repellent to repel fleas and ticks:
1. Start by Applying a Product With DEET All Over Any Exposed Skin
Remember that some people are sensitive to the chemical, so it's a good idea to spot-treat before you cover yourself with it. The Journal of Post-Graduate Medicine states that DEET can be harmful to children when it's too concentrated.
2. Applying the Permethrin
Next, apply permethrin on your clothes, furniture, tent, gear, and anything else you have outside with you. You can also use it indoors as long as the area is well-ventilated. As mentioned in the previous section, you shouldn't ever use permethrin directly on your skin if you want to avoid irritation.
3. Use Citronella Sprays and Candles to Keep Fleas and Ticks Away
Citronella is naturally derived from citrus plants, and it's acidic enough to make most insects stay away from the area. Lighting a citronella candle in the middle of a table or bench is a good way to make a barrier around yourself at night.
4. Place Drops of Citronella Essential Oil Around the Campsite or Yard
If you're dealing with copious amounts of fleas and ticks, then using essential oil is an excellent concentrated method of repelling and preventing them from coming back. It also has the bonus of smelling wonderful.
Are you trying to stay away from using harsh, store-bought chemicals? In that case, you can also make your own DIY natural repellent right at home. See the next section if you are interested.
Natural Repellent Suggestions for Fleas and Ticks
You don't have to head to the store to find an effective insect repellent. In fact, you can make your own with various ingredients that you might already have at your house. For example, different essential oils are incredibly effective against many types of bugs, including fleas and ticks.
Clove & Peppermint Oil
According to a recent study by Oklahoma State University, clove oil and peppermint oil have both been proven to be effective against tick populations. If you're trying to get rid of ticks using the natural route, add a few drops of both essential oils to a spray bottle, dilute them with two cups of water, and spray the solution around the area for maximum effectiveness.
Cedar Oil
Cedar oil has long been known to repel a vast majority of insects. In many cases, it eliminates them completely. If you're looking for a natural solution to this common problem, then try dropping a few drops of cedar oil around the grass. You can also add it to a spray bottle with water as mentioned above.
Neem Oil
Neem oil is another remedy that goes back hundreds of years. Place a few drops of this oil on your hands and rub it all over the exposed parts of your skin. Again, consider doing a couple of spot treatments before you apply it all over yourself.
Tea Tree Oil
Tea tree oil smells interesting, to say the least, but that's part of the reason why fleas dislike it so much. You can use it on its own as a topical treatment or combine it with other oils, including citronella and eucalyptus oil.
No products found.
List of Sources
M. Bar-Zeev, S. Gothilf, Laboratory Evaluation of Tick Repellents, Journal of Medical Entomology, Volume 10, Issue 1, 31 January 1973, Pages 71–74
Using Insect and Tick Repellents Safely, Pennsylvania State University
Insect Repellents, University of Maine

Latest posts by Thomas Matthews
(see all)