Woodpeckers are difficult to force away from their territory or the pecking locations they have chosen. They can drill holes in trees and wood structures. For this reason, any attempt to control them should be made as soon as the problem is identified and before the territories are devoured by these creatures.
Here is a list of the best woodpecker deterrents to keep them away from your property:
Bird Repellent Tapes
Electronic Woodpecker Sound Deterrents
Bird Repellent Gels and Liquids
Bird Repellent Balloons
Woodpecker Food
Woodpecker Spikes and Nets
Decoy Woodpecker Predators

We know that you don't want your homes to be damaged. Thus, in this article, we will be tackling the effective deterrents and remedies in preventing woodpeckers from further rummaging the structures of your homes.
Best Woodpecker Deterrents
Bird Repellent Tapes
It is an easy yet very effective strategy in getting rid of woodpeckers. This is because the reflective characteristic of these tapes scares and frightens them.
It can be used simply by attaching the tape to areas where woodpeckers are known to gather, such as bushes, trunks, and branches of trees, as well as wooden walls and arcs.
You can cut and trim it according to your preferred size and length, so it is very convenient to use. It may be attached and taped either horizontally or vertically.
If you want to purchase high-quality bird repellent tapes, the brand Unves  might be the perfect choice for you.
Their products are made from thick and durable PET materials that would not tear up easily. It also reflects from the sunlight very efficiently, so there will be an increased chance of frightening the woodpeckers. 
Electronic Woodpecker Sound Deterrents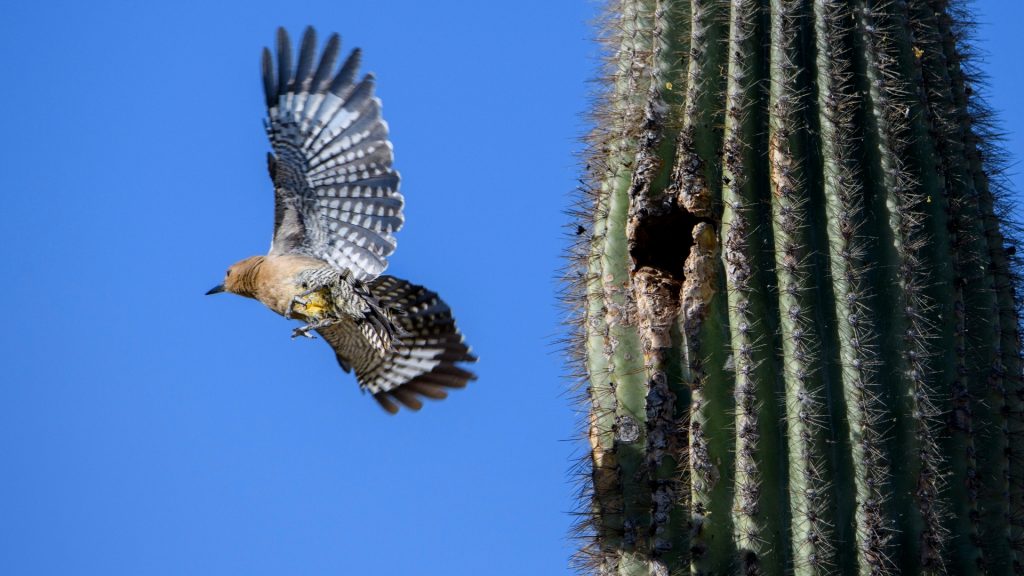 If you want non-invasive electronic equipment in managing your woodpecker problems, this device is the best alternative for you.
It works by producing distress calls to birds, allowing them to flee and avoid the premises covered by the said equipment. These calls release danger and predator sounds that inculcate hazard and peril in the minds of the woodpeckers.
The extent of its coverage may depend upon the model of the equipment, but its sound can usually be heard at a vast length. It is very convenient to use since it can be installed in any flat area without the need to climb ladders or stairs to attach it. Its volume can also be adjusted to the desired level of sound.
For a quality electronic woodpecker deterrent, check out the Bird-X - BXP-PRO2 BirdXPeller Pro Electronic Bird Repeller .
It perfectly mimics bird predator sounds that would effectively intimidate and scare woodpeckers. Its parts are not made from toxic and harmful chemicals, traps, and electronics, thereby averting the possibility of any untoward incident or injury.
Bird Repellent Gels and Liquids
This is another type of bird repellent that is very easy and convenient to use. It is utilized by placing a reasonable amount of the gel or liquid on surfaces where the woodpeckers would usually stay or make a nest.
The sticky and non-drying gel or liquid, when applied, causes discomfort and distress when touched by the birds. This causes them to avoid the areas and structures where it is placed. It is also transparent in appearance, so its application on the exteriors would not be obvious.
If you wish to purchase long-lasting repellent gels, visit the Bird-X Store and buy Bird-X 54-1 Proof Bird Repellent Gel .
It repels birds inconspicuously and prevents them from roosting in areas where it is applied. Its formula is made from non-toxic materials, so it is very safe and easy to use.
Bird Repellent Balloons
This is similar to bird repellent tapes but in the form of a large and bright-colored balloon. Its reflective quality instantly drives the woodpeckers away from the premises where it is laid.
It is designed to look like scary creatures, so these birds would not even dare to sit close to it. Thus, it is an effective deterrent in alarming and frightening woodpeckers that may lurk in your walls, trees, or gardens.
You can get these colorful balloons from the De-Bird Store at really affordable prices. Their inflatables are durable as it is weatherproof and highly resistant to damage. 
It is also very convenient to use as you can just blow it yourself and hang it in any place you want. You can even put the free eye stickers on the balloon so that it would look more terrifying on the eyes of the birds.
Woodpecker Food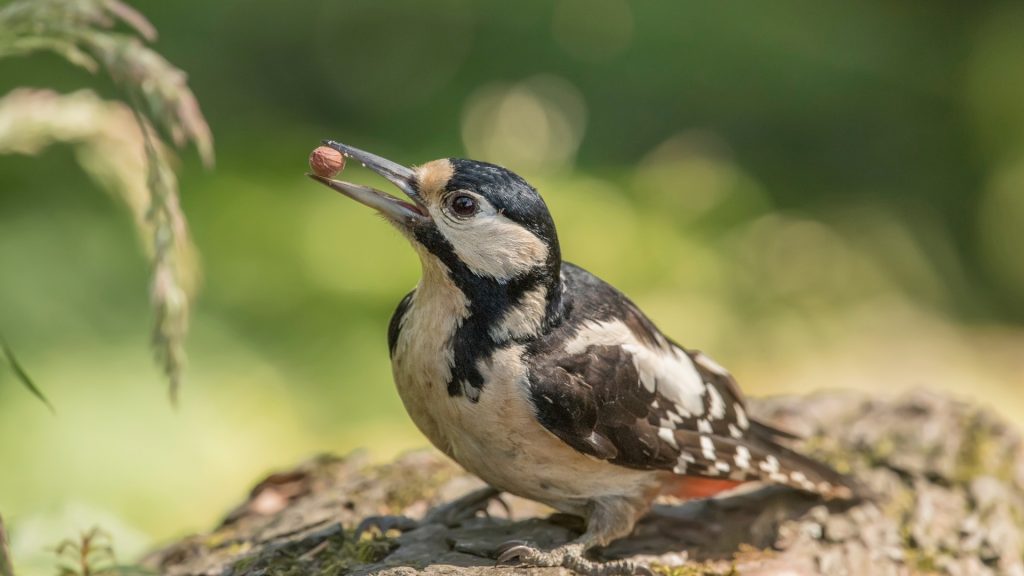 Since woodpeckers would usually dig holes in search of provisions, another excellent strategy is to satisfy their stomachs and feed them with food.
If supplies are readily available in an area away from your property, then these woodpeckers would no longer visit your place in the pursuit of looking for insects and bugs to devour. These foods may be placed in feeder houses where they can stay comfortably and eat.
Food products for these birds can be purchased from the Lyric Store. Their Woodpecker No Waste Mix  is a great option for a variety of tasty bird delicacies.
This product contains a special mix of sunflower seeds, nuts, and fruits that woodpeckers would surely enjoy. It is also entirely edible and can be an excellent source of protein and fat.
Woodpecker Spikes and Nets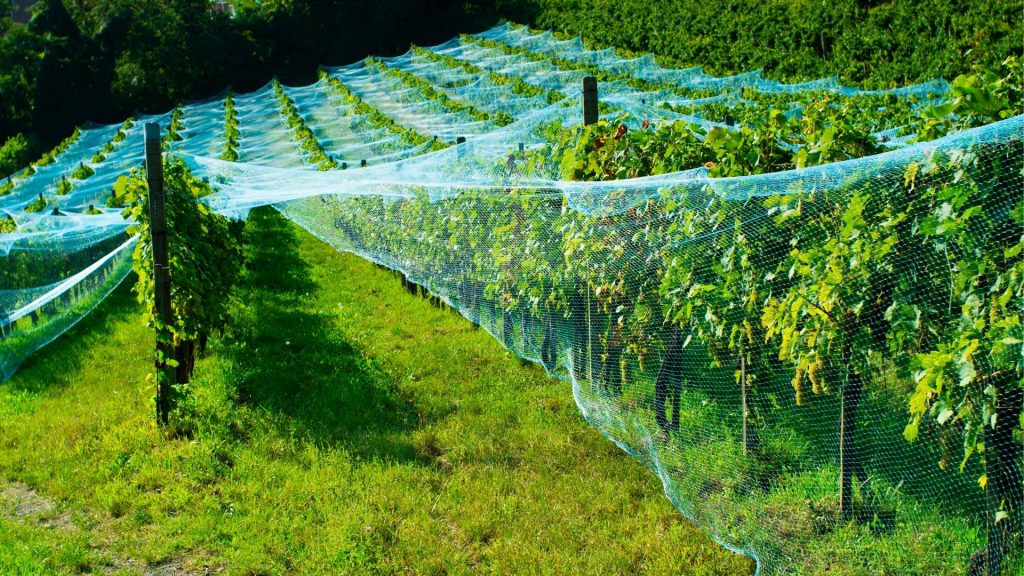 These deterrents physically keep the woodpeckers away from places where they would usually nest or search for food. It serves as actual barriers that would prevent them from staying or digging holes in wood structures.
Trees and other wood areas can be enveloped with these nets or be instituted with these spikes to thwart their chances of penetrating it. This is also safe to use as this repellent would not cause harm or injury to the birds.
For sturdy types of woodpecker nets, you may order the Bird Netting from the De-Bird Store . It is made from a strong type of polypropylene that is resistant to rot and UV. 
On the other hand, if you are searching for durable woodpecker spikes, you may take a look at Bird Spikes from the Aspectek Store .
It extensively provides ten feet of coverage and has an additional spike adhesive for easy installation.
Decoy Woodpecker Predators
This is done by placing realistic figures that mimic woodpecker predators in areas where they would usually create holes. It is usually in the form of an owl with eyes wide open. 
The setting-up of these predator-like structures gives them an impression that the place is guarded and well-protected. This prevents them from returning to the affected areas to cause more damages and openings.
High-quality woodpecker decoys such as the Plastic Owl Scarecrow Sculpture with Rotating Head for Garden Yard Outdoor  from the Besmon Store are an excellent recommendation.
It is not just non-fading and waterproof but is also very stylish and easy to install. 
Related: How To Get Rid of Woodpeckers? | + 11 Best Woodpecker Deterrents To Buy
Reasons Why Woodpeckers Peck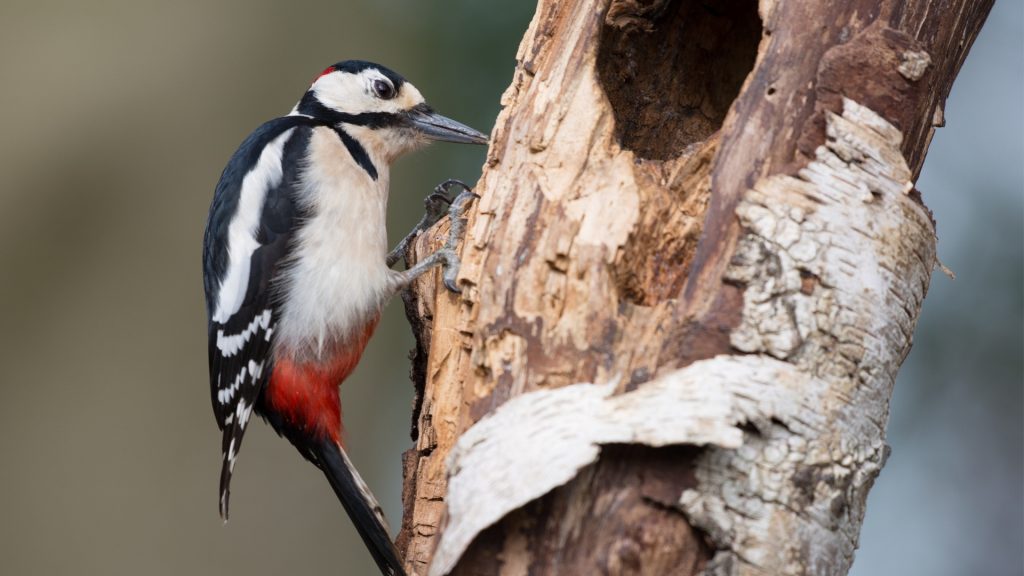 Woodpeckers are popularly known for their drilling and drumming tendencies towards wood structures in homes and other establishments. Here are some of the reasons why they frequently do it:
It is their way of fulfilling their nesting desires. Woodpeckers would make holes on wood surfaces because they longed to create and build nests. The openings made for this purpose are typically large and round and usually assembled during their breeding season in April and May of every year.
It is their means of preying for food. Since woodpeckers are generally insectivorous, they are constantly in search of insects and beetles to devour. Some of these creatures may live behind or inside wood structures, inducing them to drill and dig these areas to obtain food.
It is their method of storing and keeping provisions. Woodpeckers typically make wood openings to safely stash and file the food they have hunted, such as corn and other fruits.
It is their technique of claiming territorial space. When woodpeckers make drumming sounds, it is an indication that they are actively declaring a certain territory as theirs. It also specifies their desire for mating as it can be utilized to get the attraction of another bird partner.
List of Sources
Woodpeckers: Damage, Prevention and Control. Cornell Lab of Ornithology.
Problems with Woodpeckers. (2018). Connecticut – Department of Energy and Environmental Protection.
Ryan, B. (2020). Do Woodpeckers Damage Your Trees? PennState Extension.
Andelt, W. F., Hopper, S. N., Cerato, M. (1998). Preventing Woodpecker Damage. Colorado State University.