Do you have these cute and adorable chipmunks visiting your yard? You may notice small holes in your lawns and pathways, as well as damages to plants and root crops. Seeds and grain pilings are in various locations around your house. If that is the case, you might already have a pest infestation.
Chipmunks appear to be harmless. However, these little, cute-looking creatures can be a problem. They may cause damage to your land as a result of their digging activities. Chipmunks can be a nuisance, but there are several efficient ways to repel them.
Here are the 9 best chipmunk repellents:

1. 
2. Bird B Gone MMRTH1 Hawk Decoy
3. Bobcat P-Cover Urine Granules
4. Bonide Concentrated Animal Repellent
5. I Must Garden Squirrel Repellent: Protects Vehicles, Plants, Decks, Decking, & Furniture
6. Molemax Sonic Spike Mole & Chipmunk Repeller
7. Ortho Animal B Gon All-Purpose Animal Repellent Ready-to-Use Spray
8. Rodent Defense Spray
9. Ultrasonic Pest Repeller Plug-in
In this article, you'll discover more about chipmunks, including what they're like, what problems they cause, and how to keep them away.
Are Chipmunks Destructive?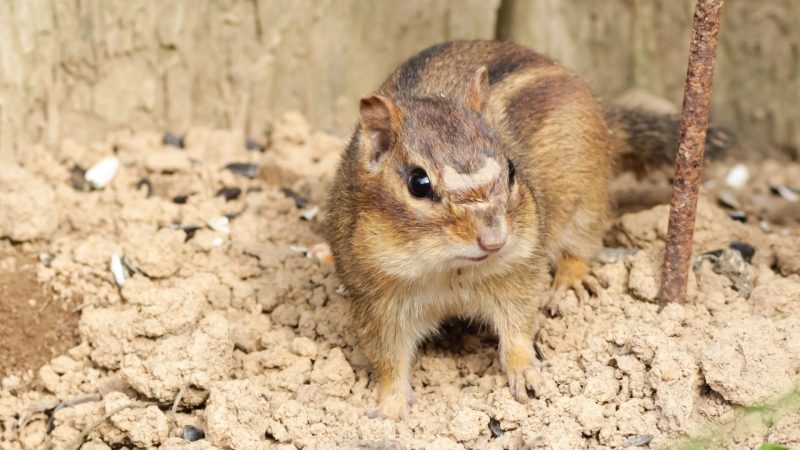 Chipmunks love to dig holes both inside the house and out in the yard. They burrow for safety and repose during the day. These animals also tend to dig deeper and more spacious tunnels where they store food, build nests, and hibernate. Due to their burrowing activities, they can cause damage to decks, patios, foundational walls, retaining walls, and slabs, which are also prone to structural damages.
Is It Bad to Have Chipmunks in Your Yard?
Even though they appear to be harmless, chipmunks can be bad to your yard. Because of their natural instinct to dig holes and tunnels, it will leave ugly holes on lawns and may damage and destroy plants. Their tunnels can destroy building foundations in severe situations. These holes in the yard can also be frustrating, disrupting the efforts to keep the yard looking nice.
Repelling Chipmunks
How to Repel Chipmunks From Yard?
A non-toxic approach to keep chipmunks away is to sprinkle spicy powders like cayenne, chili powder, or other spicy, strong spices around the yard. Another good repellent to use is peppermint essential oil since chipmunks hate them. Furthermore, if you only have a few chipmunks to deal with, utilizing a live chipmunk trap and then releasing them far away from your home can be a good method to get them out of your yard as well.
How to Repel Chipmunks From the House?
If chipmunks have already entered your home, you may use the same approach to keep them out of your yard. But if you don't want the spicy fragrance inside your house, try garlic, citrus, or eucalyptus instead, as chipmunks can't stand these scents. Furthermore, if you understand the risks of mothballs, which are meant to repel pests, you may use them to repel chipmunks.
Do Irish Spring Soap Repel Chipmunks?
Irish Spring soap repellent is intended to keep mammalian pests away from your plants. One of the main ingredients of Irish Spring soap is tallow, which is a hard fatty substance made from rendered animal fat. It is usually known to repel deer. However, Irish Spring soap is also effective in keeping the chipmunks away.
Do Mothballs Repel Chipmunks?
Mothballs are an effective way to keep chipmunks away from your house. Chipmunks can't stand the smell of mothballs. It won't actually kill the chipmunks, but it will certainly keep them away.
Does Coyote Urine Repel Chipmunks?
Coyote urine is another option to repel chipmunks, as it repels a wide range of animals and pests. Chipmunks will stay away from coyotes because they are known to hunt rodents. If you spray coyote urine around your yard, chipmunks will immediately assume that coyotes are around and will surely keep their distance.
9 Best Chipmunk Repellents
1. 
This Appello solar-powered repellent will constantly emit sonic pulses and vibrations that will annoy and irritate chipmunks. You can install these in your yard. It is an eco-friendly technology that is powered by solar. With the constant vibration and sonic pulses they produce, chipmunks will surely not visit your yard again. 
No products found.
Hawks are one of the many predators that chipmunks face. If they notice a hawk statue in your yard or garden, they will do everything they can to hide or flee the area. It is a simple and harmless way to repel chipmunks.
Aside from hawk decoys, you can also use Bobcat P-Cover Urine Granules. Bobcats are also known to feed on rodents. Chipmunks will keep their distance if they smell bobcat urine around your home.
This repellent irritates the nasal passages of the animal lurking in your home. When these animals come into contact with, taste, or smell of Bonide Animal Repellent, they will instinctively avoid or flee the area and surely will not come back.
This spray is designed to keep rodents away from your home and yard, but you may also use it on your car. Its smell will keep away chipmunks from nibbling and chomping your automobile wires if they are lurking and nesting in your vehicle. The components are designed to repel rodents, particularly chipmunks and squirrels, while safe for pets and other animals.
It is one of the sound-emitting devices that have proven to be particularly successful in repelling rodents such as chipmunks. Simply stab it on the ground, and it will emit a sound that is similar to a rodent distress call. It will make chipmunks believe there are predators in the area and will scram away. The product is solar-powered, so you can simply leave it in your yard, and it will do its magic.
It's a spray that effectively repels chipmunks while leaving no stench for humans. You can spray it around your yard or garden, and it won't harm your pets or plants because the components are primarily meant to repel rodents like squirrels and chipmunks.
Another efficient way to keep rodents out of your yard is to use a safe spray like Rodent Defense Spray. It contains non-toxic chemicals, is harmless when used outside, and won't hurt or damage your lawn or garden. This product contains natural elements that creatures despise, such as essential oils.
This is best to use inside your house. It is an ultrasonic pest management device that generates a high-pitched sound at a frequency that may cause domestic pests and insects to get irritated, die, or simply keep them away. You just have to plug it inside your home, and your house will be pest-free.
Related: Chipmunk Control: How To Get Rid of Chipmunks?
List of Sources
Brittingham, M., Falker, S. (2006). Chipmunks. The Pennsylvania State University.
Pierce II, R. (2016). Controlling Nuisance Chipmunks. University of Missouri.
Foster, M. (2019). Chipmunks in the Landscape Can Be a Nuisance. University of Georgia.