Pocket gophers are rodents that feed on plants and vegetation, particularly those with succulent tap roots or large rooted crops. They're a frequent nuisance that can cause considerable damage to gardens, pastures, and croplands. Intervention is often necessary to prevent continued vegetation damage.
How to get rid of gophers? To get rid of gophers, you can either choose a lethal or non-lethal route. The lethal options include spring-loaded traps, baiting, or tunnel gassing. Non-lethal ways include mesh or plant barriers, ultrasonic repellents, scent deterrent products, or placing owl boxes to encourage natural predators.
In this article, we'll discuss the options for gopher control in more detail. We'll also provide some ways for you to identify and confirm whether your resident pest is a gopher or another rodent. Additionally, we'll give a complete overview of how to set a gopher trap for a higher success rate.
What Is a Gopher?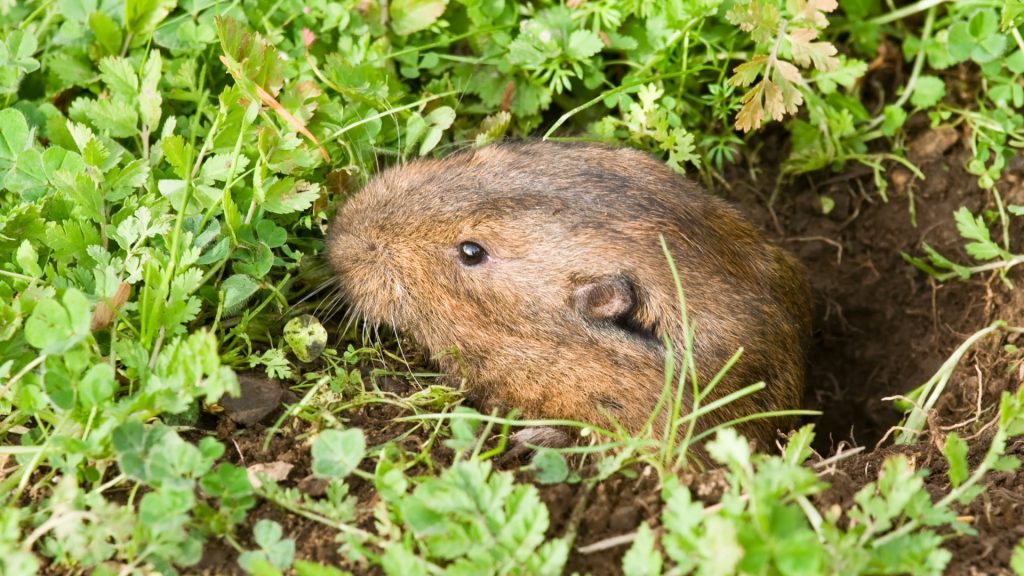 A gopher is a medium-sized rodent. Gophers are generally considered to be pests. They're herbivores that live underground in extensive tunnel systems. The continental U.S. is home to more than a dozen species of pocket gophers.
---
What Does a Gopher Look Like?
A gopher has fur that's usually brown or greyish, and they boast a set of large incisors. They're named for their signature fur-lined cheek pouches used for carrying food or nesting material.
Gophers are commonly confused with moles and voles, so you'll want to confirm which species is indeed causing the problem before proceeding with elimination methods.
---
How Big Can Gophers Get?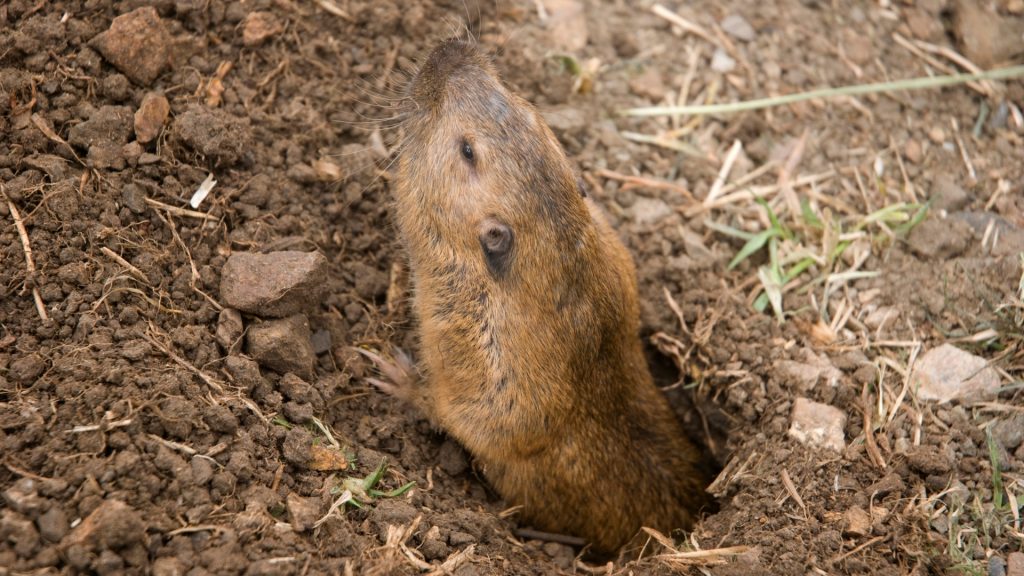 Pocket gophers generally get as big as six to ten inches long (15.24 to 25.4 cm). As medium-sized rodents, they weigh about half a pound (0.23kg) to one pound (0.45kg) on average. Male gophers are usually larger than female gophers.
---
Where Do Gophers Come From?
Gophers are part of the Geomyidae family, which has evolved from 33.7-28.5 million years ago based on fossils of nine extinct genera found in North American sediments.
Gophers exist in both North and Central America and are attracted to areas with loose, sandy, or clay-based soil. They can be found in many different habitats, from coastal regions to high mountains and many climates in between.
---
How Long Do Gophers Live?
Gophers can live up to 3 years, which is a common lifespan for rodents of their size. They generally reach reproductive age at about 1 year and are solitary creatures that only come together several times a year to breed. They have many predators, but the species remains very populous.
---
What Does a Gopher Hole Look Like?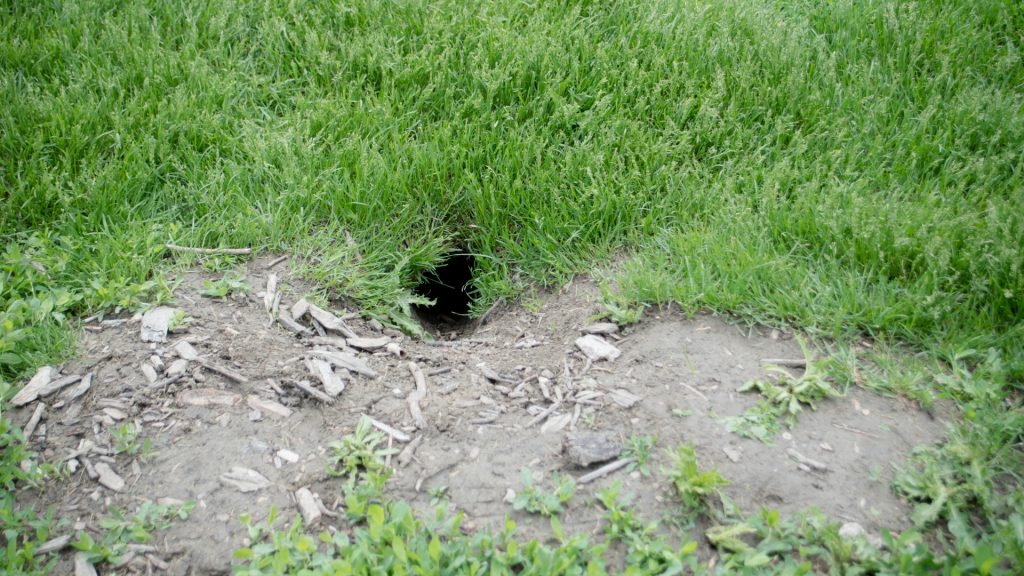 An easy way to differentiate between gophers and similar animals is to observe the tunnels.
A gopher hole generally looks like a fan-shaped mound created by pushing dirt to the surface. In comparison, moles leave runways on the surface that look like small ridges, and they rarely include open holes to the surface.
Voles also create runways but typically stick to the surface or make small ones underneath the surface about two inches (5.08 cm) in diameter.  
---
When Do Gophers Come Out of Their Holes?
Gophers generally don't leave their holes for many reasons. At times, they'll pop their heads out of a tunnel to reach nearby food sources. But predators like owls or hawks may snatch a gopher up if it leaves its holes, so they tend to be extremely cautious about exposing themselves above ground.
---
What Do Gophers Eat?
Gophers eat a plant or vegetable-based diet and are herbivores. Preferred food sources include the roots and fleshy parts of plants found by digging or close to their tunnel opening above ground. They also prefer herbaceous plants, shrubs, and trees.
---
What Attracts Gophers to Your Yard?
What attracts gophers to your yard are areas that are most conducive to their burrowing and feeding. This includes areas with cool, moist, healthy dirt or locations that possess desirable plants for feeding.
So, it's fair to conclude that the nicer your lawn or garden looks, the more likely you're to attract gophers.
---
Are Gophers Dangerous?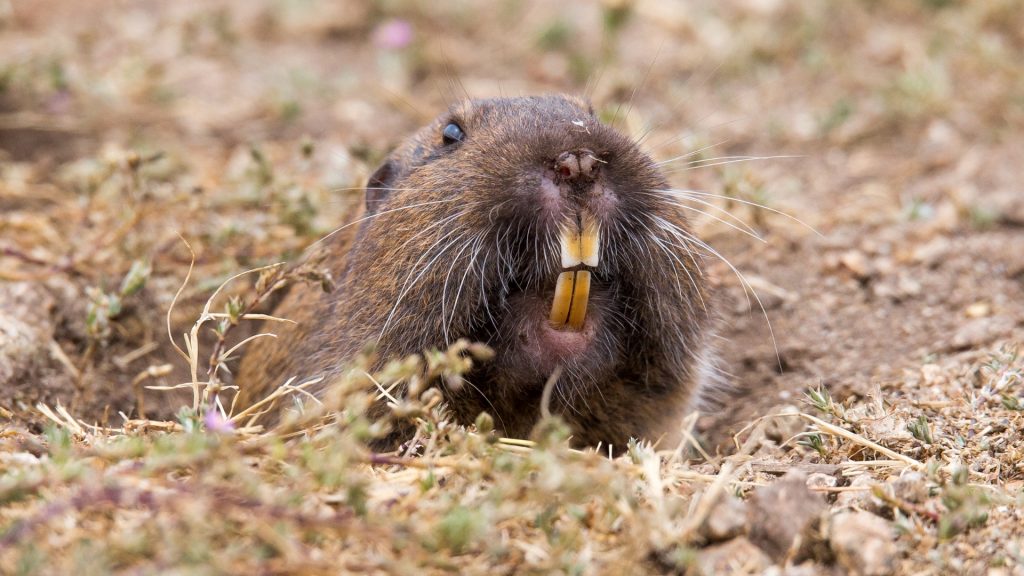 Gophers aren't generally dangerous, nor do they usually attack humans. However, they potentially carry rabies or fleas and ticks that can be transmitted to people or pets. Additionally, if they're trapped or caught, they can bite.
---
How Do I Get Rid of Gophers? Step by Step Instructions
If you have a gopher issue, there are ways for you to resolve it and eliminate them.
To get rid of gophers, follow these step by step instructions:
---
Place Traps in the Gopher's Tunnel Opening
Trapping gophers is one of the most effective methods of removal for small to mid-sized areas. Many body-gripping traps exist, typically as either a two-pronged pincher trap or a choker-style box trap.
Traps are placed at the entrance of the main gopher tunnel and are triggered when a gopher pushes against them when tunneling. Generally, baiting isn't necessary for these types of traps, though it's an option.
---
Place Bait Directly Into the Gopher Tunnel
Baiting is another option for pocket gopher control that's generally used in situations less than 20 acres (8.09 hectares). Both baiting and trapping can be used year-round but are most effective during spring and fall when gophers are most active.
Toxic baits generally consist of zinc phosphide, strychnine, chlorophacinone, or diphacinone and cause death to gophers when consumed over time. The best gopher bait typically comes in grain form, such as the Monterey Gopher Bait, or in pellet form, like the Motomco Gopher Killer.
Monterey Go-DIE Gopher Bait
CONTROLS POCKET GOPHERS - This product controls pocket gophers...
EFFECTIVE BAIT - Effective strychnine-treated grain bait with no...
FOR USE IN NON-CROP AREAS - For use in pastures, rangelands, and...
APPLY INTO BURROW SYSTEM - Apply to active gopher runways and...
DO NOT PLACE NEAR OTHER ANIMALS - Do not allow animals to come in...
Here are the steps on how to place the bait correctly:
1. Utilize a probe to locate the main tunnels, similar to the trapping method.
2. Place the bait directly into the tunnel according to directions on the label.
3. Take care to only place bait in an area with no risk of consumption by other animals, pets, or children as serious harm can occur.
4. After placing bait, check the site periodically for two weeks and dispose of any carcasses found.
---
Hire a Professional Fumigator
While gas elimination methods utilizing smoke or gas generally aren't successful, the use of aluminum phosphide may be effective at getting rid of gopher populations. However, this is a restricted-use material that requires applicator certifications. If you choose this method, you'll need to hire a professional to apply it.

---
Getting Rid of Gophers in Some Specific Places?
Here's how to get rid of gophers when they're in your pasture, garden, or under your house:
---
How To Get Rid of Gophers in Pasture?
To get rid of gophers in a large area like a pasture, lethal methods like trapping, gassing, or baiting can be most effective. Additionally, strategic crops, such as grain crops, can be planted for barriers. These options will be discussed further in related sections of this article.
---
How To Get Rid of Gophers in My Garden?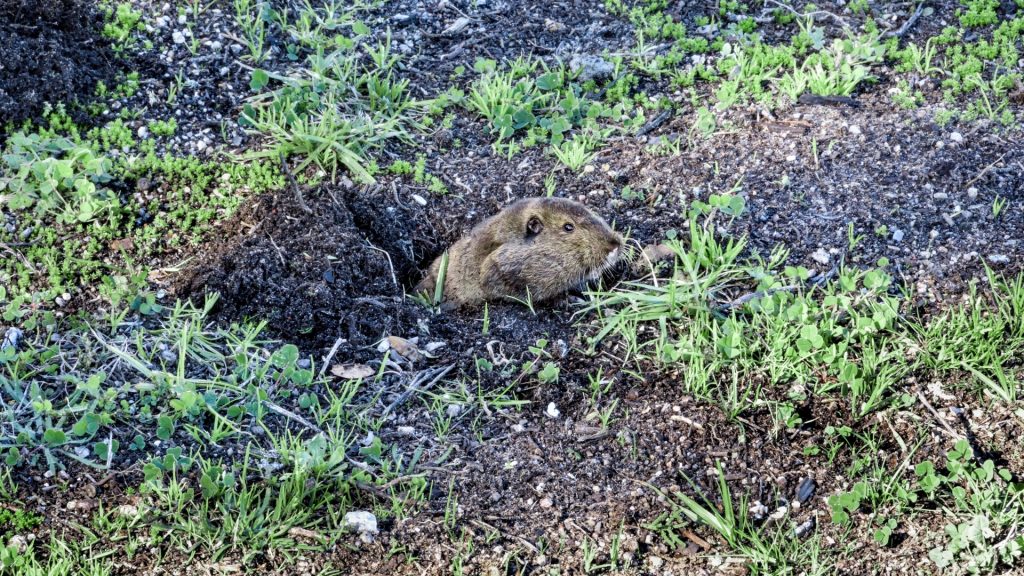 To get rid of gophers in your garden, trapping is likely the most desirable option, as it's only a small area. Baiting may also be used with care to avoid ingestion by pets or children. Natural options like frightening devices or other repellents may also prove effective.
These will also be discussed further in this article.
---
How To Get Rid of Gophers Under the House?
To get rid of gophers under your house, you may also be able to try to bait or trap, but you risk gophers dying in hard-to-reach areas. Using a frightening device or marking in and around the area with other natural or chemical repellents may be more desirable due to the accessibility of the areas.
---
How To Keep Gophers Away?
To keep gophers away, you can do the following:
---
Use Frightening Devices
Many devices exist for the purpose of frightening pocket gophers away from an area. These devices utilize ultrasonic sound, vibration, or other non-chemical repellents. Unfortunately, these don't always prove effective, possibly due to gopher desensitization from other environmental sounds and sensations.
---
Use Other Repellents
The use of chemical or natural repellents can also help decrease the attractiveness of a potential gopher habitat. Chemical repellents are usually granular moth crystal products (naphthalene and paradichlorobenzene). Suggested natural repellent products include castor oil, peppermint oil, and garlic stakes.
Sale
Artizen 30ml Oils - Peppermint Essential Oil - 1 Fluid Ounce
100% Pure & Natural Peppermint Essential Oil - What sets Artizen...
Don't Fall Victim To Cheap Diluted Peppermint Oil - Most of the...
Most 4 Ounce Peppermint Oils Contain Less Than 1/3 Of Natural Oil...
High Quality Glass Bottles With Eyedropper - We use high quality...
Lifetime Warranty - The manufacturer, Artizen Essential Oils,...
What Keeps Gophers Away?
What keeps gophers away from your yard or garden include lethal options, such as utilizing traps, baits, or gas, and non-lethal options, such as using repellents or natural barriers.
---
Best Gopher Traps
Below are a few examples of effective body-gripping gopher traps found on Amazon:
Sale
Cinch Gopher Ensnare Kit - Medium (3 Packs) Heavy Duty, Weather Resistant, Outdoor Use, Lawns, Gardens, Sports Fields, Golf Courses, Ranches, Farm Lands, Yards, Personal and Professional Grade Use
QUICK-CINCH CAPTURE - It snaps shut around the neck and locks the...
ALL PURPOSE - Our Gopher Ensnare Kit is perfect for the...
REUSABLE AND ECO-FRIENDLY - Safer than poisons and chemicals, our...
HEAVY DUTY USA CONSTRUCTION - We don't make any exceptions when...
TRUSTED QUALITY ASSURANCE - The cinch kits for gophers are...
Gonzo 5001 Dead-End Mole & Gopher Trap
Your easy, no-mess way to stop moles & gophers dead in their...
Easy to place, set and features "no mess" disposal
Durable; plastic and steel reusable construction provides long...
Comes with "GONZO EASY-2-SET ILLUSTRATED INSTRUCTIONS"
Features durable plastic and steel construction for long-lasting...
Best Gopher Repellents
Here are some of the best gopher repellents:
No products found.
Sale
Mole & Gopher Repellent 32 oz Hose End
HOW IT WORKS: Chase ingredients infiltrate deep into the soil...
EFFECTIVE: Chase provides maximum coverage to deeply penetrate...
ENVIRONMENTALLY FRIENDLY and ECONOMICAL: Chase is biodegradable...
EASY APPLICATION: Chase is applied in less time than other...
Sale
Natural Way To Get Rid of Gophers
Now, let's talk about the natural ways you can get rid of gophers.
---
Mesh or Wire Barriers
Barriers of either mesh cloth or poultry wire can be utilized as a preventative measure to keep gophers out of an area. The barrier is buried at least 2 ft (60.96 cm) deep, allowing an additional 6-in (15.24-cm) overhang at a 90° angle away from where you're planting.
Extend the barrier at least 12 in (30.48 cm) above the surface to prevent gophers from entering at ground level. While this isn't a perfect method, as gophers can sometimes tunnel more than 2 ft (60.96 cm) deep, generally, this method will provide sufficient protection for most cases.
---
Plant or Crop Barriers
Specific varieties of crops or plants can also be used as a natural gopher barrier. Grain crops are one example of this, as they lack large underground structures, which offer insufficient food for pocket gophers to survive year-round.
These grain crops can be planted in strips around hay fields or used as rotation crops for gopher prevention. There are also many types of gopher-resistant plants, such as rosemary, oleander, citrus, lavender, onion, garlic, eucalyptus, and many others.
You can also use a trap crop to keep gophers away from your valued plants, as it's a preferred food source that lures gophers away from other locations. One example of this is nasturtiums, which are easy to seed, easy to care for, can be reseeded easily, and gophers love them.
One benefit of using nasturtiums is that they'll wilt when a gopher nibbles on the roots, which will alert you to gopher activity below.
---
Natural Gopher Predators
Many wild predators such as barn owls, snakes, and coyotes eat pocket gophers. To eliminate gophers, increasing the presence of barn owls is the easiest choice. You can attract barn owls to an area through the installation of nesting boxes.
They tend to hunt areas with abundant prey, so they may not be effective for complete elimination but can help maintain gopher population control.
---
How To Catch a Gopher?
To catch a gopher, set up a gopher trap and get them out of their hole.
---
How To Set a Gopher Trap?
Here are the steps on how to set a successful trap using the GopherHawk:
1. Walk through the intended area and tamp down all of the mounds. This creates a blank slate so you can easily spot new activities the next day. The goal is to find fresh holes with recent activity.
2. Mark the tamped holes with a flag such as the Ace Supply Marking Flags for easy surveillance.
Sale
3. Return the next day to look for new mounds. The smaller the mound, the better. Bigger mounds are more difficult to excavate and determine direction.
4. Use a spoon or probe tool to search for an opening, not a well-filled tunnel. When you find an open tunnel, the spoon helps determine if it's a long run or immediately curves. Those that immediately curve or change direction won't be an optimum location for trap placement.
5. Excavate the end of the hole using the spoon.
6. Insert the trap, vertically if using the GopherHawk.
7. Ensure the trap is in the middle of the tunnel; if not, juvenile gophers will be able to scoot around the trap without setting it off.
8. Remove the probe and insert a long screwdriver into the probe hole of the Gopher Hawk. Wiggle the screwdriver to open the hole and insert the trap.
9. Pull up on the trap to set. Don't press down with pressure, as this will distort the trap opening and make it useless.
---
How To Get Gopher Out of Hole?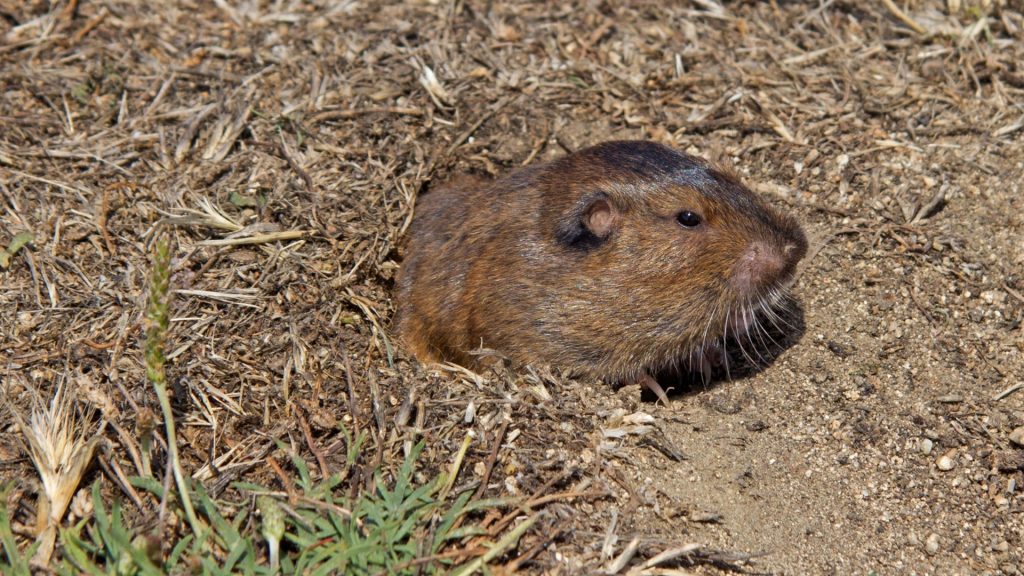 To get the gopher out of the hole once you've trapped them, follow these steps:
1. Check for capture the next day by tugging on the trap gently upward. If you feel resistance, you likely have a gopher. Don't attempt to pull the trap up with the gopher, as this will bend and distort the wire mechanism and ruin the trap.
2. Instead, insert a shovel down behind the trap and remove portions of soil until you can easily lift the trap and gopher out of the now-opened hole.
3. If the trap wasn't tripped, there's no soil in the exit hole, and there are fresh mounds in the area, then you didn't find a fresh enough tunnel. Try again with new mounds.
4. If the trap wasn't tripped, but the exit hole is filled with soil, the trap wasn't set in a straight tunnel. A juvenile likely got around the edge, or the trap direction was incorrect, so try again.
---
Summary
As we detailed in this article, there are many options to get rid of gophers, ranging from prevention to elimination. The most effective methods to keep gophers out of your garden or small area are generally trapping or baiting.
However, if you're not comfortable with lethal removal methods, non-lethal options can be employed for prevention and discouragement that may prove sufficiently suitable.
---
List of Sources
Baldwin, R. A. (2019). Pests in Gardens and Landscapes – Pocket Gophers. Agriculture and Natural Resources, University of California.
Knight, J. Non-Chemical Control of Pocket Gophers. Montana State University.
Bidwell, T. G. (2017). Controlling Pocket Gophers. Oklahoma State University Extension.
Andelt, W. F., Case, R. M. (2016). Managing Pocket Gophers. Colorado State University Extension.
Shuffitt, J. M. (2018). Pocket Gophers. Institute of Food and Agricultural Sciences and University of Florida.
Matthewson, M. (2007). A Burrowing Pest: Controlling Gophers on Your Property. Oregon State University Extension.

Latest posts by Thomas Matthews
(see all)